This salvation Trip is a tour of four holy sites - Yamunotri, Gangotri,Kedarnath and Badrinath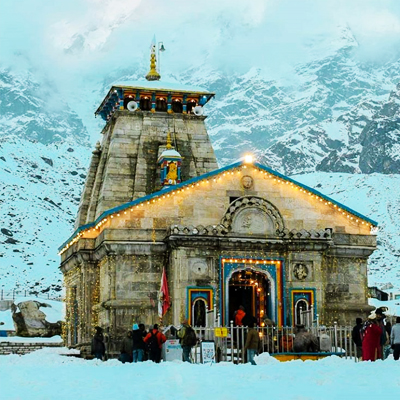 Kedarnath Temple is a beautiful and spiritual Hindu temple located in the Garwhal region of the state of Uttarakhand in India. It's situated high in the Himalayan mountains, making it one of the most iconic and stunning temples to visit. Dedicated to Lord Shiva, this ancient shrine stands at an imposing height of 3,553 m, attracting thousands of devotees each year. The temple also acts as one of the 12 Jyotirling temples representing Lord Shiva, with it being said that Kedarnath Temple was built by Pandavas from Mahabharata. It is truly mesmerising to experience its grandeur; one can just stand and look out into the horizon for hours or take part in the numerous prayers offered here – overall making for an enriching journey!
The Gangotri Temple is a Hindu pilgrimage site located in the mountainous region of Uttarkashi District, Uttarakhand, India. Dedicated to the Goddess Ganga (the personification of the river Ganges), this temple is situated at an altitude of 3,048 meters and remains open for devotees all year round. Pilgrims flock here from far and wide to take a holy dip in the freezing water of the Ganges and offer their prayers to Lord Shiva and Maa Ganga.