Chardham Tour Package By Helicopter From Pune 2023: Below, we've got references to some of the details about the Chardham Yatra by helicopter from Pune 2023. People who are interested can contact Motherland India Holidays Pvt Limited.
The Chardham Yatra is a ladder that draws pilgrims closer to salvation one step at a time. The adventure starts off evolved at Yamunotri and ends at Gangotri, Kedarnath, and Badrinath. These 4 holy places are a part of Uttarakhand's Chota Char Dham and are notably venerated by way of Hindus.
Begin your non-secular adventure of Chardham Yatra by helicopter 2023, and you may have an unforgettable experience in Uttarakhand. You may additionally contact us for the whole fee of the Chardham Yatra package.
Please keep in mind that this is just a recommended itinerary; we tailor the travel programs to your precise requirements. If there's an exchange, please touch us.
–  Free luxurious accommodation in Dehradun for one night, including         breakfast and dinner.
 –  Dehradun Airport, Dehradun Bus Stand, and Dehradun Railway                 Station pick-up and drop-off services are available.
 –  Delicious dinners and a luxurious stay.
 –  VIP viewings at each Dham.
 –  Local viewing at Yamunotri using a Palki (Sedan Chair/Pony) if time           allows.
 –  Kedarnath Helicopter Shuttle Tickets.
Any plane travel.

Personal costs like cleaning, calls, tips and gratuities, mineral water, soft drinks, and porterage.

Everything that isn't listed among the categories.

In addition to what is specified in the itinerary, there may be additional sightseeing or car use.

Entry fees and guide fees.

Any expenses brought on by natural disasters like floods, blocked roads, political unrest (strikes), etc. (to be borne by the client, who is directly payable on the spot).

battery for still and video cameras.
CHARDHAM TOUR PACKAGE BY HELICOPTER FROM PUNE 2023 – 6D/5N
Terms & Conditions For Blueheights Aviation Helicopter Services 
The passenger shouldn't carry baggage that weighs more than 2 kilograms. The excess weight of luggage will not be accepted on the helicopter.

All children over the age of 2 has a full ticket.

Don't confuse the reporting time and departure time. The reporting time is one hour earlier than the departure time.

Passengers are asked to come into our office wearing a CTT voucher.

The minimum wait time for a traveler is 2 hours, based on the conditions of the weather.

The temples are all in high altitudes, so travelers must carry a medical equipment with them.

There is no restriction or other concessions for children or older adults.

Any additional night of stay due to weather conditions will be the responsibility of the guest the hotel.

Our Services reserves the right delay the time of flight due to weather conditions that are not ideal.

Senior citizens and those with disabilities will be given preference

The duration for passenger darshan is 1hr 30 minutes.

In the helicopter ride, we do not take responsibility for your baggage.

If you take any shortcuts during your trek, we're not accountable for it.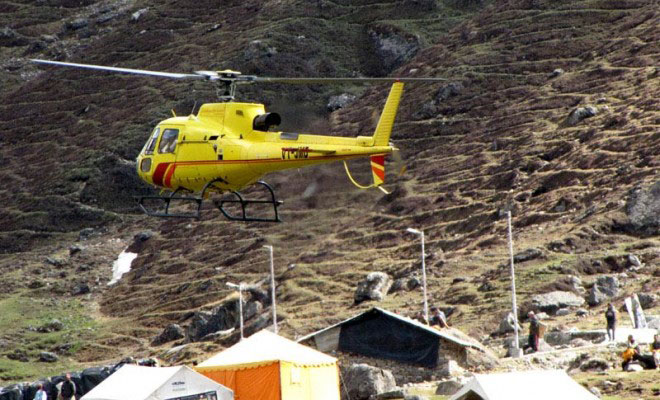 Day 1: Pune – Delhi – Dehradun
Day 2: Dehradun – Yamunotri
Day 3: Yamunotri to Gangotri
As there is no direct flight from Pune to Dehradun, you can avail yourself of a connecting flight from Pune to Delhi and then Delhi to Dehradun to begin your spiritual journey of Chardham. On arrival at Dehradun, you get a free complimentary stay at Dehradun from Blueheights aviation.

Your pious Chardham journey begins with Yamunotri, dedicated to the Hindu river Yamuna. You will board a helicopter in the morning to reach Yamunotri after having breakfast. After returning from Yamunotri Temple to the hotel, enjoy a delectable lunch and unwind to prepare for the next day.
The next Dham will be Gangotri Dham, the heavenly abode of the Ganges, a holy river of India. It is our next destination for the Chardham yatra. You will board a helicopter from Kharsali to Harsil to visit the pious seat of Goddess Ganga. You will reach the Gangotri temple after a 50 minute drive from Harshil helipad.
After Gangotri, the next dham to proceed with is Kedarnath. It is referred to as the abode of Lord Shiva – the destroyer. You will board a helicopter from Harsil to Sersi. At Sersi, our representative will assist with check in to the nearest hotel. Kedarnath ji also forms a crucial destination for Chota Char Dham.
It is the last Dham on your itinerary, considered the heavenly abode of Lord Vishnu – the creator. You will board the helicopter from Sersi Helipad in morning to reach badrinath. Mana Village is one of the prominent sight-seeing option in Badrinath. It is known to be the last village of India after which the China border begins.
After the soulful darshan of all the dhams, it's time to head back to Dehradun, along with some cherished memories. Our representative will assist you to check out from the hotel in Dejhradun after collecting your luggage from the hotel's clockroam. Then you will board the flight/train to Pune.
You may also choose to stay in Dehradun on chargeable basis.