What is the minimum time for Char dham Yatra 2023
What is the minimum time for Char dham Yatra 2023: The entire journey will last around 11 to 12 days. If you have extra time, there are many other places you can visit, such as Gaumukh, Tapovan, Along Valley, Bhauravnath Temple, Vasuki Tal, Chopta, Auli, and Hemkund Sahib. You have the option to begin your journey from Delhi, Haridwar, Rishikesh, or Dehradun, depending on what suits you best.
Unquestionably one of India's longest and toughest pilgrimages is Uttarakhand's Chardham Yatra. Individuals from all over the world and the coast of India come to these spiritual gateways to achieve Moksha, therefore the trip to salvation cannot be completed quickly; you must invest all of your time and energy into it. 
The time required for char dham yatra can be finished in at least 6 days thanks to advancements in technology and new age solutions. In spite of the fact that you will do your Darshan in the bare minimum of days, you won't have time to visit any other surrounding locations because it takes a long time to investigate them.
Nevertheless, if you're short on time and ready to invest some money, you can also choose to take a Chardham helicopter tour, which will reduce your tour to the minimum days required for Char dham yatra which is 4 to 6 days.
Whatever the situation, you have the choice between the two solutions based on your budget. The itineraries that are provided below will help you see how to accomplish your Chardham Yatra quickly and painlessly.
Chardham Yatra by Road  (Minimum Days)
Chardham Yatra by Road: Haridwar/Rishikesh, often known as the "gateway to Chardham," will be the starting point of your trip to Chardham. Regardless of where you are coming from, you will initially be transported to this location, which is where your holy pilgrimage starts.
Chardham Yatra Package by Itinerary
Day 01: Arrive at Haridwar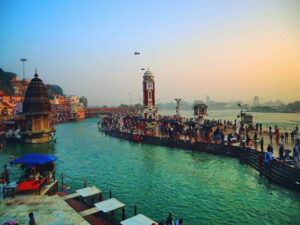 As you arrive in Haridwar on Day 1 of the tour, our representative will welcome you and start the char dham yatra package via train.

As you travel down the char dham yatra towards the first Dham, begin your spiritual journey.

We will acclimatise for the following day's hike to the temple at Barkot, a little village close to Yamunotri, where we will make our first stop.

We'll stop at Mussoorie's renowned Kempty Falls en route.

After you arrive in Barkot, check into your accommodation and relax.

Dinner and a hotel stay are also included.
Day 02: Yamunotri Temple Visit
Go to Jankichatti, the starting point for the walk to Yamunotri Temple, after a leisurely breakfast.

Start the captivating 6-kilometre hike via Phool Chatti and Hanuman Chatti.

In addition to doing the pooja and taking a bath in the Surya Kund, pay respects to the Mother Yamuna at the revered temple.

Return to your hotel in Barkot from Jankichatti.

Dinner and a hotel stay the following day
Day 3: Uttarkashi to Barkot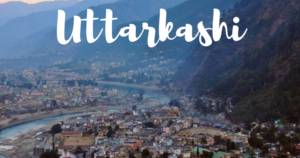 After breakfast, continue on the Char Dham Yatra to Uttarkashi, which is the next stop.

A little town called Uttarkashi is located beside the Bhagirathi River.

While you visit the Vishwanath Temple, make the most of your time. This historic temple honours Lord Shiva and is situated in the centre of the community.

Return to the hotel for the night after exploring the neighbourhood market in Uttarkashi that surrounds the temple.
Day 04: Visit Gangotri Temple
Drive to Gangotri Dham in the morning

You will be drawn in by the fantastical sights of Bhagirathi's blue waters flowing across the Harsil Valley and the deodar trees filling the air with a lovely freshness.

As you get to the temple, take a bath in Ganga's holy waters, which are also known as Bhagirathi at their source, and pray to Mother Ganga.

Stop in Gangnani on the way back to Uttarkashi to have a holy bath in the hot springs.

Moreover, interact with the locals in the secluded region as you tour Dharali and the Harsil Valley.

Dinner and hotel accommodation in Uttarkashi
Day 05: Uttarkashi to Guptkashi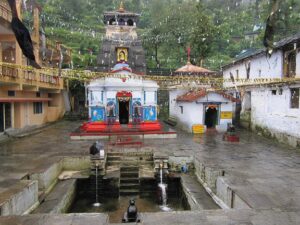 Our stop for the day will be Sitapur, which is at the beginning of the arduous journey to the holy shrine, which is the next stop on the yatra's route.

After breakfast, take a drive through Tilwada to Guptkashi where you can view the Mandakini River, which originates in Kedarnath and runs next to you.

Arrive at Guptkashi and register at the hotel.

To acclimatise, unwind and spend the night here 
Day 06: Kedarnath Trek
Get up early, have breakfast, and travel to Gaurikund to begin the journey to the dham.

Join the other pilgrims on the 16 Kilometer trek. There are plenty of rest stops and eateries along the way where you may stop for lunch and breaks.

During this challenging walk, you can also hire ponies or palanquins.

To be fascinated by the natural beauty and spirituality that permeate this Jyotirlinga, arrive at the temple by evening.

After a brief check-in, travel to the temple for darshan and aarti.

Return to your accommodation and spend a restful night around the temple.
Day 07: Return to Guptkashi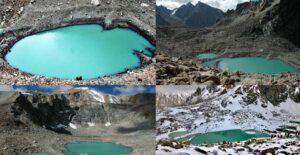 Get up early to see the temple's splendour with the Kedarnath range in the distance lighted by the sun's beams.

Before returning to Gaurikund, the last road head, you can pay final respect to the temple.

Reach Guptkashi from Gaurikund and settle into the hotel.

The day is free time, so you can relax in your accommodations or explore the neighbourhood.

Dinner and a night's stay in a hotel in Guptkashi
Day 08: Guptkashi to Badrinath
Guptkashi to Badrinath on Day 8

After breakfast, travel by train to Badrinath via Joshimath, the last stop on the char dham yatra.

As your drive to the last pilgrimage of this journey, take in the bizarre views of the Ganga as it flows by.

Arrive in Badrinath, quick check-in, and then tour the scenic surroundings.

Eat dinner and spend the night comfortably at your hotel.
Day 09: Visit Badrinath Temple
As you prepare to travel to the final stop on this sacred pilgrimage, get up early and eat a delicious breakfast in the stunning Badrinath Valley.

Before you see Badri Vishal and say the aarti at the temple, take a swim in the revered Tapt Kund.

Explore later locations including Bhim Pul, Vyas Gufa, Narad Kund, and the Badrinath Valley markets.

Have a peaceful evening at your hotel while you finish your Char Dham Darshan, and then have dinner.
Day 10: Departure
With breakfast, check out and return to Haridwar.

Enjoy the gorgeous trip as you pass through tall mountains and meandering rivers on the way back.

At the Valley of the Gods, you can see some of the key river confluences where the rivers merge to make the Ganga, which emerges at Devprayag.

Arrive at Haridwar, get dropped off at the railway station, and then continue on to your home country while bidding farewell to the Devbhoomi.
Char Dham Yatra in 5 days
Char Dham Yatra in 5 days: Every year, lakhs of devotees travel to Char Dham, a famous religious circuit. After visiting Yamunotri, Gangotri, Kedarnath, and Badrinath, four Hindu pilgrimage sites in Uttarakhand's high Himalayas, the Chardham yatra is complete. With luxurious lodging and facilities available in between the yatra, this 5-day Chardham pilgrimage helicopter trip departing from Dehradun offers the holy darshan of all four shrines.
The best available package for a family or group of friends visiting Chardham is a Char Dham tour by helicopter departing from Dehradun.
char dham yatra in 5 days Itinerary
Day 01: Dehradun to Yamunotri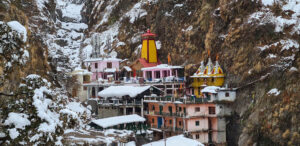 07:00 a.m: Departure from Shaastradhara Helipad, Dehradun

07:45 a.m: Arrival at Kharsali helipad, Yamunotri

08:30 a.m: Trek (palki) 6 km to Yamunotri, Darshan & Return back

02:00 p.m: Lunch at Kharsali

03:30 p.m: Visit Shani Temple

Night stay at a hotel in Kharsali
Day 02: Yamunotri to Gangotri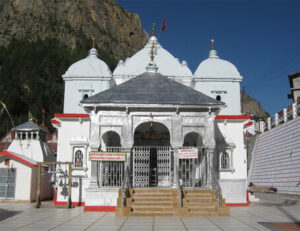 07:45 a.m: Departure Yamunotri Helipad

08:30 a.m: Arrival Harsil Helipad

09:00 a.m: Drive 22 km to Gangotri temple 

10:00 a.m: Darshan at Gangotri Temple

11:00 a.m: Return to Harsil

01:00 p.m: Lunch & Day at leisure in Harsil Valley

Night stay at a hotel in Harsil
Day 03: Yamunotri to Kedarnath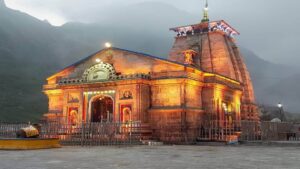 9:00 a.m: Departure Harsil helipad

100:00 a.m: Arrival at Kedarnath helipad

10:30 a.m: Darshan at Kedarnath

01:00 p.m:  Departure to Guptkashi

01:30 p.m:  Lunch at guptkashi

02:00 p.m:  visit to ancient TriyugiNarayan temple and day at leisure in Guptkashi

Night stay at a hotel in Guptkashi
Day 04: Kedarnath to Badrinath
10:15 a.m: Departure Kedarnath/Guptkashi Helipad

11:00 a.m: Arrive Badrinath helipad

11:30 a.m:  Darshan at Badrinath

01:00 p.m:  Lunch at Hotel

02:30 p.m:  Visit Mana village and day at leisure in Badrinath
Day 05: Return to Dehradun
3:00

a.m: Maha Abhishek Pooja in Badrinath Temple

11:30 a.m: Departure from Badrinath Temple

12:30 a.m: Arrival at Sahastradhara Helipad, Dehradun
How to do Char Dham Yatra by car
The Char Dham Yatra is a popular pilgrimage route in the Indian Himalayas, consisting of four holy sites. Uttarakhand is about 250 kilometres from Delhi, the nation's capital. Char Dham Yatra is supposed to be performed from west to east, as the theory goes. Therefore, you can start your Char Dham pilgrimage from Yamunotri, then move on to Gangotri before moving on to Kedarnath and Badrinath.
If you're driving, this is the route: Haridwar → Deo Prayag → Yamunotri → Uttarkashi → Gangotri → Gaurikund → Kedarnath → Joshimath → Badrinath
It is possible to do the Char Dham Yatra by car, but it is important to plan ahead to ensure a safe and enjoyable journey. 
The first step is to decide where you want to start and make sure your vehicle is in good condition for the long drive. 

You should also plan your route, taking into account the different types of roads and the weather conditions in the region. 

It is also advisable to book accommodation in advance, as the region can get crowded during peak season. 

Finally, it is important to familiarize yourself with the local culture and customs before embarking on your journey.
By taking the time to plan your trip, you can ensure that your Char Dham Yatra by car will be an enjoyable and safe experience.
Char Dham Yatra itinerary from Haridwar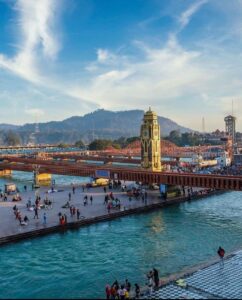 Char Dham Yatra itinerary from Haridwar: Haridwar is a city in the northern state of Uttarakhand in India. It is located at the foothills of the Himalayas, where the River Ganges meets the plains. It is one of the holiest cities in India and is known as the Gateway to the Gods. Haridwar is a popular tourist destination, attracting visitors from around the world for its beautiful scenery, religious sites, and festivals. 
The most popular attraction in Haridwar is the Ganges River, which is said to be a source of spiritual power. The banks of the river are lined with temples and ashrams, and people come to bathe in the holy water and perform rituals. Haridwar is also home to several annual festivals, such as the Kumbh Mela and the Ardh Kumbh Mela, which attract millions of pilgrims from around the world.
The Char Dham Yatra is one of the most important Hindu pilgrimages in India and many pilgrims journey to the four sacred sites of Yamunotri, Gangotri, Kedarnath, and Badrinath. If you are planning to embark on this sacred journey from Haridwar, here is an itinerary to help you plan your trip.
Itinerary:
Day 01: Haridwar to Barkot
Day 02: Barkot to Yamunotri to Barkot
Day 03: Barkot to Uttarkashi
Day 04: Uttarkashi to Gangotri to Uttarkashi
Day 05: Uttarkashi to Guptkashi
Day 06: Guptkashi to Kedarnath
Day 07: Kedarnath to Guptkashi
Day 08: Guptkashi to Badrinath 
Day 09: Badrinath to Rudraprayag
Day 10: Rudraprayag to Haridwar
This is just a brief itinerary for you from Haridwar but we have mentioned a detailed itinerary for the chardham yatra from Haridwar above in this post.
Char Dham Yatra package cost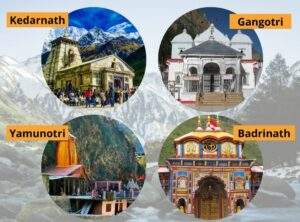 Hinduism accords the Chardham yatra with a great deal of significance, and it draws a sizable number of followers both domestically and internationally. With the best Chardham travel packages, pilgrims can easily visit all four shrines on a very well-planned schedule.
Chard dham yatra package cost normally includes travel, lodging, meals, and sightseeing. Depending on the length of the trip, the kind of lodging, and the mode of transportation, the price of the package may change.
Some popular Char Dham Yatra packages are listed below:
Deluxe Char Dham Yatra Package: This package includes lodging in three to five-star hotels, all meals, transportation by air-conditioned bus, Tempo Traveler, or car, and sightseeing. Typically, the package takes 10 to 12 days and costs between INR 35,000 and INR 45,000 per person.
Budget char dham yatra package, For those who desire to participate in the yatra at a cheaper cost, there is a budget Char Dham Yatra Package. It covers lodging in inexpensive hotels, all meals, transportation by non-AC bus/Tempo Traveler or car, lodging, and sightseeing. The average duration of the package is 10–12 days, and each passenger pays between INR 29,999–39,999.
Char dham yatra package by helicopter: This package is for people who are interested in avoiding tedious trekking and lengthy journey durations. It is called the helicopter Char Dham Yatra. It covers all meals, lodging in five-star hotels, helicopter transportation, and sightseeing. Usually, the package takes 4-5 days.
| | |
| --- | --- |
| Packages | Chardham Yatra package cost per person |
| Chardham yatra package from Haridwar | Rs. 33,999/- |
| Chardham Yatra package from Delhi | Rs. 34,999/- |
| Chardham Yatra by  Helicopter | Rs. 1,85,000/- |
The Char Dham Yatra is a popular pilgrimage route for Hindus in India. The route includes visits to the four most sacred sites in the region: Badrinath, Dwarka, Puri, and Rameswaram. Each site has its own unique religious, cultural, and historic significance.
The most popular and convenient route for the Char Dham Yatra is to begin in Delhi and travel to each site in the following order: Badrinath, Dwarka, Puri, and then Rameswaram. This route allows pilgrims to visit the four sites in a logical sequence while still taking the time to enjoy the beautiful scenery and culture of the region.
Once each site has been visited, it is traditional to take a dip in the waters of the Ganges at Haridwar before returning home. This symbolizes a spiritual cleansing and brings an end to the Char Dham Yatra.
Char dham yatra map with distance
| | | |
| --- | --- | --- |
| Char dham yatra route map from Haridwar | 4 dham distance | Duration (in hrs) |
| Delhi – Haridwar | 210 km | 6 hrs |
| Haridwar – Barkot | 220 km | 7 hrs |
| Barkot – Yamunotri | 36 km/ + 6 Km (trek) | 1:30 hrs + 3 hrs |
| Barkot – Uttarkashi | 100 km | 4 hrs |
| Uttarkashi – Gangotri | 100 km | 4 hrs |
| Uttarkashi – Rudraprayag | 180 km | 6-7 hrs |
| Rudraprayag – Kedarnath | 74 km + 16 km (trek) | 3 hrs + 8 hrs |
| Rudraprayag – Badrinath | 160 km | 5-6 hrs |
| Badrinath – Rishikesh | 297 km | 10-11 hrs |
| Rishikesh – Delhi | 230 km | 6 hrs |
FAQs related to what is the minimum time for Char dham Yatra 2023
Which Char Dham should I visit first?
The starting point of the Chardham Yatra is Haridwar, from where pilgrims begin their journey to the four holy shrines. First, they visit Yamunotri, then the famous Gangotri, followed by the Kedarnath Dham, and finally finish the pilgrimage at the Badrinath Dham.
Which month is better for Char Dham yatra?
The months from April/May to October/November are the only best time to visit Char Dham. Due to being located at high peaks, the temples of Char Dham witness heavy snowfall during the winter season which forces the committee to close the shrines during the winter season.
Which Dham is difficult?
Yamunotri is the first of the four dhams and definitely the toughest. Although, is located at a lower elevation than the other dhams, the narrow and crowded pathway makes it challenging and tough to reach the temple.
How many distances in Char Dham yatra?
These four pilgrimage sites cover a total of approx. 1,607 km starting from Haridwar and ending at Rishikesh.
How much money is required to visit Kedarnath?
Generally, the Kedarnath yatra cost from Haridwar is INR 9500 per person for four day and three nights trip.
Can I go to Kedarnath by own car?
Kedarnath is well connected through a road network. Since air and rail connectivity in Uttarakhand is limited, the road network is the best and most easily available transport option. You can either drive to Kedarnath or hire a cab/taxi to reach Kedarnath from Delhi or any other nearby city
Can I go to Kedarnath alone?
Apart from the abundance of things to see and do, Kedarnath is an excellent destination for a solo trip because it is breathtakingly beautiful and very easy to get to and travel around.
How long is Kedarnath walk?
Kedarnath trek is about 16 Km in distance and can be commenced by foot, palki & on mules. The charges of Palki 7 Mules are almost the same which is Rs. 2000 to 2500 for one side. To avoid the tiredness of a long mountainous trek you can choose the Helicopter services to Kedarnath.
Can I visit only Kedarnath without registration?
Char Dham registration is a compulsory document for those who are planning to visit Badrinath, Kedarnath, Gangotri, Yamunotri temples or Hemkund Sahib in Uttarakhand.
Is medical required for Kedarnath?
Yes. Carrying a medical certificate is a vital and essential requirement for each and every pilgrim which will be provided to the pilgrims after the completion of a thorough checkup of the pilgrim.
What is the cost of Char Dham Yatra in 6 Days?
The cost of Char Dham Yatra depends on several factors including the duration, starting and ending location of the country, type of accommodation, and mode of transportation. The average cost of Char Dham Yatra from Delhi for 12 days and 11 nights is INR 24,600 per person. The itineraries can be modified as per the requirement and budget. 
Contact us for more information and to book the Char Dham Yatra package.
How far is the ropeway to Kedarnath?
The distance from Sonprayag to Kedarnath by the Kedarnath Ropeway will be 13 km. 
Is Kedarnath safe for girls?
Kedarnath Backpacking is completely safe for solo travellers and female travellers.
Can we complete Kedarnath in 1 day?
Yes start your trek at 5 am sharp & you can come back by 7 pm if you are fit.
Can we stay for 2 days in Kedarnath?
Yes, you can stay in Kedarnath for two nights but helicopter service providers may allow a return trip after 2 nights stay at Kedarnath on request but it is only possible if passengers are available other than you are.
Read More:
Chardham yatra travel tips 2023
chardham yatra places route map
Chardham yatra from Surat 2023
Chardham yatra by bus 2023 price
Chardham yatra registration 2023
Chardham yatra 2023 opening date
Chardham yatra from Mumbai 2023
Chardham yatra by Helicopter 2023
When Chardham Yatra start in 2023
Chardham yatra from Dehradun 2023
Chardham Yatra from Bangalore 2023
Chardham yatra from Hyderabad 2023
Current status of Chardham yatra 2023
Things to carry for chardham yatra 2023
When Badrinath Dham will close in 2023
Haridwar to Chardham yatra by bus 2023
Best travel agency for Chardham yatra 2023
irctc Chardham yatra from Hyderabad 2023
Chardham yatra from Haridwar by car 2023
Chardham Yatra Package from Chennai 2023
What is the last date of Kedarnath yatra 2023
Chardham yatra package from Bangalore 2023
Chardham yatra by helicopter from Delhi 2023
Chardham yatra route map from Haridwar 2023
How to Plan Char dham Yatra from Mumbai 2023
Char Dham yatra package for senior citizens 2023
What is the cost of Char Dham yatra package 2023
Chardham Yatra Package from Delhi by Train 2023
Chardham yatra tour package from Haridwar 2023