Chardham Tour Package – 11 Nights/ 12 Days
(Delhi-Haridwar-Yamunotri-Gangotri-Kedarnath-Badrinath-Haridwar-Delhi)
Chardham Tour Package – 11 Nights/ 12 Days: When you plan your journey for a spiritual uplifting, Chardham Yatra(Chardham Tour Package – 11 Nights/ 12 Days) can be the most indulging expedition for devotees. The Chardham tour which comprises the famous Badrinath Temple, Kedarnath Temple, Gangotri Temple and Yamunotri Temple, will raise your senses for a perfect devotional expulsion. The Chardham Yatra packages will offer you a mesmerizing trip to all these amazing shrines with great comforts and in a descriptive form. If you are planning for the Char Dham Yatra from Delhi, we are offering exclusive chardham packages that will cover the destinations like Delhi Haridwar, Barkot, Yamunotri, Uttarkashi, Gangotri, Guptkashi, Kedarnath, Pipalkoti, Badrinath, Rudrapryag, Rishikesh, back to Delhi. The Chardham Tour Package – 11 Nights/ 12 Days for a memorable pious journey. You can have the best experiences from May to October and can plan your tour by going through the detailed itineraries mentioned below:
Highlights:
Hari Ki Pauri Haridwar, Kempty fall Mussoorie, Yamuna River, Bandar punch view from Barkot, Sri Yamunotri Temple, Prakateshwar Cave, Kashi Vishwanath Temple, Shakti Temple, Bhagirathi River, Sri Gangotri Temple, Tehri Dam, Mandakini River, Sri Kedarnath Temple, Sonpryag, Gaurikund, Alaknanda River, Sri Narsingh Temple, Adi Shankaracharya Samadhi, Dholi River, Vishnuprayag, Sri Badrinath Temple, Byas Gufa, Ganesh Gufa, BheemPul, Saraswati River, Mana Village, Pinder River, Nandakini River, Devprayag (Confluence of Bhagirathi and Alaknanda River,) Rishikesh, Laxman Jhoola.
ITINERARY DETAILS:
Day-01: – Delhi – Haridwar | (230 kms/6-7hrs)
Start your drive to Haridwar from Delhi. Overnight drive during Chardham Tour Package – 11 Nights/ 12 Days.
Day-02: – Haridwar –Rishikesh- Barkot | (210kms/7-8hr)
ArrivelHaridwar, After fresh up in a hotel, proceed to Rishikesh (24km) En-route you visit sightseeing of Rishikesh (Ram Jhulla, Laxman Jhulla, Triveni Ghat, Parmarth Niketan, Shivananda and Gita Kutir). After lunch proceeds to Barkot.
Day-03: -Barkot- Yamunotri –Barkot | (47 km /2-3 hrs )
Morning leaves for JankiChatti via Hanuman Chatti& Fool Chatti. On arrival JankiChatti starts the Trek of 06 km for Yamunotri, On Arrive Yamunotri Holi Dip in Garam Kund, then Pooja and Darshan of Shree Yamunotri Ji, after Darshan and Pooja, afternoon start the trek back to JankiChatti on arrival JankiChatti meet with driver and drive back to Barkot. Breakfast at the Hotel during Chardham Tour Package – 11 Nights/ 12 Days.
Hanuman Chatti: The confluence of Hanuman Ganga & Yamuna River.
Yamunotri Temple: Maharani Gularia of Jaipur built the temple in the 19th Century. It was destroyed twice in the present century and rebuilt again.
Surya Kund: There are several thermal springs in the vicinity of the temple, which flow into numerous pools. The most important of these is Surya Kund.
DivyaShila: A rock pillar, worshipped before entering the Yamunotri Temple.
Day-4: -Barkot – Uttarkashi | (100 km/ 4hrs)
The morning after breakfast, drive to Uttarkashi. Check into the hotel on arrival in Uttarkashi. Visit Kashi Vishwanath Temple in Uttarkashi. Overnight stay at Uttarkashi during Chardham Tour Package – 11 Nights/ 12 Days.
Uttarkashi: -Uttarkashi is home to a number of ashrams and temples. The name of the town reflects its similarity to and location (north of) the city of Kashi (Varanasi). Similar to Varanasi, the town of Uttarkashi is also situated on the banks of the River Ganga.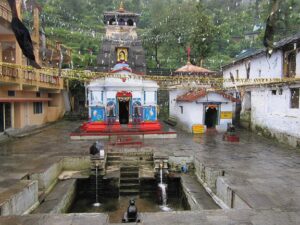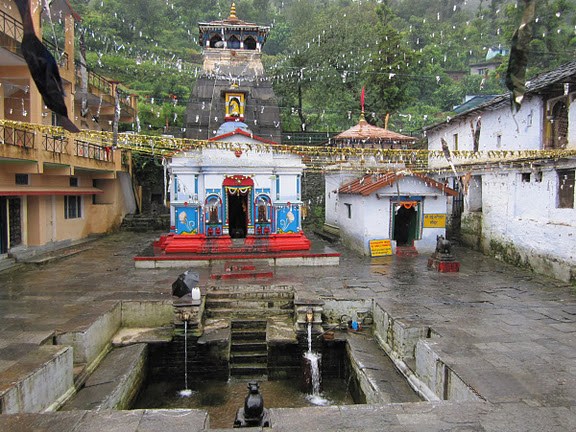 Vishwanath temple – Vishwanath temple is one of the oldest Shiva temples in Northern India. Re-constructed in 1857 by Maharani Khaneti Devi of Tehri State in the ancient architectural style. It is situated at the heart of the town. A massive iron trident, symbolic of the divine mother, is erected and worshipped from time immemorial at the temple complex. Ganeshji, Sakshi Gopal, and Markandeya Rishi's small shrines are also part of the temple complex. Akhand Jyoti, as well as Akhand Abhishek, special aarti in the morning and evening, are offered. As per SkundaPuran, Uttarkashi is known as 'Saumya Varanasi', the abode of Lord Shiva in Kaliyug and counted as one of the twelve Jyotirlingas.
Shakti temple – Right in front of the Vishwanath temple is Shakti temple. It has a big 'Trishul' of about 6 meters in height and a circumference of 90 cm. at the bottom.
Day 05: Uttarkashi Gangotri Uttarkashi | (100kms/3-4 each side)
Early morning after breakfast drive to Gangotri, en-route at Gangnani take a holy dip in Garam Kund and further drive to Gangotri via beautiful Harsil Valley. Harsil is famous for its natural beauty and for the majestic views of the Deodar trees and mountains. On arrival at Shree Gangotri, take a holy dip in the sacred river Ganges which is also called Bhagirathi at its origin. Perform Pooja and Darshan, and after that relax for some time in the lovely surroundings. Later drive back to Uttarkashi. Overnight stay at Uttarkashi.
Gangotri Temple: The temple was constructed by the Gorkha General Amar Singh Thapa in the 18th Century, and is situated on the right bank of Bhagirathi.
Day 06: – Uttarkashi – Srinagar | (200km/8 hrs)
Departure to Srinagar En-route visits Dharidavi darshan. Overnight stay at Srinagar. En-route visit Rudraprayag.Rudraprayag is one of the PanchPrayag (five confluences) of Alaknanda River. It is a confluence of rivers Alaknanda and Mandakini. Kedarnath, a Hindu holy town is located 86 km from Rudraprayag.
Day 07: Srinagar-Guptkashi –Rampur | (98km/4-5hrs)
The morning after breakfast drive to Rampur, En-route visit Guptkashi The name Gupt Kashi means "Hidden Benares. Mythology describes how when the Pandava brothers were searching for a glimpse of Shiva, Shivji first concealed himself at Guptkashi, but later fled from them further up the valley to Kedarnath, where the Pandavas finally got their wish fulfilled. There are more tangible connections as well-the Kedarnath pandas (priests) live in Guptkashi during the winter months, and after the Kedarnath temple closes for the winter, Overnight stay at Rampur during Chardham Tour Package – 11 Nights/ 12 Days.
Day 08: – Rampur – Kedarnath – Rampur | (Darshan)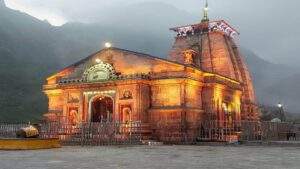 After fresh up in the hotel go ahead to Kedarnath Dham.
By Helicopter: Morning our driver will transfer you to your pre-booked Helipad. After Back our car will drop you at Hotel for a rest.
By Trek: In Morning our driver will drop you at Sonprayag then you have to take a local jeep for Gourikund& then your trek strat at Kedarnath ji. After darshan, you follow the same & back to Sonpraag. There is a big parking issue so the driver will back to another palace if his contact no. is not working then you must arrange another taxi or wait for your driver & send the massage to any other driver.
Kedarnath: The Kedarnath shrine, one of the 12 jyotirlingas of Lord Shiva, is a scenic spot situated, against the backdrop of the majestic Kedarnath range. Kedar is another name for Lord Shiva. According to legend, the Pandavas after having won over the Kaurava in the Kurukshetra war felt guilty for having killed their own brothers and sought the blessings of Lord Shiva for redemption. He eluded them repeatedly and while fleeing took refuge at Kedarnath in the form of a bull. On being followed he dived into the ground, leaving his hump on the surface. The remaining portions of Lord Shiva appeared at four other places and are worshipped there as his manifestations. The arms appeared at Tungnath, the face at Rudranath, the belly at Madhmaheshwar and his locks (hair) with head at Kalpeshwar. Kedarnath and the four above-mentioned shrines are treated as PanchKedar.
Day-09: -Rampur- Badrinath | (238km/ 12hrs)
The morning after breakfast, drive to Badrinath. Check in to the hotel on arrival in Badrinath. Pilgrims after having a bath in the Taptkund have the Darshan of Badrivishal& Aarti in the evening. Brahamakapal is significant for PinddanShraddh of ancestors (Pitrus). There is other interesting sightseeing spot like Mana, Vyas Gufa, Maatamoorti, Charanpaduka, Bhimkund and the "Mukh" of the Saraswati River. Just within three km of Badrinathjee. Overnight stay at Badrinath during Chardham Tour Package – 11 Nights/ 12 Days.
Badrinath: – Badrinath or Badrinarayan Temple is a Hindu temple dedicated to Vishnu which is situated in the town of Badrinath in Uttarakhand, India. The temple and town form one of the four Char Dham.
Day-10: – Badrinath-Pipalkoti | (79km/ 4hrs)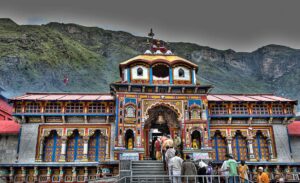 The morning after darshan to Badrinath ji, drive to Pipalkoti, on arrival Pipalkoti check in at the hotel & overnight stay.
Pipalkoti: is a small and scenic town situated at an elevation of 1,260mts above sea level. It is located 17 km after Chamoli on NH58. Pipalkoti acts as a relaxation point for people travelling to Badrinath, Auli, Hemkund Sahib and Valley of Flowers. It is nestled amidst lush green mountains and terraced fields. Pipalkotihas delightful views of the snow-clad mountains and green hills all around.
Day-11: -Pipalkoti – Haridwar | (241 km/ 10 hrs)
The morning after breakfast, drive for Haridwar. On arrival at Haridwar check-in at the hotel. Visit Mansa Devi temple & Aarti at Har Ki Peri in the evening. Overnight stay and breakfast at hotel during Chardham Tour Package – 11 Nights/ 12 Days.
Day-12:- Arrive Delhi | (210 km/ 06 hrs)
Dropping at Delhi airport/station/home/hotel
Chardham Tour Package – 11 Nights/ 12 Days TOUR ENDS!!!!!
During Tour
| | | |
| --- | --- | --- |
| Destination | Nights | Hotels |
| Barkot | 02 | Yamuna River Camp |
| Uttarkashi | 02 | Akash Ganga |
| Srinagar | 01 | Samart Hotel |
| Rampur | 02 | Shivalik Hotel |
| Badrinath | 01 | New Hotel Snow Crest |
| Pipalkot | 01 | Indralok Hotel |
| Haridwar | 01 | Golden Tulip |
| | |
| --- | --- |
| DETAILS | Validity 5th – 15TH May 2023 |
| Package Cost based on Budget Hotel | INR 18900 per person |
| Package Cost based on Deluxe Hotel | INR 21300 per person |
| Package Cost based on Premium Hotel | INR 24800 per person |
COST INCLUDES:
10 nights accommodation at the hotels mentioned above or similar
Daily breakfast, dinner & lunch at the hotels mentioned above or similar
All transfers, excursions and sightseeing tours as per the itinerary shall be provided by air-conditioned vehicle as follows: Air-conditioned 27 Seater Deluxe Coach.
Road taxes, parking fees, fuel charges, and Interstate taxes.
ENGLISH-SPEAKING TOUR GUIDE AT MONUMENTS
Our representative for assistance during arrival & departure transfers.
COST DOES NOT INCLUDE:
Expenses of a personal nature like tipping, laundry, telephone/fax calls, alcoholic & non-alcoholic beverages, camera/video camera fees at monuments, medical expenses, airport departure tax, any insurance etc.
Meals other than those specified above.
Any other services not mentioned in the inclusions.
Our quote is not valid for any period other than that mentioned above
Internal flight/Poni /doli/ helicopter ticket
Visa (compulsory!)
SPECIAL NOTES:
The rates quoted above are in Indian rupees
Rates include only those items specified in the "Cost Include box".
Please note, the names of hotels mentioned above only indicate that our rates have been based on the usage of these hotels. It is not to be construed that accommodation is confirmed at these hotels until and unless we convey the confirmations to you on receipt of your acceptance. However, in the event of any of the above-mentioned hotels not becoming available at the time of initiating the reservations, we shall book alternate accommodation at a similar or next best available hotel and shall pass on the difference of rates (supplement/reduction whatever applicable) to you. for extra bed or mattress will be provided as per hotel policies.
The rooms will be provided as per room availability whether it is double or 4 people sharing.
Flight fares are subject to availability at the time of booking in case the flight fare will hike we will advise you to supplement the cost for the same.
In case of any amendment in Currency & local Government taxes, or any fuel hike, we reserve the right to adjust the tour(Chardham Tour Package – 11 Nights/ 12 Days) price accordingly.
FAQs related to Chardham Tour Package – 11 Nights/ 12 Days
Does Dham yatra package cost?
| | |
| --- | --- |
| DETAILS | Validity 5th – 15TH May 2023 |
| Package Cost based on Budget Hotel | INR 18900 per person |
| Package Cost based on Deluxe Hotel | INR 21300 per person |
| Package Cost based on Premium Hotel | INR 24800 per person |
Which month is good for Char Dham yatra?
However, May and June is the best time to plan for Char Dham Yatra as it becomes comfortable due to pleasant climatic conditions. Chardham Yatra will start on 22nd April 2023 & close on 15th November 2023 (tentative). Kedarnath and Badrinath temples will open on the 26th of April and the 27th of April, respectively.
Which Char Dham to visit first?
It is believed that one should complete the Char Dham Yatra in a clockwise direction. Hence, the pilgrimage starts from Yamunotri, proceeds towards Gangotri, onto Kedarnath, and finally ends at Badrinath.
Is Char Dham yatra difficult?
A Char Dham yatra isn't easy. Pilgrims really need to earn the benefits bestowed, as only two of the temples (Badrinath and Gangotri) are accessible by vehicle. The remaining two (Yamunotri and Kedarnath) require treks. Kedarnath has the lengthiest trek.
How many hours is Kedarnath trek?
 Gaurikund to Kedarnath (16 km trek / 5 – 6 hours). You can reach Kedarnath only after a trek of 16 km through a paved road from Gaurikund. You can take a horse or ponies to climb up the steep path.
What is the cheapest way to Kedarnath?
Cost Breakdown for Kedarnath trip:
Buses: Delhi- Rishikesh ₹400. Srinagar- Rudraprayag ₹100. Rudraprayag- Sonprayag ₹160.
Cabs: Rishikesh- Srinagar ₹300. Sonprayag- Gaurikund ₹30. Gaurikund- Sonprayag ₹30.
Hotels: At Sonprayag ₹1000. At Kedarnath ₹1000.
Food: Lunch: on the trek [towards Kedarnath]: ₹80 (Maggi- ₹50, tea ₹30).
Can we do Char Dham Yatra by car?
Yes, it is possible to go in your car but it's not safe as there are hilly areas and driving in hilly areas isn't easy.
Read Also: Agra
Chardham Yatra Package from Delhi
Chardham Yatra Package from Mumbai Tour Package 2023
Chardham Yatra Package from Mumbai Helicopter Price 2023
Chardham Yatra Package From Mumbai by Flight 2023
IRCTC Chardham Yatra Package 2023 from Mumbai
Chardham Yatra by Helicopter Package Cost 2023
Chardham Yatra Package From Mumbai by Private Tour 2023
Chardham Yatra Package from Pune by Train 2023
Chardham Yatra Package from Pune by Bus 2023
Chardham Yatra Package from Pune by Helicopter 2023
Chardham Yatra Package from Delhi by Train 2023
Chardham Yatra Package from Delhi by Bus 2023
Chardham Yatra Package from Delhi by Helicopter 2023
Chardham Yatra Package from Hyderabad by Helicopter 2023
Chardham Yatra Package from Hyderabad by Train 2023
Chardham Yatra Package from Ahmedabad by Train 2023
Chardham Yatra Package from Ahmedabad by bus 2023
Chardham Yatra Package from Ahmedabad 2023
Golden Triangle Tour With Mumbai 2023
Chardham Yatra Package from Mumbai by bus 2023
Chardham Yatra Package from Mumbai by Helicopter 2023
Chardham Yatra Package from Hyderabad in 2023
Chardham Yatra package from Mumbai in 2023