Things to carry for chardham yatra 2023
Things to carry for chardham yatra 2023 : The most key element of our journey is packing when we are planning a vacation or a Chardham yatra. It chooses what to carry and what not to carry. Even after packing a lot of things into our suitcase, if we don't make a list of the necessary goods, we'll feel like we've forgotten something really important. 
You may prevent this by making a list of necessary items before your trip. By doing this, we can transport the necessities for our travel. The Chardham Yatra is a pilgrimage to Yamunotri, Gangotri, Kedarnath, and Badrinath. These well-known locations are found in Uttarakhand at the peak of the Himalayas.
Hence, when we decide to travel to Chardham Yatra, it is essential that we remember what to pack and carry and stick to our travel checklist so that we don't run into any problems.
Things to carry while traveling to Uttarakhand
The basic things are a backpack & rain cover, 1 liter of pet water bottle, day pack & rain cover, LED torch/headlamp, poncho, umbrella, floaters or sandals, trekking shoes, and an identity card.
List of Essential Items Should be carried before Going to Chardham Yatra
 These are the following things to carry while traveling to Chardham. 
Photo Identity Proof

Camera

Clothes

Snacks and Dry Fruits

First Aid Kit and Some medicines

Mobile Charger and Power Bank

Water Bottle

Trekking Shoes

Towel and Toiletry Kit

Comb and hairbrush

RainCoat or Umbrella

Headphones

BackPack 
Things to carry while traveling to Uttarakhand
Identity proof with a photo
One original photo identification document, such as an Aadhar card or voter identification card, and its photocopy must be packed as important items.
Camera
It is not permitted to use cameras inside religious temples. We should only visit temples for dev darshan, but we can take photos of the surrounding scenery, historical places, and historical spots to make our trip more unforgettable.
Clothes
The most important items on our packing list are clothes. The weather should be taken into consideration when selecting your clothing. clothes to wear in October in Kedarnath Woolen clothing, T-shirts, synthetic and water-resistant pants, cotton socks, mufflers, and other clothing that you want to wear while traveling are all acceptable items to pack. You can also bring a mat or blanket with you.
Snacks and Dry fruits
The most crucial items to pack for a trip are snacks (such as biscuits, namkeens, chocolates, etc.) and dried fruits because they are portable and useful for when we are hungry or need to rehydrate.
First Aid Kit and Some medicines
As we travel to the yatra, kindly bring an emergency first aid kit. It is essential to have with you when traveling. You can take medications like Moov, Glucose, ORS and other pills, Disprin, and painkillers.
Mobile Charger, Power Bank, and Torch
Before embarking on any journey, a mobile charger and power bank are absolutely necessary. So before you travel anywhere, make sure not to forget this crucial item. The torch should be added to the list of items to pack.
Water Bottle 
A water bottle is another thing you should always have with you when you travel. Therefore make sure to bring a bottle of water with you so you may use it as needed.
Shoes
Shoes to wear in Kedarnath are Trekking Shoes While visiting a hilly place, trekking shoes should be the first thing on your packing list.
Toiletry and Towel Set
When traveling, a Quick Dry Towel is essential after taking a bath. It's more portable and takes up less room. Toothpaste, a toothbrush, soap, hand soap, face soap, and other supplies are included in the toiletry kit. These are also essential items to have with you while traveling.
Hairbrush and Comb
Comb and hairbrush are also necessary items to bring and should be packed in your suitcase. It is
Hairbrush and Comb
Comb and hairbrush are also necessary items to bring and should be packed in your suitcase. It falls under your care.
A raincoat or umbrella
A raincoat or umbrella is a need for our luggage. Because of the hills, it might sometimes start pouring when the weather changes.
A backpack
The most crucial item to pack for a trip is a bag. So, take a backpack with a bag pack cover and comfy shoulder straps.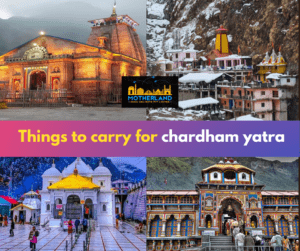 Char Dham Yatra Travel Tips for preparation of Chardham yatra to a Comfortable and Safe Journey
Readily to new:

Make all essential reservations for lodging, transportation, and char dham helicopter services before embarking on your Char Dham Yatra.

Pack wisely: 

carefully by bringing the right clothes, shoes, and necessities like snacks, a power bank, a torch, and any necessary medications.

Check the Weather:

Because of the variable nature of the weather in the Char Dham region, it is imperative to consult the weather forecast before setting out on your trip.

Respect Local Customs and Traditions:

The Char Dham region has a rich cultural legacy, so it's necessary to dress modestly, refrain from taking photos where it's prohibited, and respect Local Customs and Traditions.

Obey all Safety Instructions:

Respect all safety precautions and directions given by the authorities while on the yatra. Don't engage in any risky activities, and stay away from alone or remote travel.

Stay Hydrated:

Be hydrated throughout the yatra by drinking plenty of water and other liquids, as the high altitude and dry weather can lead to dehydration.

Take Breaks:

Throughout the trek, take numerous stops to prevent weariness and allow your body to adjust to the high altitude.

Carry Cash:

Since there aren't many ATMs in the area and using credit or debit cards isn't always an option, bring extra cash with you.

Be Environmentally Aware:

The Char Dham region is a delicate ecological area, therefore it's crucial to refrain from littering, using plastic, and otherwise endangering the ecosystem.

Medical Help:

If you feel any discomfort or health problems while on the yatra, get medical attention right once.
Have a good outlook, enjoy the spiritual experience, and respect regional customs and culture.
The above list of items to bring on the Chardham yatra is only intended as a general overview. The readers of this post are individuals who intend to undertake their own Chardham Yatra this year. To get more details about the Chardham Yatra, give us a call.
As the best company in our field to offer the best Chardham Yatra package, Motherland India Holidays Pvt. Ltd. We take care to make all essential preparations, including transportation to and from the airport and hotel pick-up and drop-off.
Now Plan your Chardham Yatra with essential items and feel the aesthetic vibes and take the blessings of God. When we go on any pilgrimage with a pure soul and worship God then God fulfills all our desires and removes all obstacles in our life. 
Medicines to carry for Kedarnath trip
Crocin/Paracetamol – 6 tablets (for fever)

Vomistop – 4 tablets (for travel sickness in hilly areas)

Combiflam – 4 tablets (pain killer)

Band-aid – 10 strips.

Digene – 6 tablets (for stomach pain and digestion)

Cotton – 1 small roll.

ORS or Electral – 2-3 packets (for dehydration)

Betadine or any antiseptic cream

Move/Volini Spray (for strains, joint, and muscle pain)

Crepe bandage for sprained joints

Any other regular medication that you are having
General
Crocin or Dolo 650  – ( Fever / High Fever )

Combliflam –  ( Fever + Reduce Muscle Pain )

Zintac/Aciloc/Rantac/ Omez ( Acidity)

Allegra ( Allergy )

Cough Syrup ( for cough )

Disprin ( for headache, try not to use at high altitude. instead drink more water and rest. ** Symptom of AMS, DO NOT SUPPRESS )

Vomistop ( anti vomit, use only when most required at high altitude. Check acidity.  ** Symptom of AMS, DO NOT SUPPRESS  )

Avomine ( motion sickness/ nausea, try not to use at high altitude.   ** Symptom of AMS, DO NOT SUPPRESS  )

Cetirizine ( allergic sneezing, cold, etc)

DCold ( for cold )

Mosquito repellent ( cream, to protect against insects )

Strepsils ( for sore throat )

Spasmonil ( for abdominal cramps )

Antibiotics ( Azithromycin) ( for infections. Do not take antibiotics when at high altitude. Descend if the problem persists )
Stomach
Digene ( for indigestion )

Eno ( for gas, acidity )

ORS sachets ( for dehydration)

Norflox TZ ( for loose motion, bacterial infection, and amoebic dysentery. Remember to complete the dose of at least 3 tabs)

Loparmide/Lomotil ( for loose motion, to stop motion. )
Wound Care
Betadine Solution ( to clean the wound )

Dettol ( to clean the wound )

Water Proof Bandaids ( to cover cuts )

Leukoplast – ( Blister remedy) 

Neosporin powder – ( antibiotic powder to prevent infection of the wound)

Cotton – ( for cleaning)

Gauges – ( to dress the wound )

Antibiotic Ointment – ( for wounds)
Bone Injury
Crepe

Arm Slings

Volini( Spray/ Ointment)

Brufen 600 – ( pain killer )
Altitude Sickness
Diamox – ( to prevent symptoms of AMS. 125 mg to 500 mg a day depending on severity. 12. or 24 hourly until return to safe altitude)

Dexamethasone – ( to prevent symptoms of HACE. 4 mg to 8 mg depending on severity. DESCEND. DO NOT CLIMB )

Nifedipine – ( to prevent symptoms of HAPE. 4 mg to 8 mg depending on severity. DESCEND. DO NOT CLIMB )

Learn More About High Altitude Seriousness And Medicines
Snow and Cold
Lip-guard

Moisturiser

Sunscreen SPF 50+
For women
You don't have to bring every single thing listed above; you can bring what you need and find it convenient.
You can also talk to your trek guide or tour operator about the weather, road conditions, and other details so that you can pack your bag appropriately.
Things to carry in Kedarnath trip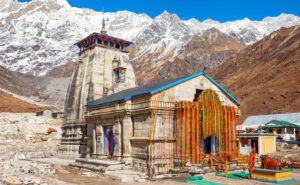 Where there are other Panch Kedar in Uttarakhand and Kedarnath is one of the most significant and well-known Dhams in Uttarakhand, Kedarnath temple is dedicated to Lord Shiva. At a height of 3587 meters is Lord Shiva Kedarnath located and the temple is situated close to river Mandakini.
But before you begin making travel arrangements(things to carry while traveling to Kedarnath) to this land of Shiva. Here are some suggestions to help you have the most comfortable and pleasurable trip possible.
The most crucial thing to remember before trekking to Kedarnath Temple is to leave unnecessary baggage at home. When going on a trek to Kedarnath Temple, you should just bring the absolute necessities.

clothes to wear in October in Kedarnath

: Carry a windcheater, wool socks, monkey hats, and a muffler to protect oneself from the brisk winds here. You will be able to survive the chill brought on by the wind in the upper Himalayan region thanks to these.

Even if you intend to travel during the summer, make sure to include some lightweight winter clothing.

raincoat in Kedarnath

is a must

here, it can rain at any time, therefore you must always have an umbrella, a raincoat, and rain boots with you.

things to carry for Kedarnath trek in October

:

It is imperative to use cold creams, moisturizers, and sunscreen creams.

This is a vital piece of advice, though. Starting with preparatory activities well in advance can help your body become ready for the yatra.

Additionally necessary are

medicines to carry for Kedarnath trip

a medical kit with antiseptic lotions, muscle creams, painkillers, cough syrups, and medications for fever and cold. 

You might want to skip this one if you have respiratory or high blood pressure issues. Trekking and taking in the scenery are the main attractions in Kedarnath. This journey is demanding and is best suited to those in excellent physical condition.

After long hikes, it becomes too exhausting, so bring dark chocolate, dry fruits, and glucose with you for some quick energy.

Book your accommodations in advance; don't rely on last-minute deals when traveling during the region's busy season.

For reasons of safety, only BSNL is available in the Kedarnath area. Private SIM cards are not supported.

Make sure you have additional batteries on hand if you're carrying a camera because the breathtaking scenery of Kedarnath won't let you put it down for even a minute. Never, ever forget batteries to make sure you have photos to look back on for every moment of this fantastic vacation!

Try to go out on your journey as early in the morning as possible. You will move more slowly since the more you wait, the tougher the conditions will be. When getting a head start will also mean less traffic and less fatigue while hiking.

Try to visit before that time before 3 PM, as the Kedarnath Temple gates are closed to tourists. Although they reopen at 5 PM, there is a considerably greater rush and lengthier lines throughout the late hours.

Follow the Government of India's instructions and must register your biometrics before going to Kedarnath. In the unlikely event that you forget, you can register at Sonprayag.

what to wear in Kedarnath trek:

For women, Sarees are no – no option for this trip. In fact, you should avoid wearing anything that restricts your movement or makes it uncomfortable for you to walk in. Salwar Kameez, bottoms, kurtas, or any loose garment with room to move around comfortably would be ideal.

You can hire porters and mules to help you transport your belongings. Check their formal identification before hiring one to prevent being conned. Additionally, keep in mind to first verify their pricing online to avoid paying more than is indicated.

Finally, keep some cash on you at all times. Online payments may not always be successful. Remember to bring your tickets and a photo ID as well. Without that, you won't be allowed to enter some locations.
Things to carry for Badrinath trip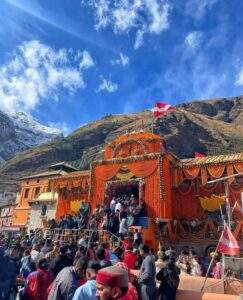 Badrinath is a stunning Chamoli district in the Indian state of Uttarakhand. Narada, Uddhava, and Narayan are all locations in Badrinath, Uttarakhand, India, which is home to the temple of Lord Vishnu, the god of wealth. The months of April to June and September to November are ideal for visiting the Badrinath temple. 
What to carry with you to Badrinath You ought to put on appropriate clothing for the climate. You should pack wool garments during the summer. The distance between Badrinath and Gangotri is 423.4 kilos.
Identity proof with a photo
One original photo identification document, such as an Aadhar card or voter identification card, and its photocopy must be packed as important items. Photo identification
Luggage
You should not pack too much luggage because the Kedarnath luggage Retains just the things you will actually need and that are important to you.
Communication
Always have your BSNL mobile number with you when visiting Char Dham. Reliance's cellphone number offers excellent connectivity in Badrinath and Kedarnath, and it functions during the entire tour.
Clothes
Always select clothing based on the current weather. Woolen apparel, T-shirts, synthetic and water-resistant pants, cotton socks, mufflers, and any other clothes you want to wear while traveling is all acceptable items to pack. Also, consider bringing a blanket or mat for the journey.
Always have enough cash with you
Most lodging establishments, dining establishments, cafes, and eateries found along the routes to Kedarnath and Badrinath do not accept credit cards, e-mobile wallet money transfers, or any other kind of electronic payment. You must therefore have enough cash with you at all times on this journey.
Water 
Water  Maintain your hydration and always carry water.
Shoes
Always wear trekking and comfy shoes when traveling, especially in mountainous terrain.
Raincoat
If you are traveling to Badrinath during the monsoon season, always carry a raincoat.
Medicines
As a result of the Kedarnath Temple's high height, you will encounter weather variations. You are more prone to catch a cold and getting a fever in those temperatures. 
You must therefore pack enough prescription medicines to get you through the duration of your trip. You must also bring prescription meds for nausea, vomiting, and other illnesses.
Things to do in Chardham Yatra
When it comes to the Chardham Yatra, there is no shortage of activities to keep you busy during your journey.
For starters, visiting the four sacred temples of

Yamunotri, Gangotri, Kedarnath, and Badrinath

is an absolute must-do. 

Each temple offers its own unique spirituality and stunning architecture that are worth witnessing. 

Enjoy a scenic drive through the breathtaking Himalayan ranges and take in panoramic views of snow-capped peaks and valleys en route to these sacred sites. 

You can also participate in traditional Hindu rituals such as puja and aartis at various stages along the journey. 

Treks to the nearby glaciers or exploring local food markets are also popular activities for adventurous visitors. 

Be sure to take some time for meditative self-reflection amidst all these activities and allow yourself to fully immerse in the spiritual experience this yatra has to offer.
Best Places to Explore on the Way to Char Dham Yatra 2023
From Haridwar, two different routes can be taken to Yamunotri & Gangotri. The first route takes you through Dehradun – Mussoorie – Barkot. The second route is via Rishikesh – Uttarkashi.
Haridwar & Rishikesh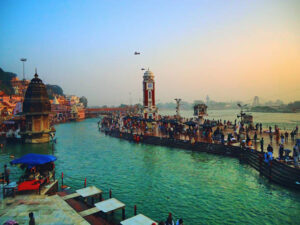 Har Ki Pauri 

Mansa Devi Temple 

Chandi Devi Temple 

Ganga Aarti

Neelkanth Mahadev Temple, Rishikesh

Trimbakeshwar Temple, Rishikesh

Triveni Ghat, Rishikesh
Some Must-Visit Places Enroute to Yamunotri-Gangotri.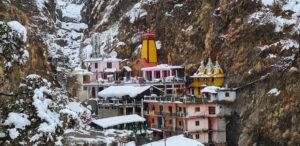 Lachhiwala, Dehradun

Sahastradhara, Dehradun

Robber's Cave, Dehradun.

Kempty Falls, Mussoorie

Barkot

Hanuman Chatti

Janki Chatti 

Kharsali 
Top Places to Visit in and around Yamunotri
Surya Kund

Divya Shila

Yamunotri Temple

Champasar Glacier

Prakateshwar Cave
After getting divine darshans of Yamunaji at Yamunotri, pilgrims usually head back to Uttarkashi and from there; further, make their journey towards other Dhams in the 'Char Dham Circuit'.
Best Places to Visit in and around Uttarkashi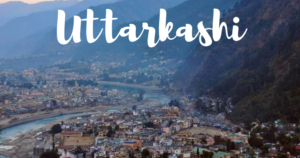 Vishwanath Temple

Shakti Temple

Gangnani 

Harsil

Dharali

Mukhba Village 

Bhairon Ghati 
Top Places to See in Gangotri
Gangotri Temple 

Submerged Shivlinga 

Suryakund Waterfalls

Pandava Gufa 

Bhagirathi Shila 

Gaumukh Glacier

Tapovan and Nandanvan 
Best Places to See in and around Ukhimath
Omkareshwar Temple 

Madhyamaheshwar Temple 

Kali Math Temple
Top Places to Visit in and around Guptkashi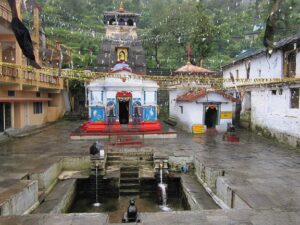 Vishwanath Temple

Ardhanarishwar Temple 

Sonprayag 

Gaurikund
Top Tourist Attractions in Kedarnath
Kedarnath Temple 

Vasuki Tal 

Bhairav Temple 
Top Attractions to Visit in and around Chopta
Tungnath Temple 

Chandrashila Peak

Gopinath Temple
Top Places to Visit on the Way to Badrinath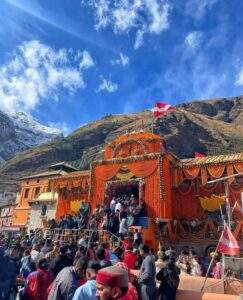 Nandprayag 

Joshimath

Narsingh Temple

Shankaracharya Math

Vishnuprayag 

Hanuman Chatti 

Pandukeshwar 
Top Places to See in Badrinath
Badrinath Temple

Tapt Kund

Narad Kund

Mana Village

Bheem Pul

Saraswati River

Vasudhara Falls
After the darshans of Lord Badri at Badrinath, pilgrims make their way back to Rishikesh – Haridwar. Following are some additional places that can be seen en route to the return journey.
Koteshwar Temple, Rudraprayag

Hariyali Devi Temple, Rudraprayag

Kartik Swami Temple, Rudraprayag

Dhari Devi Temple, Srinagar

Kamleshwar Mahadev Temple, Srinagar

Raghunath Temple, Devprayag

Brahma Kund and Vashisht Kund, Devprayag

Baital Shila, Devprayag
Clothes to wear in October in Kedarnath
Clothes to wear in October in Kedarnath: October in Kedarnath is a cool and crisp month, with an average temperature ranging from 5°C to 15°C. It is important to keep warm while visiting this holy site, and layering your clothes is a good way to do so. 
You may want to pack warm sweaters, fleece jackets or shawls, and comfortable pants or jeans. It's also advisable to carry waterproof jackets and shoes because of occasional drizzles. 
Don't forget gloves, hats, and socks for extra warmth at night time. Since it's a religious place, it's recommended that visitors wear modest clothing while visiting the temple premises. 
Overall, dressing comfortably while keeping yourself warm should be the top priority when packing for an October visit to Kedarnath.
Shoes to wear in Kedarnath
When it comes to shoes to wear in Kedarnath, it's important to prioritize comfort and durability. The terrain can be uneven and challenging, with steep inclines and rocky paths, so sturdy hiking boots or shoes with good ankle support are a must. 
It's also advisable to opt for waterproof or water-resistant footwear since Kedarnath experiences frequent rain showers. As for the material, breathable options like mesh or Gore-Tex will keep your feet cool and dry during treks.
Lastly, don't forget about socks – they play an equally crucial role in ensuring comfort and preventing blisters. A pair of moisture-wicking wool blend socks will serve you well in any weather conditions in Kedarnath.
FAQs related to Things to carry for Chardham yatra
What should we carry for Char Dham Yatra?
Things to Carry:- Woolen Cap, Umbrella, Stick, Tennis Shoes, Rain Coat, Two pairs of Socks, Handy Torch, Moisture cream. These are very cold places so people should get warm clothes along with them. Still cameras, home video cameras are allowed in the Himalayas but only inside the temple are normally not allowed.
Are jeans allowed in Kedarnath Temple?
For men the dress code is Shirt & Trouser, Dhoti or Pyjamas with upper cloth. 
For women the preferred dress code is saree or half-saree with blouse or churidar with pajama and upper cloth. Shorts, mini-skirts, middies, sleeveless tops, low-waist jeans, and short-length T-shirts are not allowed.
What clothing to wear for the Kedarnath trip?
Make sure to carry your light winter wear even if you plan to visit during the summer season. 

It can rain anytime here, so it is mandatory to carry an umbrella and raincoat along with your rain shoes. 

To save yourself from the cold winds here, carry a windcheater, woolen socks, monkey caps, and a muffler.
Does the phone work in Kedarnath?
With this Reliance Jio became the first operator to give mobile and data connectivity on the trek route between Gaurikund and the Himalayan shrine, the telecommunication firm said in a statement. Pilgrims en route to the temple will now stay connected with their loved ones through voice or video calls, it said.
Does mobile work in Kedarnath?
In good news for pilgrims, Reliance Jio became the first telecom operator to provide mobile and data services on the trek route between Gaurikund and Kedarnath.
Is oxygen required at Kedarnath?
After an altitude of 8,000 feet, however, the demand for oxygen increases. To breathe, Kedarnath requires 87 percent oxygen.
Can we walk at night in Kedarnath?
A reminder, start trekking Kedarnath early in the morning as you can trek between 4:00 am to 1:30 pm and not after that. It is because Kedarnath Dham is situated inside the wildlife sanctuary and pilgrims are not allowed to trek outside this time frame.
Which shoes are best for Kedarnath Yatra?
Sports shoes would be the best option of footwear for travelers as you usually have to walk a lot in Kedarnath.
What are the best things to buy at Kedarnath?
Tourists will find several shops selling souvenirs, photographs of Kedarnath, Badrinath and other gods. 

Genuine Rudraksh, which is an important part of Hindu rituals, can also be bought here.

Crystals, Saligrams, herbs like Shilajit, precious stones and Tulsi beads are other things which can be purchased here.
Are there toilets on Kedarnath trek?
SULABH provides washroom facilities all along the way from Gaurikund to Kedarnath. These toilets are basic toilets with a squat system no western toilets. There is no running water or light facility in these canopy toilets.
Is cigarettes allowed in Kedarnath?
Smoking and consuming alcohol is not allowed within the premises.
Is Kedarnath temple open at night?
Daily, Temple opens at 7 am, closes around lunch, then opens at 5 pm, the evening Aarti starts around 6 to 6:30 after that temple closes.
Can we visit Kedarnath without E pass?
Char Dham registration is a compulsory document for those who are planning to visit Badrinath, Kedarnath, Gangotri, Yamunotri temples or Hemkund Sahib in Uttarakhand.
What is the dress code for Badrinath temple?
No specific dress code is recommended for a visit to this temple. Still, costumes covering upper arms and legs are suggested as a mark of respect to the temple customs.
Where can I bath in Kedarnath?
Just below the starting point to Kedarnath trek is the Gaurikund hot spring. The water is boiling at 50° C and one can only sprinkle that water or use the cold Mandakini river water to mix and bath.
Read More:
chardham yatra places route map
Chardham yatra 2023 opening date
Chardham yatra from Mumbai 2023
Chardham yatra by Helicopter 2023
Chardham Yatra Package from Delhi
IRCTC char dham yatra package 2023
Chardham yatra from Dehradun 2023
Chardham Yatra from Bangalore 2023
Haridwar to Chardham yatra by bus 2023
Chardham Yatra Package from Chennai 2023
Chardham yatra by helicopter from Delhi 2023
Chardham Yatra itinerary from Haridwar 2023
Chardham Yatra Package from Mumbai in 2023
Chardham yatra route map from Haridwar 2023
Chardham Yatra Package from Ahmedabad 2023
Char Dham yatra package for senior citizens 2023
Chardham Yatra Package from Hyderabad in 2023
Chardham Yatra Package from Delhi by Train 2023
Chardham Yatra Package from Delhi by Train 2023
Chardham yatra by helicopter from Hyderabad 2023
Chardham Yatra Package from Delhi by Helicopter 2023