Chardham Yatra List 2023
Hence, before learning about the chardham yatra list 2023, let's first clarify what is chardham yatra. The chardham yatra is an annual pilgrimage undertaken by the devout Hindu faithful to visit the four most sacred Hindu sites in North India – Yamunotri, Gangotri, Kedarnath, and Badrinath. The journey is said to cleanse the soul of all of its negative karma and sins and grants the pilgrim spiritual liberation and glorified life in Vishnu Loka. 
Historically, most pilgrims taking part in the chardham yatra package travelled on foot and did so completely alone or with a small group of family or friends. The journey across the four sites consists of 800 kilometres of zigzag roads which can take anywhere from 10-12  days to complete, depending on how the pilgrim plans their trip. 
Yamunotri

is the starting point of the

Char dham Yatra

. Located in the Uttarkashi district of Uttarakhand, the source of the sacred river Yamuna lies at an altitude of around 3293 meters. 

Gangotri,

the second stop of the

Chardham Yatra places

, is located in the mountainous state of Uttarakhand at a vast height of 3042 meters. 

Kedarnath,

the official site of Lord Shiva, is the third destination on the journey and is situated in the northern Indian state of Uttarakhand. Located at a height of 3586 meters, it is regarded as one of the holiest Hindu shrines in Uttarakhand. 

Badrinath,

the fourth and final stop of the Yatra, is known as "Badrinath Dham", the abode of Lord Vishnu. It is situated in the Indian state of Uttarakhand at a lofty height of 3133 meters in the Chamoli district.
The Chardham Yatra will mark its commencement from Yamunotri and end at Badrinath and it is believed that whoever makes the journey will be cleansed from all their sins and curses and obtain "moksha". Millions of devotees from across the country and from abroad come to Uttarakhand to take part in the Yatra and fulfil their sincere wishes with the blessings of Lord Vishnu and Lord Shiva.
The chota char dham Yatra does not only provide an opportunity to witness age-old ancient architecture, but it is also a momentous spiritual journey filled with immense peace, happiness, and blessings as it guarantees inner peace and spiritual liberation. 
Taking part in this Yatra is considered highly auspicious and it is believed that a complete prayer to each of the four sites of the Chardham Yatra has a powerful purifying effect on one's soul. While partaking in this journey, one comes across some of the most breathtaking sites in the Himalayan range and the scenic beauty of these places will arouse a sense of tranquillity within.
List of Places to visit during Chardham Yatra
Haridwar, located in the foothills of the Himalayas in northern India, is one of Hinduism's holiest cities. It is renowned for hosting the world's largest religious gathering – the Kumbh Mela. Haridwar plays a significant role in Hindu mythology as the gateway to spiritual liberation with its numerous ashrams and temples which are scattered along the River Ganga. It truly is an awe-inspiring location to visit for anyone seeking spiritual insight or simply a unique experience!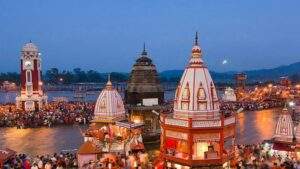 Rishikesh is a small city in northern India located on the banks of the Ganges River. This holy city has been a popular destination for spiritual seekers, yogis, and adventure lovers for centuries. Rishikesh also offers some of the best opportunities to explore outdoor activities such as rafting, mountain biking, and trekking. With its tranquil atmosphere, stunning views, and numerous activities available, Rishikesh makes an ideal spot to get away from it all and reconnect with nature, spirituality, and oneself.
Barkot is a charming Himalayan town situated in the Uttarakhand state of India. It is located at an altitude of 1,220 m above sea level and is surrounded by multi-hued rhododendron forests and snow-clad mountains, providing unparalleled views for those who venture there. Visitors to the area can enjoy spectacular treks and hikes to nearby villages like Dunda and Yamunotri as well as good opportunities for paragliding in areas like Osla village.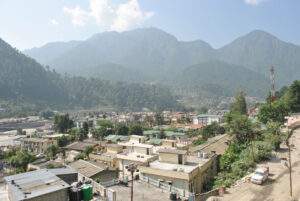 Yamunotri Dham, nestled in the Himalayas, is one of the four most important Char Dhams for Hindus in India. It derives its name from the sacred river Yamuna which originates as a glacier close by. It also houses the temple of Goddess Yamuna and various hot water springs. Pilgrims visit Yamunotri to take a dip in its thermal waters, believe in its legends of goodness and prosperity associated with it, pay their respects to Goddess Yamuna, and receive blessings.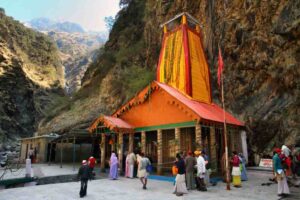 Uttarkashi is a town with an impressive mountain backdrop in the state of Uttarakhand, situated at the confluence of some of India's most important rivers, the Bhagirathi and Alaknanda. It has been a pilgrimage destination since ancient times and continues to be one today – both Hindu pilgrims who come to visit temples like Vishwanath Temple and Kuteti Devi Mandir, as well as nature enthusiasts who marvel at its breathtaking views of snow-capped Himalayan peaks like Swargarohini and Kalanag. The region around Uttarkashi also offers plenty of outdoor activities such as trekking and camping in the Garhwal Himalayas or whitewater rafting on the Ganga. With its stunning natural beauty and spiritual vibes, Uttarkashi truly is one of India's most special destinations.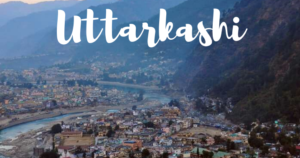 Gangotri Dham is a spiritual site in the Himalayan state of Uttarakhand, India. It is not only a pilgrimage site for Hindus but also one of the most breathtakingly beautiful places in the world. It's the source of the Ganges River which makes it a very important and holy place. Gangotri Temple is home to many Hindu gods and goddesses like Lord Shiva, the goddess Ganga who takes the form of the river Ganges here, and other figures that adorn this spiritual destination with their divine presence. 
Guptkashi is a small town situated in the state of Uttarakhand, India, It is a popular pilgrimage site since it holds several ancient temples dedicated to Hindu gods and goddesses such as Ardhanareshwar and Vishwanath. Guptkashi is renowned for its beautiful landscapes with views of majestic mountains like Chaukhamba peaks and terrains. The village sees an influx of tourists during the summer months for sightseeing and adventure activities such as trekking, river rafting, and skiing.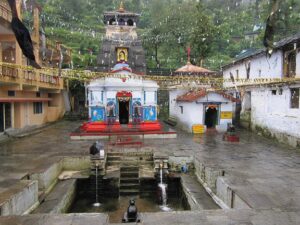 Sonprayag is a picturesque location in Uttarakhand, India that serves as a meeting point for two holy rivers: Mandakini and Alaknanda. It is believed to be the place where sage Kedarnath meditated during his lifetime and hence is considered one of the holiest places in the country. Sonprayag provides stunning views of nature with lush greenery all around, exquisite snow-clad Himalayas, and charming waterfalls amid pristine surroundings.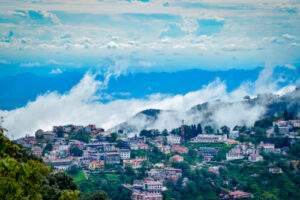 Gaurikund, located in Uttarakhand, India, is a holy lake believed to have been created by Shiva himself. The lake is said to hold magical healing properties, and it has long been a site of pilgrimage. Even today, Hindus come from far and wide to pay their respects and take a dip in the cold waters of Gaurikund. Thousands of devotees also trek up the mountains no less than two times a year for the Gangotri pilgrimage route which leads directly to this sacred lake.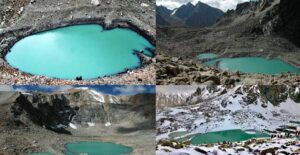 Kedarnath is a major Hindu pilgrimage site in the Indian state of Uttarakhand. It's located at an altitude of 3,565 m (11,750 ft) from sea level on the banks of the Mandakini River and is surrounded by majestic snow-capped mountains. The town serves as a base for pilgrims who come here to worship at its famous Kedarnath Temple which is dedicated to Lord Shiva and is one of the most important Char Dhams among all four shrines located in this region.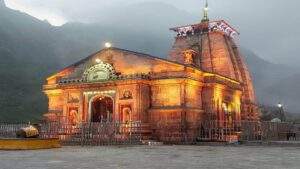 Rudraprayag is a small town located in the Indian state of Uttarakhand, known for its beautiful natural surroundings and spiritual significance. Its name is derived from the famous Hindu god Lord Shiva, one of four important sites along the river Ganga. At this unique location, two rivers – Alaknanda and Mandakini meet together to form the holy river, Ganga. This majestic confluence also makes Rudraprayag an ideal destination for pilgrims who come here to seek blessings and pay their respects to Lord Shiva.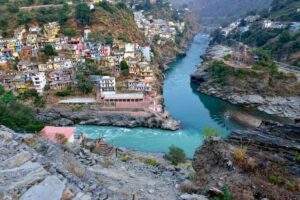 Badrinath is a sacred Hindu pilgrimage town located in the Garhwal region of Uttarakhand, India. It's home to one of the Chardhams or the four most revered religious sites in Hinduism. Badrinath is also known as Badri Vishal and it's believed that visiting this site washes away all sins. The main attraction is a temple dedicated to Lord Vishnu and built by Adi Guru Shankaracharya between 800 A.D – 1100 A.D. 
Char Dham Yatra package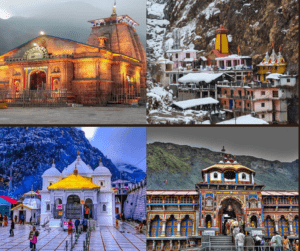 We offer some of the chardham yatra packages in the country. When people travel to the four holy sites in Uttarakhand as part of a spiritual trip, these packages are designed to provide them with an unforgettable experience. And we also provide the best char dham yatra package from Haridwar.
We (Motherland India Holidays Pvt. Limited) offer a variety of best chardham yatra packages(4 dham yatra cost) that may be altered to satisfy the needs of different tourists. Prices range greatly, from budget-friendly packages to lavish options with helicopter rides and accommodations. 
All chardham yatra package costs include round-trip transportation from Delhi, cozy accommodations along the way, meals, and picturesque excursions. 
The detailed Itinerary of the Chardham yatra package from Godhra 2023
Day 01: Delhi – Haridwar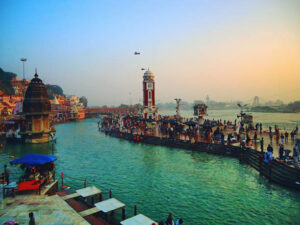 On the first day of the Chardham yatra package, take a flight or Train from Godhra airport or railway station. Our representative will receive you at Delhi airport or railway station from wherever you reach. You will commence your yatra by overnight staying at the hotel in Haridwar.
Day 2: Haridwar – Barkot (170 km)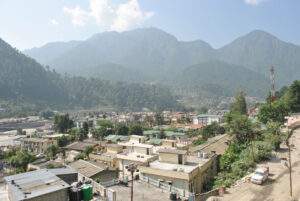 When you arrive at the Haridwar airport or railway station, our knowledgeable representative will meet you there to continue the Chardham yatra package and help you board your pre-arranged vehicle for the short drive to Barkot.
Day 3: Barkot – Yamunotri – Barkot (50 km Drive & 6 km – way Trek)
After breakfast, head to Yamunotri for some sightseeing before starting the 6 km trek from Janki Chatti to your first Chardham yatra tour pilgrimage destination. Return to your hotel for dinner after your tour. In-room breakfast and overnight stay.
Day 4: Barkot – Uttarkashi (100 km)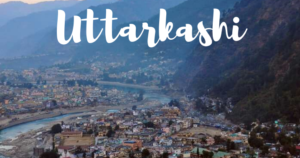 After breakfast, check out of the hotel and drive to Uttarkashi.
Visit the Kashi Vishwanath Temple en route. Check into the hotel in Uttarkashi upon arrival. Dinner and the next day's stay.
Day 05: Uttarkashi – Gangotri – Uttarkashi (90 km Drive One way)
Early in the morning, drive to Gangotri.
Gangotri: When you get to Gangotri (a town in the Uttarkashi district in the Indian province of Uttarakhand), take a religious bath in the holy river Ganges. On the banks of the Bhagirathi River, close to the Ganges River's mouth, is a Hindu pilgrimage town. Because it is thought that Lord Shiva snared the great floods of the Ganges in his tangled locks there, the Gangotri Temple is immensely significant to everyone.
Make your way back to Uttarkashi for dinner after conducting pooja. The following breakfast, depart.
Day 6: Uttarkashi – Guptkashi (100 km)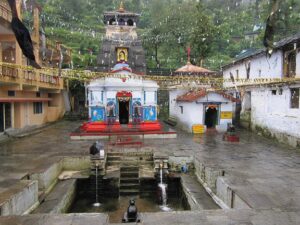 After breakfast, we'll get ready to travel to Guptkashi through the Tehri Dam. In Guptkashi is the well-known Shree Kashi Vishwanath Temple. We leave the temple and head back to our hotel, where we spend the night.
Day 7: Guptkashi – Kedarnath – Guptkashi (Drive 32 km)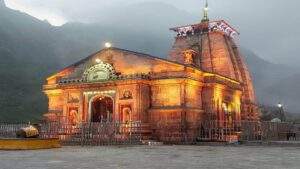 Early departure today for Kedarnath Darshan in our Chardham yatra package.
By Helicopter:

Drive up to the helipad as instructed by the reporting time, complete the boarding procedures, and wait here for your time slot. After arriving in Kedarnath, perform the early pooja and visit the temple before returning to the helipad to catch the return flight to Guptkashi for dinner and an overnight stay.

By Trek:

Upon arrival in Sonprayag in the morning, take a local vehicle to Gaurikund before beginning your trek (on foot or by horse) to Kedarnath ji. You return to Guptkashi using the same route after Darshan. Accommodation is not included in the package if someone wishes to remain in Kedarnath. Every visitor to Kedarnath is responsible for arranging their own lodging and food.
Day 8: Guptkashi – Pipalkoti (121 Km)
Today, leave for Pipalkoti after breakfast. A little, beautiful town called Pipalkoti is located 1,260 MT above sea level. Check in at the hotel and have a relaxing stay.
Day 9: Pipalkoti – Badrinath (75 Km)
After breakfast, today, depart for Badrinath. Once you arrive, check into your hotel. After lunch, go to the temple for holy darshan or pooja. Pilgrims can see Badrivishal there after taking a bath in the Tapt Kund. Staying the night at the Badrinath Hotel for dinner.
Day 10: Badrinath – Rudraprayag (153 Km)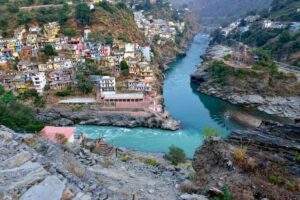 Visit Vyas Cave, Ganesh Cave, Bhim Pool, the source of the Saraswati River, and Mana Village this morning after breakfast (Mana Village: The Last Village Before The Tibetan Border) then take a car to Rudraprayag. When you arrive at Rudraprayag, check into your hotel. Stay the night in Rudraprayag.
Day 11: Rudraprayag – Haridwar (157 Km)
Driving to Rishikesh today after breakfast. Lakshman Jhula and Ganga Ghat at Rishikesh (By Auto on Direct Payment). After that, travel to Haridwar and spend the night there.
Day 12: Haridwar – New Delhi (217 Km)
On the last day of our Chardham yatra package tour after breakfast, embark for New Delhi for your next destination with Happy Memories.
4 dham of India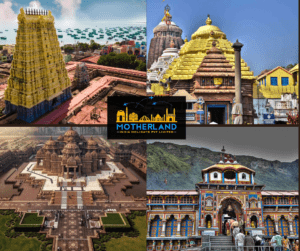 4 dham of India: Four pilgrimage destinations in India are known as Char Dham, which literally translates to "the 4 abodes/seats." These locations are highly regarded by Hindus. It includes Rameswaram, Puri, Dwarka, and Badrinath. Hindus believe travelling to Char Dham at least once throughout their lifetime to be somewhat sacred. Four Vaishnavite pilgrimages are included in the Char Dham yatra as it is described by Adi Shankaracharya.
Puri: Jagannath Temple, Puri
Puri's Jagannath Temple is one of the most iconic symbols of religious and cultural significance in India and is widely regarded as a sacred pilgrimage spot for Hindus. It dates back to the 12th century and is dedicated to the Hindu God, Jagannath, which means "Lord of the Universe". Located on the east coast of India, this massive temple complex is home to many deities including Lord Shiva, Vishnu, Subhadra, and Lord Krishna among others. Richly adorned with intricate carvings and stone reliefs depicting Hindu stories and myths, it is also known for its grand annual Rath Yatra festival which attracts millions of devotees from around the world every year.
Despite being centuries old, this revered structure has been well-maintained over time and remains an important source of spirituality for many Hindus today.
Rameswaram: Ramanathaswamy Temple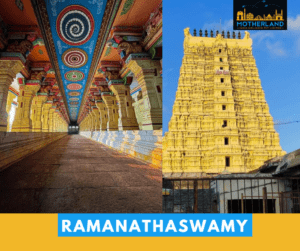 Rameshwaram is an ancient pilgrimage site situated on an island off the southeastern coast of India. It has great religious significance in both Hindu and Jain faiths, as it is believed to be the place where Lord Rama rested after his successful quest to Lanka. It boasts some of India's most significant and stunning temples known for their intricately carved pillars, grand gopurams, and magnificent sculptural events. 
The Ramanathaswamy temple which stands out amongst them all has long corridors lined with beautiful sculptures and also houses a colossal three-tiered temple tower that stands over 68 meters tall. A visit to this holy land not just allows one to experience its spiritual vibes but also the wonderful bridge connecting mainland India with the island, besides Dhanushkodi beach.
Dwarka: Dwarkadheesh Temple
Dwarka is an ancient city located in Gujarat, India, on the banks of the Arabian Sea. It's one of the seven most sacred cities of Hinduism and historically one of its most important pilgrimage sites. Legend has it that it was once the home of Lord Krishna and his family. Today, Dwarka is a bustling tourism destination filled with temples, shrines, historical monuments, and museums – making it an exciting place to explore for any traveller.
Whether you come to explore its spiritual roots or just marvel at its stunning architecture and beautiful beaches, you'll find plenty to love about this unique city.
Badrinath: Badrinath Temple
Badrinath is a small and beautiful town situated in the Chamoli district of Uttarakhand in India. It is one of the most popular pilgrimage sites for Hindus, due to being one of the four Char Dhams, or "four holy abodes" located throughout India. Sitting at an altitude of 3133 m above sea level on the right banks of the Alaknanda River, amidst majestic mountain peaks that are often covered with snow, Badrinath has stunning natural scenery sure to capture your imagination. The Badrinath Temple which dates back to Vedic times is the main attraction here and it houses a one-meter-tall image of Lord Vishnu carved out from black stone.
Apart from pilgrimages, tourists also flock to this spot to savour its breathtaking views, lovely lakes such as Mana Dham Tal, Vasudhara Falls, and Satopanth Glacier for trekking activities, and much more!
Char Dham Yatra package cost
Char Dham Yatra package cost: The cost of your vacation will primarily depend on how you tailor your journey if you're travelling on a spiritual search with the Char Dham Yatra package. In order to avoid paying more during peak season, travellers either plan ahead or be prepared to spend a little more. 
If you're looking for an all-inclusive package deal that covers lodging, meals, and transportation, these deals can run you a couple of thousand dollars or more. The final cost of your Char Dham Yatra Package will vary according to the level of expertise you're seeking and the add-ons you decide to include.
Discovering India's spiritual and cultural history is made possible by the Motherland India Holidays Pvt Limited Chardham Yatra Package. The package includes transportation to Yamunotri, Gangotri, Kedarnath and  Badrinath, four of India's holiest sites. Along the way, you'll get to see some of India's most breathtaking countryside and take part in a variety of religious rites.
Depending on the travel class you select, the Char Dham Yatra package cost by train varies. The cost of standard tickets for the most affordable char dham yatra package ranges from Rs. 6000 to Rs. 8000 per person, while the cost of AC tickets can reach Rs. 10,000 per person. The Chardam yatra package by train prices might also change depending on the train and the time of travel. To obtain the greatest deals, it's always a good idea to get your tickets in advance. These resources provide further details on Char Dham Yatra packages and ticket price.
A helicopter is one of the options for completing this journey. The length of the excursion and the size of your group are two factors that affect how much a Char Dham Yatra package costs by helicopter. A group of four would typically spend about Rs. 2 lakhs on a one-week excursion, without considering the price of food or lodging. 
Chardham Yatra Places
Chardham Yatra Places: Uttarakhand, popularly known as Devbhoomi or the Land of Gods, is home to many temples and welcomes pilgrims all year long. One of the most notable of the several spiritual places and circuits that pilgrims visit in Uttarakhand is the Char Dham Yatra. Four holy sites—Yamunotri, Gangotri, Kedarnath, and Badrinath—that are too high up in the Himalayas are visited during this Chardham yatra or pilgrimage.
Every year, the high-altitude shrines remain closed for about six months, beginning in the spring (April or May) and ending with the arrival of winter (October or November). It is said that one must travel clockwise around the Chardham Yatra sites. As a result, the pilgrimage begins in Yamunotri and continues through Gangotri, Kedarnath, and eventually Badrinath. The travel could be completed through an air route or a road (helicopter services are available during 4 dham yatra places visits).
Char Dham Yatra places/ Chardham Yatra Places give you new experiences of existence. People consider that the Char Dham Yatra is all about Yamunotri, Gangotri, Kedarnath, and Badrinath. But, a holy journey of these shrines is known as Chota Char Dham. Bada Char Dham includes Badrinath, Dwarka, Puri, and Rameshwaram, and these four abodes are present in the four directions of the country.
FAQs related to Chardham Yatra List 2023
What are the 4 main Dham in India?
The four(bada) Dhams are, Badrinath, Dwarka, Puri, and Rameswaram. 
What is the order of the Chardham Yatra?
The four sites that together make the Hindu pilgrimage are; Yamunotri, Gangotri, Kedarnath, and Badrinath. Each and every one of these 4 locations are sacred in the Hindu religion.
Which Dham we should visit first?
Yamunotri
The starting point of the Chardham Yatra is Haridwar, from where pilgrims begin their journey to the four holy shrines. 
Which places are in Chota Char Dham?
Located in the Garhwal region of the state of Uttarakhand, the circuit consists of four sites—Yamunotri, Gangotri, Kedarnath, and Badrinath.
Which God is in 4 Dham?
Out of which, Badrinath is situated in the north, Dwarka to the west, Jagannath Puri in the east, and Rameswaram Dham in the south. In Hindu mythology, Hari is called Vishnu while Har or Shiva is called Shashwat Mitra (eternal friend). It is believed that while Lord Vishnu resides, Lord Shiva also lives closer.
Which route is best for the 4 Dham Yatra?
The best route for the Chardham yatra from Haridwar is as follows. Haridwar → Barkot → Yamunotri → Uttarkashi → Gangotri → Guptakashi → Kedarnath → Joshimath → Badrinath.
How many km is Char Dham Yatra?
These four pilgrimage sites cover a total of approx. 1,607 km starting from Haridwar and ending at Rishikesh.
Which month is best for Char Dham Yatra?
However, May and June is the best time to plan for Char Dham Yatra as it becomes comfortable due to pleasant climatic conditions.
How many days to complete the 4 Dham Yatra?
You can complete Char Dham Yatra in 6 days and seek blessings at all four holy sites of Uttarakhand. 
Can Kedarnath be done in 1 day?
You can complete the trek in one day or you can stretch the trek for a few days.
Which is higher Kedarnath or Badrinath?
Kedarnath (11,755 ft.) is higher than Badrinath (10,800 ft.).
What is the difference between Char Dham and Chota Char Dham?
Char Dham, literally 'the four abodes', yatra refers to the journey up the mountains to four sacred temples in the North Indian state of Uttarakhand. It is also referred to as 'Chhota Char Dham' to differentiate it from the bigger circuit of Char Dham sites.
Which Lord is Badrinath?
Badrinath, an ancient temple dedicated to Lord Vishnu.
What are the 5 Kedarnath temples?
The state located in the Garhwal region is five such revered shrines where Lord Shiva is worshipped. Collectively known as Panch Kedar (panch in Hindi means five), these temples are Kedarnath, Madhmaheshwar, Tungnath, Rudranath, and Kalpnath.
Is Chardham Yatra difficult?
Chardham Yatra is considered is as one of the toughest Yatra in the Himalayan region, so don't take it lightly as one should physically and mentally fit to travel this circuit.
Read More:
Chardham yatra 2023 opening date
Chardham yatra from Ahmedabad by helicopter price 2023
Chardham Yatra helicopter booking Price 2023
Chardham yatra by helicopter from Rishikesh 2023
Chardham Yatra by helicopter from Bangalore 2023
Chardham yatra by helicopter from Pune 2023
Chardham yatra by helicopter tours 2023
Chardham Yatra itinerary from Haridwar 2023
Chardham yatra by helicopter cost 2023
best chardham yatra packages 2023
Chardham yatra from Mumbai 2023
Chardham yatra by Helicopter 2023
chardham yatra by helicopter price 2023
Chardham yatra by helicopter from Delhi 2023
Chardham yatra package by helicopter 2023
4 dham yatra package from Mumbai 2023
Char Dham yatra package for senior citizens 2023
Best chardham yatra package from Mumbai 2023
Chardham yatra by helicopter from Hyderabad 2023
Chardham Yatra by helicopter 2023 price
Chardham Yatra Package from Dahod 2023
Chardham yatra package from Halol 2023
Chardham Yatra Package from Dakor 2023
Chardham Tour Package – 11 Nights/ 12 Days
Chardham Yatra Package from Vadodara 2023
Chardham Yatra Package from Mumbai Tour Package 2023
Chardham Yatra Package from Mumbai Helicopter Price 2023
Chardham Yatra Package From Mumbai by Flight 2023
IRCTC Chardham Yatra Package 2023 from Mumbai
Chardham Yatra by Helicopter Package Cost 2023
Chardham Yatra Package From Mumbai by Private Tour 2023
Chardham Yatra Package from Pune by Train 2023
Chardham Yatra Package from Pune by Bus 2023
Chardham Yatra Package from Pune by Helicopter 2023
Chardham Yatra Package from Delhi by Train 2023
Chardham Yatra Package from Delhi by Bus 2023
Chardham Yatra Package from Delhi by Helicopter 2023
Chardham Yatra Package from Hyderabad by Helicopter 2023
Chardham Yatra Package from Hyderabad by Train 2023
Chardham Yatra Package from Hyderabad by Bus 2023
Chardham Yatra Package from Ahmedabad by Train 2023
Chardham Yatra Package from Ahmedabad by bus 2023
Chardham Yatra Package from Ahmedabad 2023
Golden Triangle Tour With Mumbai 2023
Chardham Yatra Package from Mumbai by bus 2023
Chardham Yatra Package from Mumbai by Helicopter 2023
Chardham Yatra Package from Hyderabad in 2023
Mumbai to Chardham yatra packages 2023
Chardham Yatra Package from Mumbai in 2023
IRCTC char dham yatra package 2023
Chardham Yatra Package from Delhi
Chardham yatra tour package from Ahmedabad 2023
Chardham Yatra Package 2023 from Mumbai
Chardham Yatra Package from Godhra 2023
chardham yatra places route map
12 Nights/ 13 Days Char Dham Yatra Package from Mumbai 2023