Char Dham yatra package for senior citizens 2023
Char Dham yatra package for senior citizens 2023: Uttarakhand, formerly known as Uttaranchal and Devbhoomi, is a northern Indian state located in the Himalayas. Famous for its stunning landscapes, it's home to some of India's most-visited pilgrimage sites and national parks such as Badrinath Temple and Valley Of Flowers National Park.
The Char Dham Yatra is a pilgrimage to Yamunotri, Gangotri, Kedarnath, and Badrinath, four of India's holiest locations. It is a well-known Hindu pilgrimage and has played a significant role in Indian culture for many years. There are unique char dham yatra packages available for senior citizens to make the journey simpler and more pleasurable.
These Char Dham yatra packages for senior citizens 2023 normally include lodging and food, as well as transportation from the starting location to each of the four destinations. They frequently also include senior-specific activities and sightseeing excursions. Even more specialised services, such as medical support, physical therapy, and senior-friendly activities, are included in some packages.
Char Dham yatra package for senior citizens 2023 or char dham for the elderly can greatly ease and enhance the unique and inspiring experience that is the Char Dham Yatra for seniors. Your elderly family members can travel safely, comfortably, and meaningfully with the correct package.
Senior citizens can take advantage of a unique Char Dham yatra package for senior citizens 2023 from MOTHERLAND INDIA HOLIDAYS PVT LIMITED. An all-inclusive tour of some of India's holiest places is included in this package. A round-trip flight, lodging at each of the four locations, meals, and sightseeing excursions are all included. Additionally, the bundle offers older folks unique savings including free admission and front-row seating.
Senior citizens can comfortably and safely discover India's spiritual history with the help of this Char Dham yatra package for senior citizens 2023. Our knowledgeable guides will share insights into the past and present of each location, making the excursion both interesting and pleasurable. In addition, our knowledgeable support staff will be on hand around-the-clock to respond to any inquiries and offer help if necessary.
The Char Dham yatra package for senior citizens 2023 consists of a journey of 11 nights and 12 days that will provide you with an unforgettable experience. Before getting to know more about the Char Dham yatra package for senior citizens 2023 and char dham yatra package cost, let's look into some insights into the Chardham yatra below in the article we will also look into the Char Dham yatra package for senior citizens 2023 which will be followed by the details based on Char Dham yatra package for senior citizens 2023 by flights, etc.
The whole Char Dham Yatra in Uttarakhand is a journey for spiritual upliftment and the deepest self. These four most important Hindu sanctuaries, located in Uttarakhand's Garhwal Himalaya mountains, attract pilgrims from India and beyond the globe.
The goal of this holy pilgrimage is to achieve salvation, or moksha, Hinduism's ultimate state of emancipation. Char Dham Yatra is a religious pilgrimage journey to the ancient Shrines of Badrinath (Lord Vishnu's abode), Kedarnath (Lord Shiva's home), Gangotri (Lord Ganga's habitat), and Yamunotri (Lord Yamuna's abode). Another Char Dham comprises four sacred locations distributed across India. These include Badrinath in Uttarakhand, Puri in Odisha, Dwarka in Gujarat,  and Rameswaram in Tamil Nadu, all of which were founded by Adi Shankaracharya.
You can fulfil your transcendent quest by visiting the Char Dham Temples in Uttarakhand. Embark on a journey to escape worldly charms and reach almighty's Eden-like paradise where the chaos of the world stops and ethereal harmony abides. A Hindu pilgrimage circuit consists of a series of Dhams, each dedicated to a deity and having a unique significance. Goddess Yamuna is worshipped at Yamunotri, where the Char Dham Darshan Tour begins, while Goddess Ganga is worshipped at Gangotri. Lord Shiva is worshipped at Kedarnath, which is considered to be one of the 12 jyotirlingas, and Lord Vishnu is worshipped at Badrinath, which is also a part of the Char Dham.
Driven by the whirlwind of devotion and spirituality devotees yearn to take this pilgrimage tour once in a lifetime., but what makes the yatra even more exciting is the spellbinding views of the Himalayas, mountain forests, meadows, waterfalls, rivers, valleys, and other lovely faces of nature that one comes across on the way. The journey takes you to the pious Adi Shankaracharya Samadhi, blissful Gaurikund, Kedarnath Gufa, Tapt Kund, Brahma Kapal, Neelkanth Peaks, Bhagirathi River, Vasuki Taal, Surya Kund, Divya Shila and many more sacred sites. The Chardham Darshan Yatra of Uttarakhand always commences from Yamunotri and then continues to Gangotri and Kedarnath before coming to an end in Badrinath.
1. History of Yamunotri
The Yamuna River, considered sacred by Hindus, begins its life in Yamunotri. Yamunotri Dham is the first holy site on the pilgrimage, and it can be found in the Uttarkashi district of Uttarakhand. There is a common myth that a dip in its waters can wash away one's sins and provide protection against violent death. According to legend, Naresh Sudarshan Shah, ruler of Tehri, constructed the Yamunotri temple in 1839. The sacred shrine is home to not only the Yamuna Devi (goddess) but also the Ganga Devi icon. Surya Kund is the most significant of several hot water springs in the area around the temple. Rice and potatoes are prepared in the kund and offered to the devi as Prasa
 2. History of Gangotri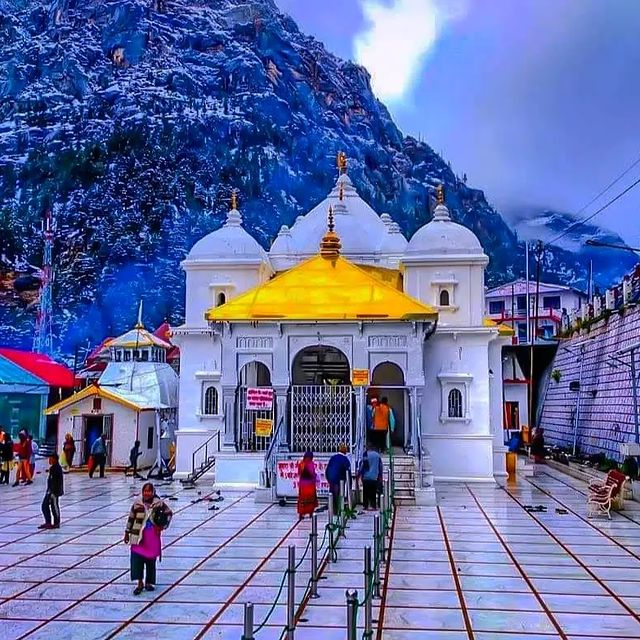 Ganga, the Hindu goddess who is worshipped in Gangotri Dham, is thought to have come to Earth to wash away the sins of humanity. Around 18 kilometres from the town of Gangotri is where the river's beginning, at Gaumukh, from the Gangotri glacier begins. Amar Singh Thapa, a Gurkha general, constructed the first Gangotri temple in the Uttarkashi region of Uttarakhand in the early nineteenth century.
3. History of Kedarnath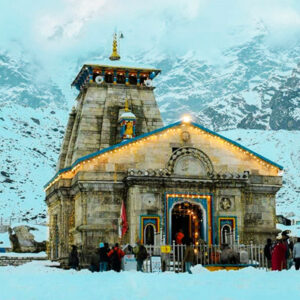 Kedarnath is located in the Uttarakhand region of Rudraprayag, which is the furthest away from all the holy sites visited on the yatra. Kedarnath Temple was first constructed by Pandavas. Adi Shankaracharya had the current building erected in the eighth century right next to the earlier temple. The grey stone building is a feat of architecture thanks to its towering appearance and longevity throughout the ages in hard environments.
4. History of Badrinath
One of the holiest sites for Hindus is located in Badrinath. The Badrinath temple is included in both the Char Dham and the Chota Char Dham, making it one of the 108 Divya Desams. The idol of Lord Badri was discovered by Adi Shankaracharya in the Alaknanda River, and he installed it in a cave close to the Tapt Kund.
The temple, originally built by a Garhwal King in the 16th century but extensively renovated due to natural disasters, is still in use today. Badrinath Dham, which is located between the Nar and Narayan peaks, is stunning because of the majestic Neelkanth mountain in the distance.
We cordially invite you to join us on this unique adventure as we take in the splendour and awe of India's Char Dham Yatra!
The top attraction you won't want to miss out on during Char Dham yatra package for senior citizens 2023
Visit the Kempty Falls
Explore Uttarkashi
Visit to Dayara Bugyal, Dodi Tal, Gangnani, Sat Tal, Maneri, Nachiketa Tal and Gangotri
Visit Kashi Vishwanath Temple
Holy dip in the sacred river Ganges
Worship Lord Shiva at Gangotri temple
Visit to Guptkashi
Trekking from Gaurikund to Kedarnath
Visit to Badrinath
Explore the grand snow-clad Himalayas
Visit Tapt Kund (Hot Spring)
Explore Rudraprayag/ Srinagar
Visit Ram Jhula, Laxman Jhula and Munu ki Reti in Rishikesh
Tour Itinerary for char Dham yatra package for senior citizens 2023:
Day 01: Delhi – Haridwar
Day 02: Haridwar – Barkot (170 km)
Day 03: Barkot – Yamunotri – Barkot (50 km Drive & 6 km – way Trek)
Day 04: Barkot – Uttarkashi (100 km)
Day 05: Uttarkashi – Gangotri – Uttarkashi (90 km Drive One way)
Day 06: Uttarkashi – Guptkashi (100 km)
Day 07: Guptkashi – Kedarnath -Guptkashi
Day 08: Guptkashi – Pipalkoti (136 km)
Day 09: Pipalkoti – Badrinath (77 km)
Day 10: Badrinath – Rudraprayag (157 km)
Day 11: Rudraprayag – Haridwar (166 km)
Day 12: Haridwar – New Delhi (206 km)
Inclusions:
1.       Accommodation

2.       Dinner, lunch, and breakfast

3.       Transport services that are comfortable

4.       All tolls, parking, and driver allowances
Exclusions:
1.       Additional costs for the pony, ropeway, palaki, entrance fee, etc.

2.       Insurance for travel or health care

3.       Everything that is not listed under "inclusions."
Char Dham Yatra package cost
Char Dham Yatra package cost: The price of your tour for those wishing to travel on a spiritual quest with the Char Dham Yatra package will largely rely on how you customize your journey. Travellers should make plans in advance or be ready to spend a little extra during peak season because costs can be higher. These packages can cost you a couple of thousand dollars or more if you're searching for an all-inclusive package offer that includes transportation, hotel, and meals. In the end, the price of your Char Dham Yatra Package will differ according to the experience you're looking to have and the extras you select for your trip.
The Motherland India Holidays Pvt Limited Char Dham yatra package for senior citizens 2023 is a fantastic way to discover India's spiritual and cultural heritage. Travel to four of India's holiest locations is included in the package: Badrinath, Kedarnath, Gangotri, and Yamunotri. You will have the chance to experience some of India's most stunning scenery along the journey and participate in a variety of religious rituals.
How much your Char Dham yatra package for senior citizens 2023 will cost will depend on the kind of lodging you choose and the size of your group. Additionally, meals, local transportation, and a tour guide are included in the Char Dham yatra package for senior citizens 2023. Overall, it's a fantastic opportunity to see India's attractions without going over budget.
Char Dham yatra family package

The Char Dham yatra family package is an ideal way to get closer to India's holy sites and allows families to deepen their faith. This comprehensive yatra covers the four sacred places of Badrinath, Kedarnath, Gangotri and Yamunotri sites that symbolize the spiritual power of India. Special package prices while expert tour guides ensure peace of mind with hassle-free guidance throughout the duration of the pilgrimage.
Exploring the Char Dham yatra in India is an experience like no other! Join us and embark on a journey to explore the sacred and spiritual pilgrimage sites of Gangotri, Yamunotri, Kedarnath, and Badrinath. Our Char Dham Yatra family package is perfect for those looking to bring their families along to enjoy this incredible adventure.
With experienced guides leading the way and three-star accommodations providing comfortable stays throughout your journey, we're sure you'll have a truly unique religious experience as you bask in the beauty of these ancient sites. So why wait? Choose our Char Dham Yatra family package or char Dham yatra package for senior citizens 2023 now and get ready to witness India's history in its most mesmerizing form.
Cheapest Char Dham yatra package
The cheapest Char Dham yatra package for senior citizens 2023 is a great option for those who're looking to explore the four most important pilgrimage sites of Hindus in India. This package typically begins in Delhi and takes about 11 days, usually covering Haridwar, Rishikesh, Yamunotri, Gangotri, Kedarnath and Badrinath. The package offers basic but decent accommodation along with food, transportation services and some sightseeing. With this budget-friendly package, you get to cover all the main points as well as gain an insight into the culture and customs of Uttarakhand during your stay at these holy sites.
char dham yatra travel tips
When travelling to India on the Char Dham Yatra, there are some important tips to keep in mind.
Know the Best Time to Visit.
Consult an Agency and Get Your Registrations Done Easily.
Start planning your trip well in advance, researching routes and tour packages thoroughly.
Focus on weather conditions, as heavy rains can disrupt travel plans.
Be sure to pack light, since you'll be doing a lot of hiking and trekking during the pilgrimage.
Bring along necessary medical supplies and make sure any medication is up-to-date.
Carry a valid ID and dress appropriately – many temples have strict clothing rules! Above all else, remain flexible – with difficult terrain and unpredictable weather you may need to adjust your plans last minute.
Avoid Carrying or Consuming Alcohol on this Sacred Journey.
Prepare mindfully for this incredible journey, it will certainly be an unforgettable experience!
Age limit for Char Dham yatra
The Char Dham Yatra is a treasured Hindu pilgrimage that many people undertake to visit four holy sites in India. Generally, it is recommended that those undertaking this pilgrimage should be of a certain physical and mental health and well-being, with an age limit of typically 65 years or less. Certain people are exempt from the age limit due to their own body constitution. This pilgrimage should not be undertaken if you are suffering from any inter-related diseases, hypertension, diabetes etc., as it involves steep terrain and inclines which could prove to be tax for anyone who has underlying medical conditions. Additionally, those visiting should carry enough food supply and be well-hydrated always during the journey; children require special attention in this regard.
FAQs related to Char Dham yatra package for senior citizens 2023
Can senior citizens go to Kedarnath?
Kedarnath Age Limit
Kedarnath Temple: It is advised that kids below 10 years and senior citizens above 65 years of age should avoid pilgrimage due to the high altitudes. However, if medical fitness is proven, a devotee of any age can join the holy yatra.
How much does Char Dham Yatra cost?
| | | |
| --- | --- | --- |
| Char Dham Yatra Holiday Packages | No. of Days | Price |
| Char Dham Yatra By Helicopter | 5 Nights / 6 Days | Rs. 1,99,990 |
Is Char Dham yatra safe for senior citizens?
In this Char Dham pilgrimage tour for senior citizens, we provide a complete, safe, secure, and hassle-free yatra with decent hotels and experienced professional drivers. This senior citizen char Dham yatra package is for 9 nights & 10 days including stay, transport, and meals.
Can senior citizens go to Badrinath?
Every year many pilgrims go to Badrinath, and Kedarnath and are also older than their parents, but problem reports are very less.. yes, just in case the medical facility is there..so don't worry much. Keep woollen for them, all necessary medicines, and rain gear with you.
Is there less oxygen in Kedarnath?
One can still be a good mountaineer even at the age of 70 years if one is a yoga practitioner. The oxygen depletion is measured in atmospheric pressure or per cent in less oxygen. At Kedarnath, the atmospheric presence of oxygen is only 40 per cent of the required level.
Is there any age limit for Char Dham yatra?
Pilgrims should avoid meeting elder persons (above 65 years) and minors (below 10 years) during their visit to Shrine. Pregnant ladies, Infants & pilgrims less than 10 years & above 65 years are advised to avoid the char dham yatra. This e-Pass is valid only for the Darshan at Temple during the visit to the Shrine.
Which month is good for Char Dham yatra?
However, May and June is the best time to plan for Char Dham Yatra as it becomes comfortable due to pleasant climatic conditions.
How many days are enough for Char Dham?
If you want to enjoy the best of Char Dham Pilgrimage tourism, you will need around 11 to 12 days to cover all the places. Apart from the four Dhams there are other places you can explore like Gaumukh, Tapovan, Along Valley, Bhairavnath Temple, Vasuki Tal, Chopta, Haridwar, Auli, Hemkund Sahib and Rishikesh etc.
Is there a subsidy for Char Dham yatra?
Goes without saying that if you have landed upon Chardham tour's Char Dham Tour packages whose proven track record in serving hundreds upon the pilgrimage to the four abodes of Divinity scattered across the majestic Himalayan ranges can make getting subsidies for Char Dham Yatra as easy as an apple pie.
Can a 70-year-old go to Ladakh?
YES, very much, provided that the 70-year-old is in good health.
Which is more difficult Kedarnath or Yamunotri?
Yamunotri is the first of the four dhams and definitely the toughest. Although is located at a lower elevation than the other dhams, the narrow and crowded pathway makes it challenging and tough to reach the temple.
Is there an oxygen problem in Badrinath?
Yes, As Badrinath and Kedarnath Dham is located at a height of almost 11,500 feet above sea level, the oxygen content in the air is very low.
Can 70-year-olds travel?
Yes, but it depends on your health. You're never too old to travel.
Is there a free darshan in Tirupati for senior citizens?
The cost of the ticket is free. Senior citizens (65 or above) can have darshan at Tirumala Tirupati Balaji Temple free of cost. Senior citizens are also provided with a laddu ticket (2 laddus per person) free of cost. There is no need for senior citizens to wait in the queue.
Read More:
Best chardham yatra package from Mumbai 2023
Chardham Yatra Package from Dahod 2023
Chardham yatra package from Halol 2023
Chardham Yatra Package from Dakor 2023
Chardham Tour Package – 11 Nights/ 12 Days
Chardham Yatra Package from Vadodara 2023
Chardham Yatra Package from Mumbai Tour Package 2023
Chardham Yatra Package from Mumbai Helicopter Price 2023
Chardham Yatra Package From Mumbai by Flight 2023
IRCTC Chardham Yatra Package 2023 from Mumbai
Chardham Yatra by Helicopter Package Cost 2023
Chardham Yatra Package From Mumbai by Private Tour 2023
Chardham Yatra Package from Pune by Train 2023
Chardham Yatra Package from Pune by Bus 2023
Chardham Yatra Package from Pune by Helicopter 2023
Chardham Yatra Package from Delhi by Train 2023
Chardham Yatra Package from Delhi by Bus 2023
Chardham Yatra Package from Delhi by Helicopter 2023
Chardham Yatra Package from Hyderabad by Helicopter 2023
Chardham Yatra Package from Hyderabad by Train 2023
Chardham Yatra Package from Hyderabad by Bus 2023
Chardham Yatra Package from Ahmedabad by Train 2023
Chardham Yatra Package from Ahmedabad by bus 2023
Chardham Yatra Package from Ahmedabad 2023
Golden Triangle Tour With Mumbai 2023
Chardham Yatra Package from Mumbai by bus 2023
Chardham Yatra Package from Mumbai by Helicopter 2023
Chardham Yatra Package from Hyderabad in 2023
Chardham Yatra package from Mumbai in 2023
IRCTC char dham yatra package 2023
Chardham Yatra Package from Delhi
Chardham Yatra Package 2023 from Mumbai
Chardham Yatra Package from Godhra 2023
12 Nights/ 13 Days Char Dham Yatra Package from Mumbai 2023