Chardham yatra 2023 opening date
Chardham yatra 2023 opening date: The Chardham is one of the holiest pilgrimage routes in India, consisting of four ancient sites: Yamunotri, Gangotri, Kedarnath, and Badrinath. These destinations are scattered across the northern states of Uttarakhand and Himachal Pradesh and have been popular pilgrimage routes for centuries. The chardham yatra 2023 opening date is a journey of spiritual renewal and physical challenge, as pilgrims make the arduous trek to reach each of the four sites.
Along the way, they will encounter spectacular Himalayan landscapes, picturesque villages, and ancient temples and monasteries. For devout Hindus, the Chardham is a once-in-a-lifetime experience that is both physically and spiritually rewarding.
The journey of the char dham yatra opening dates 2023 usually begins in Haridwar and passes through the spiritual cities of Rishikesh and Joshimath. Along the way, pilgrims will visit numerous temples and holy sites, including the ancient Kedarnath Temple and the sacred Gangotri Glacier.
At the end of their journey, they will reach the four destinations that make up the Chardham. By completing this pilgrimage, Hindus believe they will achieve "Moksha", or liberation from the cycle of life and death.
char dham yatra 2023 dates:
| | | |
| --- | --- | --- |
| Shrines | Opening Dates | Closing Dates |
| Yamunotri | 22 April 2023 | 14 November 2023 |
| Gangotri | 22 April 2023 | 13 November 2023 |
| Kedarnath | 26 April 2023 | 14 November 2023 (tentative) |
| Badrinath | 27 April 2023 | 15 November 2023 (tentative) |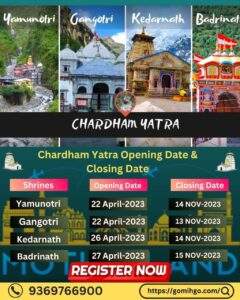 Char dham yatra registration 2023
The Char Dham Yatra is an important Hindu pilgrimage that takes place each year in India. The pilgrimage typically consists of visits to four religious sites: Yamunotri, Gangotri, Kedarnath, and Badrinath. In 2023, the Char Dham Yatra will begin on 22nd April.
If you are interested in taking part in the Char Dham Yatra in 2023, you will need to register in advance. Registration can be done online or through one of the authorized tour operators.
When registering online, you will need to provide your full name and contact information, as well as the dates of your intended journey. You will also need to pay a registration fee. Once registered, you will be issued a registration card that must be carried with you at all times during the Chardham Yatra.
It is noted that the Char Dham Yatra can be a physically and emotionally demanding experience, and it is not suitable for everyone. It is recommended that you consult with your doctor before registering for the pilgrimage.
At Chardham Yatra, we are committed to making your pilgrimage to the four holy sites of India (Yamunotri, Gangotri, Kedarnath, and Badrinath) as easy and convenient as possible. Our team of experienced professionals will help you with every step of the registration process and ensure that you have all the necessary documents in hand. We understand the importance of these sacred sites and will do our best to make sure that your trip is a memorable one.
We provide assistance with accommodation, transport, and other arrangements so that you can focus on your spiritual journey without any worries. So if you're looking for a hassle-free way to register for your Chardham Yatra, then look no further than us(Motherland India Holidays Pvt Limited). We guarantee that you'll have a safe and enjoyable experience.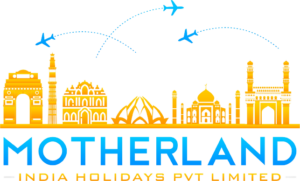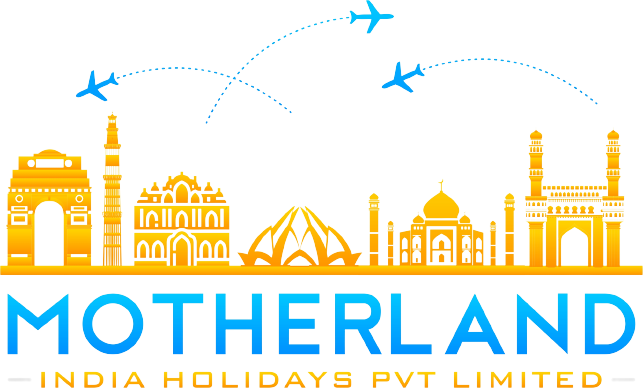 And it is important to remember that registration for the Char Dham Yatra is on a first-come, first-serve basis. Therefore, it is important to register as soon as possible to ensure that you get a place. You should also book your accommodation and transportation as early as possible to avoid disappointment.
Kedarnath Opening and the closing date 2023
Kedarnath is a holy town located in the Indian state of Uttarakhand. Situated at an altitude of 11,755 feet in the Garhwal Himalayas, it is one of the four Char Dham pilgrimage sites for Hindus. Every year, thousands of pilgrims come to Kedarnath to seek blessings from the Hindu god Shiva.
The temple is dedicated to Lord Shiva and is one of the twelve Jyotirlinga shrines, where Shiva is worshipped in the form of a lingam. The temple is believed to have been built by Adi Shankaracharya in the 8th century AD and is a popular pilgrimage site for devotees of Shiva. Kedarnath is known for its beautiful snow-capped mountains and spectacular views. It is also home to a number of trekking routes, making it an ideal destination for adventurers. Its spiritual significance and stunning natural beauty make Kedarnath an unforgettable experience.
The town is also home to spectacular mountain views and lush forests. In addition, Kedarnath is known for its unique culture and hospitality, with friendly locals who are more than happy to share their stories and traditions with visitors. Whether you're looking for a spiritual journey or a chance to explore the beauty of nature, Kedarnath is an unforgettable destination.
Kedarnath opening and closing date 2023: The Kedarnath temple is usually open from the month of April to the month of November, with the Kedarnath opening date falling on Akshaya Tritiya (April) and the Kedarnath closing date falling on Bhai Dooj (November). However, the exact Kedarnath temple open and close dates are 26 April and 15th November as per the religious and cultural factors. During the winter months, when the temple is closed, pilgrims can still visit and take part in special ceremonies on specific days.
Kedarnath yatra 2023 registration: To register for the yatra, pilgrims must first obtain a special pass from the Uttarakhand state government. The pass can be obtained online or by visiting the local tourism office. Once the pass is obtained, pilgrims can then book their yatra with a registered travel agency.
The travel agency will be responsible for arranging accommodation, transportation, and other necessary arrangements. Pilgrims should make sure to book their yatra at least a few months in advance in order to ensure availability. Those undertaking the yatra should also remember to respect the local customs and traditions of the region and stay safe during their journey.
And our company is proud to announce that we will be offering registration for the Kedarnath yatra in 2023. The Kedarnath yatra is a pilgrimage to the sacred temple of Kedarnath, located in the Himalayas of Uttarakhand, India. Pilgrims from all around the world come to this temple to seek blessings and peace.
For making it easy for you we are here, So get in touch with Motherland India Holidays Pvt. Limited and make yourself registered for the yatra through our company as we will be organizing an unforgettable journey for our clients. Our team of experienced professionals will take care of all the arrangements for a safe and comfortable journey. We will provide transportation from major cities in India, lodging and meals at the various stops along the way, and of course, a holy dip in the holy waters of Kedarnath.
We look forward to having you join us on this amazing journey. Register now and make your trip to Kedarnath a memorable one.
Gangotri Opening Date 2023
Gangotri is an important pilgrimage destination in the Indian state of Uttarakhand. It is the source of the River Ganges, believed to be one of the most sacred rivers in Hindu mythology. For centuries, pilgrims have been coming to Gangotri to pay respects to the river and seek blessings from the Goddess Ganga.
Gangotri has also become a popular tourist destination due to its stunning natural beauty. The river is called Bhagirathi at the source and acquires the name Ganga (the Ganges) from Devprayag onwards where it meets the Alaknanda. The origin of the holy river is at Gaumukh, set in the Gangotri Glacier, and is a 19 km trek from Gangotri. The original Gangotri Temple was built by the Nepalese general Amar Singh Thapa. The temple is closed from Diwali day every year and is reopened on Akshaya Tritiya. During this time, the idol of the goddess is kept at Mukhba village, near Harsil. Ritual duties of the temple are supervised by the Semwal family of pujaris. These pujaris hail from Mukhba village.
The area is home to some of the tallest peaks in the Himalayas, including Mount Shivling and Bhagirathi. The region is also known for its glaciers and waterfalls, making it a paradise for outdoor adventurers. Whether you're looking for spiritual enlightenment or just a chance to explore nature, Gangotri has something to offer everyone.
However, the government of Uttarakhand has recently announced that it is investing in infrastructure improvements and safety measures to ensure that the temple can safely open in 2023. The improvements are expected to be completed by 2022, and the temple will be ready to open its doors once again in 2023. This is a welcome development for devotees who have been anxiously awaiting its reopening.
Opening date of Gangorti Temple: 22nd April 2023 ( On the occasion of Akshay Tritya)
Closing date of Gangotri Temple: 13th November 2023
Yamunotri Temple Opening Date 2023
22nd April 2023: The doors of Yamunotri Temple will open on 22nd April 2023. The closing day is always on the sacred day of Bhai Dooj i.e 14th Nov 2023 after a brief ceremony.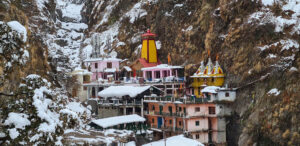 Yamunotri, also Jamnotri (is the source of the Yamuna River and the seat of the Goddess Yamuna) is a sacred Hindu pilgrimage site located in the Uttarakhand region of northern India. It is one of the four sites in India's Chhota Char Dham pilgrimage. It is the source of the River Yamuna and is one of the four sites in the Char Dham pilgrimage circuit. The temple of Yamunotri is dedicated to the Hindu goddess Yamuna and is located at an elevation of 3,293 meters in the Garhwal Himalayas and located approximately 150 kilometres North of Uttarkashi. The sacred shrine of Yamunotri, the source of the river Yamuna, is the westernmost shrine in the Garhwal Himalayas, perched atop a flank of Bandar Poonch Parvat.
The pilgrimage to Yamunotri is generally done on foot or by horse and takes two days. Pilgrims traditionally bathe in the hot springs near the temple and offer prayers to Yamuna. There are several other temples and shrines located around the area, including Surya Kund, Ganga Kund, Divya Shila, and Saptarishi Ashram. The temple opens every year on the sixth day of the Hindu month of Vaishakha (April–May).
The chief attraction at Yamunotri is the temple devoted to the Goddess Yamuna and the holy thermal springs at Janki Chatti which is 7 km away. Yamunotri is a popular destination for tourists and pilgrims alike, and it's renowned for its beauty and spiritual significance. Whether you're looking for spiritual renewal or just a chance to take in the scenery, Yamunotri is a great place to visit.
Opening date of Yamunotri Temple: 22nd April 2023
Closing date of Yamunotri Temple: 14th November 2023
 Badrinath opening date 2023
27 April 2023: Badrinath Temple will open on 27th April 2023 at 07:10 am and will be closed on 15th Nov 2023 (tentative).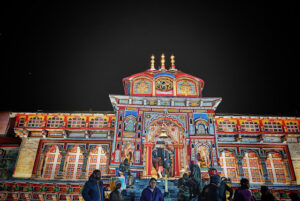 Badrinath or Badrinarayana Temple is a Hindu temple dedicated to Lord Vishnu. It is situated in the town of Badrinath in Uttarakhand, India. . It is known as one of the four "Char Dham" pilgrimage sites in India, and is a popular destination for pilgrims and tourists alike. The temple is also one of the 108 Divya Desams dedicated to Vishnu – holy shrines for Vaishnavas – who is worshipped as Badrinath.
The city is situated on the banks of the Alaknanda River, at the base of the Himalayas. The city also has a number of other attractions, including hot springs, caves, and beautiful mountain views. Badrinath is an important destination for both pilgrims and tourists, and visitors can enjoy the city's spiritual atmosphere while taking in its stunning natural beauty
It is open for six months every year (between the end of April and the beginning of November), because of extreme weather conditions in the Himalayan region. The temple is located in the Garhwal hill tracks in the Chamoli district along the banks of the Alaknanda River. It is one of the most visited pilgrimage centres in India, having recorded 2.8 million (28 lacks) visits in just 2 months in 2022.
Opening date of Badrinath Temple: 27th April 2023
Closing date of Badrinath Temple: 15th November 2023 (tentative)
FAQs related to the chardham yatra 2023 opening date
When Chardham yatra start in 2023?
The Char Dham Yatra starts on 22nd April 2023, and the tentative closing date of the yatra is 15th November 2023. The bookings for the Char Dham Yatra 2023 are open, so Book Now.
When Kedarnath will open in 2023?
The Kedarnath Dham is also part of the Char Dham Yatra 2023. Kedarnath shrine is situated in a breathtaking location near the milky white Mandakini River. At the astonishing height of 3,583 meters.
| | |
| --- | --- |
| Opening Date | 26th April 2023 |
| Closing Date | 14th Nov 2023 (Eve of Bhai Dooj) |
When Badrinath Temple will open in 2023?
27th April 2023
Badrinath Temple will open on 27th April 2023 at 07:10 am and will be closed on 21st Nov 2023 (tentative).
When Gangotri open in 2023?
Gangotri Opening & Closing Dates
Gangotri Temple will open on 22nd April 2023 and will be closed on the next day of Diwali (13th Nov 2023). Gangotri Dham opens on the auspicious occasion of Akshay Tritya each year and closed on the day after the Diwali festival.
Which month is better for Char Dham yatra?
However, May and June is the best time to plan for Char Dham Yatra as it becomes comfortable due to pleasant climatic conditions.
In which month Kedarnath is less crowded?
The best time to visit Kedarnath is during the month of May as soon as the temple reopens or during September – October when the crowd is less.
How to register for Kedarnath yatra 2023?
Pre-registration is required for the Yatra and Shri Kedarnath Temple will open on 26th April 2023. Candidates can visit the official website of Uttarakhand Kedarnath Devasthanam Management Board to register themselves. Registration can also be done for worship, aarti, etc.
How many days required for Chardham Yatra?
You can complete Char Dham Yatra in 6 days and seek blessings at all four holy sites of Uttarakhand.
Which month is best for Badrinath?
Badrinath Temple opens from late April or early May to late October or mid-November. The rest of the year, the temple remains closed due to heavy snowfall.
The ideal time to visit the temple is from May to June and September to October. It is highly recommendable to avoid late winter and monsoon seasons.
Is there an oxygen problem in Badrinath?
Badrinath and Kedarnath Dham are located at a height of almost 11,500 feet above sea level, so the oxygen content in the air is very low.
Which is more difficult Yamunotri or Gangotri?
Yamunotri is the first of the four dhams and definitely the toughest. Although is located at a lower elevation than the other dhams, the narrow and crowded pathway makes it challenging and tough to reach the temple.
Which is higher Kedarnath or Gangotri?
Gangotri Dham, the second temple that falls on the Chota Char Dham circuit, is the birthplace of the holy river Ganga. Kedarnath, known as the land of Lord Shiva, has the highest location jyotirlinga.
Which Char Dham to visit first?
Yamunotri
It is believed that one should complete the Char Dham Yatra in a clockwise direction. Hence, the pilgrimage starts from Yamunotri, proceeds towards Gangotri, onto Kedarnath, and finally ends at Badrinath.
In which month Kedarnath and Badrinath is open?
The portals of Shri Badrinath Temple will be opened for the pilgrims on 27th Apr 2023 at 7:10 am in the morning.
You can book your Badrinath Dham Yatra with us, and visit our Char Dham Packages. Team eUttaranchal wishes you all a very happy and safe pilgrimage tour of Badrinath.
Can we do Chardham Yatra by car?
Yes, you can take your own car in Char Dham Yatra. However, it is not recommended to do so. Many narrow roads connect the Char Dhams. Therefore, it is safer to hire one experienced travel company.
Read More:
Chardham yatra from Ahmedabad by helicopter price 2023
Chardham Yatra helicopter booking Price 2023
Chardham yatra by helicopter from Rishikesh 2023
Chardham Yatra by helicopter from Bangalore 2023
Chardham yatra by helicopter from Pune 2023
Chardham yatra by helicopter tours 2023
Chardham yatra by helicopter cost 2023
best chardham yatra packages 2023
Chardham yatra by Helicopter 2023
chardham yatra by helicopter price 2023
Chardham yatra by helicopter from Delhi 2023
Chardham yatra package by helicopter 2023
4 dham yatra package from Mumbai 2023
Char Dham yatra package for senior citizens 2023
Best chardham yatra package from Mumbai 2023
Chardham yatra by helicopter from Hyderabad 2023
Chardham Yatra by helicopter 2023 price
Chardham Yatra Package from Dahod 2023
Chardham yatra package from Halol 2023
Chardham Yatra Package from Dakor 2023
Chardham Tour Package – 11 Nights/ 12 Days
Chardham Yatra Package from Vadodara 2023
Chardham Yatra Package from Mumbai Tour Package 2023
Chardham Yatra Package from Mumbai Helicopter Price 2023
Chardham Yatra Package From Mumbai by Flight 2023
IRCTC Chardham Yatra Package 2023 from Mumbai
Chardham Yatra by Helicopter Package Cost 2023
Chardham Yatra Package From Mumbai by Private Tour 2023
Chardham Yatra Package from Pune by Train 2023
Chardham Yatra Package from Pune by Bus 2023
Chardham Yatra Package from Pune by Helicopter 2023
Chardham Yatra Package from Delhi by Train 2023
Chardham Yatra Package from Delhi by Bus 2023
Chardham Yatra Package from Delhi by Helicopter 2023
Chardham Yatra Package from Hyderabad by Helicopter 2023
Chardham Yatra Package from Hyderabad by Train 2023
Chardham Yatra Package from Hyderabad by Bus 2023
Chardham Yatra Package from Ahmedabad by Train 2023
Chardham Yatra Package from Ahmedabad by bus 2023
Chardham Yatra Package from Ahmedabad 2023
Golden Triangle Tour With Mumbai 2023
Chardham Yatra Package from Mumbai by bus 2023
Chardham Yatra Package from Mumbai by Helicopter 2023
Chardham Yatra Package from Hyderabad in 2023
Mumbai to Chardham yatra packages 2023
Chardham Yatra Package from Mumbai in 2023
IRCTC char dham yatra package 2023
Chardham Yatra Package from Delhi
Chardham yatra tour package from Ahmedabad 2023
Chardham Yatra Package 2023 from Mumbai
Chardham Yatra Package from Godhra 2023
chardham yatra places route map
12 Nights/ 13 Days Char Dham Yatra Package from Mumbai 2023