When Badrinath dham will open in 2023- Motherland India Holidays
Hey everyone, just wanted to give a quick update that when Badrinath dham will open so, the opening date of Badrinath dham is the 27th of April, the highly revered Badrinath temple in India is opening its portals for pilgrims and visitors from all around the globe. This event, which marks the beginning of the Char Dham Yatra season, is quite significant as devotees believe that paying homage to Lord Badri Vishal here can bring them immense blessings and good fortune. 
The temple, situated amidst stunning Himalayan peaks, has always been popular among devotees seeking spiritual solace and divine intervention. Though this year may be different due to certain restrictions imposed in light of COVID-19, it's still heartening to know that people will get a chance to connect with their faith at such an auspicious time. 
So why wait? Visit us(Motherland India Holidays Pvt. Ltd.) to book your chardham yatra package.
When Badrinath temple will close in 2022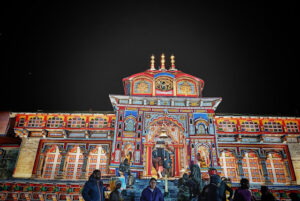 Well, if you're planning on visiting the holy town of Badrinath in Uttarakhand, India, it's important to know that the closing date for visitors is usually around mid-November. This is due to the onset of heavy snowfall and harsh weather conditions in the region during winter months. 
The temple of Lord Badri Vishal also closes around this time and reopens in the month of April or May, depending on weather conditions. It's important to note that while the temple remains closed during this time, residents of Badrinath still live in the area and continue daily life activities. 
So if you're looking to visit this sacred place, be sure to plan your trip accordingly so you don't miss out on experiencing it when it's open. 
Badrinath Temple, one of India's holiest temples and a stop on the Chardham Yatra, is very important to Hindu pilgrims. Visitors can enter the sanctum of Lord Badrinath starting on April 27, 2023, while the temple's expected closing date is November 15, 2023 (tentative). Although, the confirmed closing date of Badrinath Temple will be announced on Vijayadashami/Dussehra.
Opening date of Badrinath Temple: 27th April 2023
Closing date of Badrinath Temple: 15th November 2023 (Tentative)
Chardham Yatra opening and closing date 2023
The much-anticipated Chardham Yatra opening and closing dates have finally been released to the public, so it's official now. Yamunotri, Gangotri, and Kedarnath's doors will be open to pilgrims this year on 22nd April and 25th April, respectively. On 27th April 2023, visitors will be allowed entry to Badrinath's temple. However, do not procrastinate. By closing the gates of all the dhams in mid – November, the yatra will come to an end. You'll have little over six months to begin this spiritual journey across the gorgeous Garhwal Himalayas. To explore one of India's most revered sacred locations, mark your calendars and start making pilgrimage plans right away. And book your chardham yatra packages with Motherland India Holidays Pvt. Ltd. with us you can have the hassle-free and best spiritual journey of your life with many unforgettable memories.
The opening and closing date of chardham's yatra gates 2023
| | | |
| --- | --- | --- |
| Shrines | Opening Dates 2023 | Closing Dates 2023 |
| Yamunotri Temple | 22nd April 2023 | 14th November 2023 (Tentative) |
| Gangotri Temple | 22nd April 2023 | 13th November 2023 (Tentative) |
| Kedarnath Temple | 25th April 2023 | 14th November 2023 (Tentative) |
| Badrinath Temple | 27th April 2023 | 15th November 2023 (Tentative) |
Chardham Yatra 2023 registration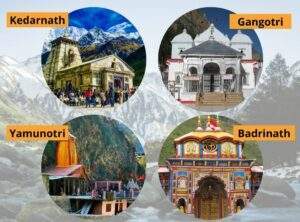 In order to participate in the Chardham Yatra in India, you must register in advance. By registering, you can make sure that your information is on file and that you can use services along the way, such as lodging and transportation. 
The registration process for chardham yatra begins online, where you must enter the necessary information about yourself and any accompanying members. A confirmation email with further information will be sent to you after you submit your application. 
It's crucial to remember that the chardham yatra registration process has a deadline beyond which no more applications will be considered. So be sure to register far in advance and plan beforehand.
To take part in the ritual, pilgrims must sign up for the Chardham Yatra 2023. In only four easy actions, tourists can sign up:
1) Complete the Chardham Yatra 2023 registration form.
2) Submit it along with the required documentation.
3) You can pay a processing fee online using a payment channel or offline at banks and post offices.
4) Digitally save the registration certificate.
Kind Regards:
The char dham yatra registration process is free of charge.

During the Chardham yatra, all you need to have with you for registration is a valid personal ID documentary proof.
Registration Method:
Online Registration via Web Portal
The method of registering on the website for Chardham yatra registration online 2023 is quite simple. To do so, go to registrationandtouristcare.uk.gov.in. To register yourself, go to Register/Login and enter more information such as your name, address, phone number, and so on. 
It is unknown how many passengers will be identified using a single mobile number for Uttarakhand Chardham Yatra registration 2023.
Tourist Care Uttarakhand Mobile Application (Download Android App & iOS)  
You can also use the touristcareuttarkhand app to register for the Chardham Yatra even after you've learned about it.
Through WhatsApp – Mobile Number: 8394833833
Furthermore, the messaging medium WhatsApp provides a Chardham Yatra registration procedure. For additional information, please contact 8394833833 via WhatsApp. To register, send the word "yatra" to this WhatsApp number. 
Following that, you can swiftly register for the Chardham Yatra by replying to a few questions that will only be posed through the SMS. 
Toll-Free Chardham Yatra Number
In addition to an internet website and WhatsApp, the Chardham Yatra now has a toll-free number, 01351364. You can also contact us here.
Verification Mode:
Only when scanning the "QR Code" in the mobile app or downloading the "Yatra Registration Letter" at the temple being visited.
Kedarnath yatra 2023 registration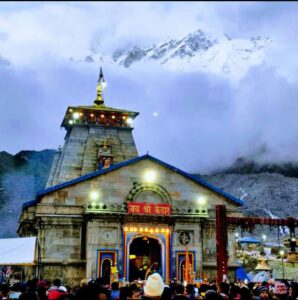 The Kedarnath Yatra 2023 registration is officially open. The yatra, which is available to devotees of all ages, will take place in June. It is predicted to be a popular pilgrimage site this year, so sign up as soon as possible to ensure your spot on the pilgrimage. 
To register for the Kedarnath Yatra in 2023, fill out an online form and provide the necessary documents, such as your passport, identity card, and proof of income. You will receive a confirmation email with further instructions once your registration is complete. 
NOTE: Because there are a limited number of seats available for the yatra, it is critical to register early to reserve your spot. 
The Kedarnath Yatra 2023 promises to be an unforgettable event for everyone who participates. Register now and begin planning for the spiritual experience of a lifetime.
How to Apply for Kedarnath Yatra Registration Form 2023
First, go to the official Kedarnath Yatra website (online registration for Kedarnath Yatra 2023).

On the home page, select the option to register.

Now, click the registration link.

Then, carefully study the travel specifics and fill in the details such as date of birth, name, route of travel, date of travel, and so on.

Now, upload the scanned passport photo.

Then pay the Kedarnath temple registration fee 2023.

Once you have properly completed these processes, click the submit button.

Your Kedarnath Yatra registration 2023 registration is now complete.

Finally, print out the Kedarnath Yatra Online Registration Form for future reference.
Official Website: https://badrinath-kedarnath.gov.in/
Gangotri Opening date 2023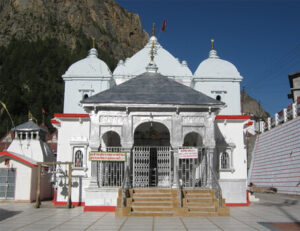 This year the Gangotri Dham opening date is 22nd April 2023, and it will close on 13th November 2023 (tentative) – on the day of Diwali in 2023.
So, if you're planning a trip to Gangotri in 2023, mark 22nd April in your calendar! The Uttarakhand Tourism Board has declared the official opening date. Every year, thousands of pilgrims and adventure seekers visit this lovely spot to observe the holy Ganges river in its purest form. The Gangotri temple is located on the banks of this clean river, surrounded by the gorgeous Himalayas. The trek from Dehradun or Rishikesh to Gangotri is exhilarating, as it involves crossing high-altitude passes and beautiful valleys.
Due to its remote location, tourists are advised to plan their visit well in advance and carry adequate warm clothing as temperatures can drop drastically at night.
Opening date of Gangotri Temple: 22nd April 2023
Closing date of Gangotri Temple: 13th November 2023
FAQs related to When Badrinath dham will open in 2023- Motherland India Holidays
How much taxi fare from Haridwar to Chardham Yatra?
Haridwar to Chardham Yatra taxi fare is approx. ₹23000 for a good sedan car like Etios, Dzire and is approx. ₹33000 for SUV car. For the best price on your travel date for various car rental options, please enter trip details and check.
How many days are enough for Chardham?
You can complete Char Dham Yatra in 6 days and seek blessings at all four holy sites of Uttarakhand.
Can we go to Chardham yatra by own car?
Yes, you can take your own car in Char Dham Yatra. However, it is not recommended to do so. Many narrow roads connect the Char Dhams. Therefore, it is safer to hire one experienced travel company.
Is there any bus from Haridwar to Kedarnath?
Direct buses from Kedarnath to Haridwar are available in Yatra season, buses are run by GMOU & Himgiri, and the timing of direct buses to Kedarnath (Gauri Kund) from Haridwar is 05:15 am & 07:10 am respectively.
How much time it takes from Haridwar to Kedarnath by bus?
You can take a bus from Haridwar to reach Kedarnath. The distance between Haridwar and Kedarnath is around 125 km and buses take about 5 hours to cover the distance.
Which route is best for 4 Dham yatra?
The best route for the Chardham yatra from Haridwar is as follows. Haridwar → Barkot → Yamunotri → Uttarkashi → Gangotri → Guptakashi → Kedarnath → Joshimath → Badrinath.
What is the cost of Haridwar to Kedarnath Sarkari bus ticket?
Daily there are two buses running from Haridwar to Kedarnath with an average ticket price of Rs. 700.
How much does it cost to go from Rishikesh to Kedarnath by bus?
Rishikesh to Kedarnath Bus takes approx 8 Hours to Reach and the Ticket Price is Rs. 400.
How far Haridwar from Kedarnath by Volvo bus?
Distance Between Haridwar to Kedarnath Is 239 Km, Duration, Driving Directions & Route Map.
Which is the best route from Haridwar to Kedarnath?
The fastest way to reach from Haridwar to Kedarnath is a cab to New Delhi, then a bus to Haldwani, then a cab to Kedarnath which takes 18h 32m. 
What is the price of Haridwar to Rishikesh roadways bus ticket?
The first bus for Haridwar to Rishikesh bus fare for the bus is ₹ 588.
Which is the nearest bus stand to Kedarnath?
Gaurikund is the nearest motorable area from Kedarnath. These buses connect the vicinity with Chamoli, Srinagar, Tehri, Pauri, Rishikesh, Dehradun, Haryana, Chandigarh, Delhi, Uttarkashi, Haridwar, and many other destinations.
How many km is Chardham Yatra?
1,607 km
These four pilgrimage sites cover a total of approx. 1,607 km starting from Haridwar and ending at Rishikesh.
Read More:
Chardham yatra travel tips 2023
chardham yatra places route map
Chardham yatra from Surat 2023
Chardham yatra registration 2023
Chardham yatra 2023 opening date
How much 4 dham yatra costs 2023
Chardham yatra from Mumbai 2023
Chardham yatra by Helicopter 2023
When Chardham Yatra start in 2023
Chardham Yatra from Bangalore 2023
Chardham yatra from Hyderabad 2023
Current status of Chardham yatra 2023
Things to carry for chardham yatra 2023
When Badrinath Dham will close in 2023
Haridwar to Chardham yatra by bus 2023
irctc Chardham yatra from Hyderabad 2023
Chardham yatra from Haridwar by car 2023
Chardham Yatra Package from Chennai 2023
What is the last date of Kedarnath yatra 2023
When Kedarnath will open for tourist in 2023
Chardham yatra package from Bangalore 2023
Chardham yatra by helicopter from Delhi 2023
Which month is better for char dham yatra 2023
Chardham yatra route map from Haridwar 2023
How to Plan Char dham Yatra from Mumbai 2023
Char Dham yatra package for senior citizens 2023
Chardham Yatra Package from Delhi by Train 2023
Chardham yatra tour package from Haridwar 2023
Chardham Yatra Package from Delhi by Helicopter 2023
Chardham Yatra in 7 days 2023- Motherland India Holidays