What is the last date of Kedarnath Yatra 2023
What is the last date of Kedarnath Yatra 2023: Alright, firstly let me tell you about the famous Chardham Yatra! It is a sacred pilgrimage journey that takes you through four holy shrines in Uttarakhand, India. The four individual temples are Yamunotri, Gangotri, Kedarnath and Badrinath. Starting from Yamunotri – known for its hot springs and glaciers – to Gangotri where the Ganges River originates, then to Kedarnath which houses one of the twelve Jyotirlingas (a sacred formation representing Lord Shiva) and finally to Badrinath – where Lord Vishnu is worshipped in his form as Badrinarayan. 
This Yatra is believed to be the ultimate route for the forgiveness of sins, enlightenment and salvation. It's a long and arduous journey with beautiful scenic views throughout but definitely worth it once you reach these holy abodes of Gods. Don't miss out on this once-in-a-lifetime experience.
Kedarnath Temple: It is a Hindu temple located in the Garhwal Himalayas of Uttarakhand, India. It is one of the four sacred shrines in Hinduism known collectively as the Char Dham Yatra. 
The temple is situated at an altitude of 3,583 meters above sea level and is dedicated to Lord Shiva, who according to mythological stories chose this place as his abode to meditate and attain enlightenment. 
Due to its remote location, reaching Kedarnath requires a difficult trek through steep mountain paths that can take several days to complete. 
Despite its challenges, Kedarnath remains a popular destination for its spiritual significance and natural beauty that leaves visitors amazed by this magnificent marvel.
The opening and closing date of Kedarnath temple is significant, as it marks the start and end of the annual Char Dham Yatra pilgrimage season. The Kedarnath Temple opens its doors to visitors on Akshaya Tritiya, which usually falls between April and May every year. The exact date is determined by Hindu astrology and announced by the temple authorities weeks in advance. The temple remains open for six months during which thousands of pilgrims offer prayers to Lord Shiva. 
On the other hand, the temple closes down for winter on Bhai Dooj, which usually falls in October or November. Heavy snowfall makes it impossible to maintain the infrastructure during these months, and hence visitor safety concerns prevail. 
The exact Kedarnath temple open and close date:
| | |
| --- | --- |
| Opening date of Kedarnath 2023 | 25th April 2023 at 6:20 AM |
| Last day of Kedarnath temple 2023 | 14th November 2023 (Tentative) |
Kedarnath Yatra 2023 registration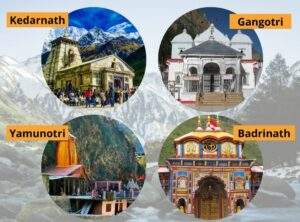 Kedarnath Yatra 2023 registration: Kedarnath Temple is situated in the Uttarakhand district of Rudraprayag. The Himalayan Mountains are a fascinating part of the Kedarnath yatra. It is a great journey because of the Himalayas. This is Uttarakhand's biggest Shiva temple. Mountains line three of the sides of Kedarnath Dham. The sides of this temple are 22,000 feet, 21600 feet, and 22700 feet Bharat Khand. The confluence of the Madhuganga, Mandakini, Saraswati, Swarnagauri, and Kshirganga rivers is also accessible.
Although the registration procedure has an official website, you should be aware of all the information. Read this post if you wish to learn about the registration process. The Kedarnath Char Dham Yatra will begin in mid-May 2023, according to the official report. Aarti, worship, and other activities are only a few examples of what can be done. You will receive an entrance pass. A pass can be obtained after registration. You must go to the official website that the Kedarnath Yatra Uttarakhand Board of Management has established.
Kedarnath Yatra Registration 2023: Highlights
| | |
| --- | --- |
| Post Name | Kedarnath Yatra Registration 2023 |
| State  | Uttarakhand |
| Year | 2023 |
| Registration Mode | Online |
| Registration Process | Through Official Website |
| Mail | support-ucdb@uk.gov.in |
| Pilgrims Support Timing | Monday to Saturday, 10a.m to 5p.m |
| Registration Charges | Rs. 150 |
| Official Website | https://badrinath-kedarnath.gov.in |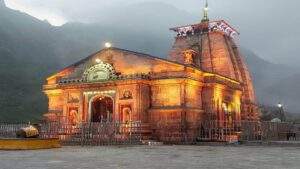 Kedarnath Yatra registration Process:
Before going to the temple, you must finish the online registration process. It is required for every pilgrimage. Below, I've listed every stage of the registration process:
You need to start by going to the Badrinath Kedarnath temple's official website.

You'll see a brand-new web page appear before you.

You must click the registration/login button on this page.

You'll get there on the new page.

You must select the new registration option here.

You must now enter some important data, such as your mobile number, the name of a devotee, their gender, and your email address.

You must enter the captcha code and press the submit button in the final step.

You will then be prompted for your OTP.

The OTP that will be provided to your registered mobile number must be entered.
You have now successfully registered.
Kedarnath Yatra e-pass 
You have come there means you must be planning to go on the Kedarnath Yatra this year, make sure to get your hands on the Kedarnath Yatra e-pass. A digital pass that permits you to embark on the holy journey and visit the renowned Kedarnath Temple amidst the magnificent aura of the Garhwal Himalayas. 
Important Note: It is compulsory for every devotee to obtain the e-pass before commencing their yatra in order to maintain social distancing and prevent overcrowding at once. The pass allows one person to complete a yatra in one day accommodated with 50 pilgrims. So, don't forget to carry your valid photo, identification proof as well as medical certificate along with you while applying for it online. Therefore, save yourself some hassle and book your Kedarnath Yatra e-pass today.
Online Kedarnath Yatra 2023 e Pass Download
For all pilgrimages, this is a holy journey. We are aware that the E-pass can only be downloaded through the official website:
It is first necessary for you to log into the official website.

Then, on the dashboard section, you can view every individual in your family's pass.

To download, simply click.

For Yatra, you must have to print out this page.
Point to be noted: Without an ePass, you will not be permitted to begin your journey to the Kedarnath Yatra. To obtain an ePass, you must first register on the official website. The post has already covered the registration process in depth.
Kedarnath Yatra 2023 Helicopter Booking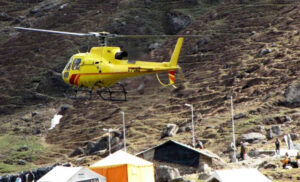 Kedarnath Yatra 2023 Helicopter Booking: Kedarnath, a well-known Shiva pilgrimage, is located amid snow-covered mountains and glaciers at an elevation of 11,755 feet above sea level. Another one of the 12 Jyotirlingas, Kedarnath Lingam has a distinctive pyramidal shape.
While it's a considerable distance from Gaurikund/Sonprayag, pilgrims can either trek to Kedarnath Dham or book a helicopter to take them there from Guptkashi, Phata, Sersi, and Sitapur. In the high Himalayas, it is also one of the Char Dhams.
Kedarnath Helicopter Booking from Phata Helipad:
Location

Between Guptkashi and Sonprayag, 14.4 km from Guptkashi

Total Distance from Kedarnath

31 km

Flying Timing to Kedarnath Dham from Phata

9 minutes

Kedarnath Ticket Price from Phata Helipad

One way – Rs. 2750 per person

Two way – Rs. 5500 per person

First Flight Timing

6:30 A.M

Altitude

4921 feet
Kedarnath Helicopter Booking from Sirsi Helipad:
Location

Between Sonpraya and Guptkashi, Sirsi Village, 21 km from Guptkashi, 7 km from Phata

Total Distance from Kedarnath

23 km

Flying Timing to Kedarnath Dham from Phata

11 minutes

Kedarnath Ticket Price from Phata Helipad

One way – Rs. 2749 per person

Two way – Rs. 5498 per person

First Flight Timing

6:30 A.M

Altitude

6500 feet
Kedarnath Helicopter Booking from Guptkashi Helipad:
Location

At Narayankoti, 4 km from Guptkashi

Total Distance from Kedarnath

46 km

Flying Timing to Kedarnath Dham from Phata

15 minutes

Kedarnath Ticket Price from Phata Helipad

One way – Rs. 3870 per person

Two way – Rs. 7740 per person

First Flight Timing

6:30 A.M

Altitude

4800 feet
Terms and Conditions of Booking of Helicopter for Kedarnath Yatra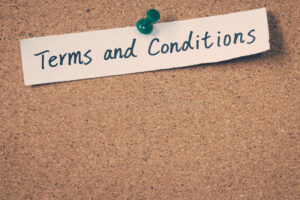 Bookings are only confirmed once full payment has been received and a list of all passengers' names, ages, and weights has been provided.

No name changes are allowed and the reservation and ticket cannot be transferred.

Any kind of government identification must be carried by every passenger and presented at the helipad.

The Government of Uttrakhand has approved the ticket rates, and in the event of a price or contract modification, the company or the passenger will settle the refund or excess as necessary.

Overweight passengers (those weighing more than 85kg) would incur an extra fee of Rs 150 per kg.

For passengers returning the same day, just 2 hours would be allotted for Kedarnath darshan.

Passengers will need to purchase a Priority Dharshan slip for Rs. 1100 per person for a same-day return.

Passengers must purchase a Priority Dharshan slip from Shri Kedarnath Ji Mandir Samiti, accessible at the helipad, for Rs. 1100 per person or Rs. 2100 for 4 pax, in order to return the same day.

For children older than 2, the full cost will be assessed. Infants under the age of two will not receive a seat and will be charged 10%.

Children, senior citizens, women, and two-way travellers will be given preference over one-way travellers.

At the designated reporting time, each traveller must report.

Passengers are permitted to bring only one item of a maximum of 3 kilogrammes.

The passenger for the following day will be given priority over the one for the previous day if the flight is ever cancelled for the day.
Refund and Cancellation Charges
If tickets are cancelled on any day prior to the date of the flight, a fee of Rs. 1200 per passenger will apply.

If tickets are cancelled on the day of travel or in the event of a no-show, there will be no refund.

Have your ticket stamped as cancelled at the helipad desk to receive a refund in case of inclement weather.

The reimbursement will only be granted after receiving a stamped copy of the cancelled ticket.
What is the ticket price of Kedarnath?
What is the ticket price of Kedarnath? : Are you planning a trip to Kedarnath by helicopter and wondering what the ticket price includes? Well, the ticket price generally includes the round-trip journey from Phata or Sirsi helipad to Kedarnath. It also covers shuttle services between the helipad and the temple, which is extremely helpful as it saves you time and energy in walking up the steep hill. Additionally, some packages include VIP darshan passes, which allow devotees to skip long lines and have an uninterrupted view of Lord Shiva's shrine.
The government has set the price of a helicopter ticket to Kedarnath.
| | | |
| --- | --- | --- |
| Route | One Way Ticket | Two Way Ticket |
| Phata to Kedarnath | INR 2360 | INR 5500 |
| Sirsi to Kedarnath | INR 2340 | INR 5498 |
| Guptkashi to Kedarnath | INR 3875 | INR 7740 |
How and where to book helicopter for Kedarnath dham 2023
The booking shall be done Only through the official authorised website of the Uttarakhand government specifically for booking of Heli tickets.

Tourists will be required to book the ticket for a specific date and time slot.

Registration is necessary on the website to book the ticket.

Once the booking is successful the tourist must carry a hard copy or printout of the ticket. Tickets in digital form will be not accepted.

Each passenger should carry valid ID proof.
Official website: https://heliyatra.irctc.co.in/
Kedarnath Temple open and close date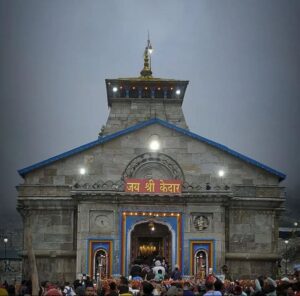 Kedarnath Temple open and close date: Kedarnath Temple's opening day and time are determined by the auspicious day of Akshay Tritya, which is announced on Maha Shiva Ratri. Priests at the Omkareshwar Temple in Ukhimath decide the day when the Kedarnath shrine will open after calculating the Panchang. Calculations indicate that the sacred temple's doors will be opened on April 25, 2023, at 6:20 am, with a special Pooja performed in the temple. Mahashivratri has been designated as the Kedarnath Dham's opening date for 2023.
It has been decided that Kedarnath will close two days after Bhai Dooj, which is celebrated after Diwali. Diwali will be observed on November 12, 2023, hence Kedarnath Temple will be closed on that day. After the morning pooja archana, the Kedarnath temple will be closed for the winter. 
On Vijaydashmi, the Kedarnath Dham's closing date for 2023 will be announced.
Char Dham Yatra 2023 Open and Close Dates:
| | | |
| --- | --- | --- |
| Shrines | Opening Dates | Closing Dates |
| Yamunotri Temple | 22nd April 2023 | 14th November 2023 |
| Gangotri Temple  | 22nd April 2023 | 13th November 2023 |
| Kedarnath Temple | 26th April 2023 | 14th November 2023 (Tentative) |
| Badrinath Temple | 27th April 2023 | 15th November 2023 (Tentative) |
FAQs related to What is the last date of Kedarnath Yatra 2023
On which date Kedarnath will close?
Every Year, The Doors of Kedarnath Dham closes after two days of Diwali on the occassion of Bhai Dooj. The final closing date of Kedarnath Dham will be declared on Vijaydashmi. The tentative closing date of Kedarnath Dham in 2023 is November 14, 2023.
When Kedarnath is open for public in 2023?
The Kedarnath Temple is one of the prominent pilgrimage centres in the country, and the date of its opening has been announced. As per the reports, devotees will be able to visit this temple from April 25 this year, starting at 6:30 AM.
Which month Kedarnath Temple will close?
Kedarnath Temple Gate Opening Ceremony. Kedarnath Temple Closing date for 2023: Kedarnath Temple closing dates will be announced on the auspicious occasion of Bhai Dooj. Last year Kedarnath was closed on on 27 October 2022 at 8:30 am.
Which month is best for Kedarnath trip?
Summer Season (April-June)
The best season to visit Kedarnath is summer when the temperature is moderate and stays between 15-30 degrees Celsius. The sun is warm and there is a gentle cool breeze that makes the day pleasant.
How can I register for Kedarnath Yatra 2023?
Shri Badarinath Kedarnath Temple Committee-UK. Before commencing to Yatra please ensure your registration at https://registrationandtouristcare.uk.gov.in. 
Can I go to Kedarnath alone?
Apart from the abundance of things to see and do, Kedarnath is an excellent destination for a solo trip because it is breathtakingly beautiful and very easy to get to and travel around.
Can I visit Kedarnath without registration?
For this year's Char Dham Yatra in Uttarakhand, the registration process has been made mandatory for all tourists. This move comes after the 2014 Kedarnath flood, which prompted the government to implement the registration process for devotees visiting the state.
How many days required to visit Kedarnath?
Kedarnath has the lengthiest trek. It takes around 10-12 days to visit all the temples. However, it's now possible to cover all the temples in two days by helicopter. To help ensure the safety of pilgrims, a medical checkup has been introduced for those trekking to Kedarnath temple.
Which 6 months Kedarnath Temple is open?
The holy Char Dham Yatra in Uttarakhand remains open for devotees only for a brief period of six months of the year. The Char Dham Yatra opening date 2023 is from 22nd April 2023. Every year the temples open from April to November.
What is the oxygen level in Kedarnath?
The oxygen depletion is measured in atmospheric pressure or percent in less oxygen. At Kedarnath, the atmospheric presence of oxygen is only 40 percent of the required level.
Is medical certificate required for Kedarnath?
Officials said while bringing a health certificate isn't mandatory, 'responsible behaviour' regarding their health is expected from pilgrims.
What shoes to wear in Kedarnath?
Sports shoes would be the best option of footwear for travelers as you usually have to walk a lot in Kedarnath.
Who built Kedarnath Temple?
The temple was originally built in 8th century A.D. by Jagad Guru Adi Shankaracharya and stands adjacent to site of an even earlier temple built by the Pandavas.
Is it safe to visit Kedarnath now?
It is advisable to avoid harsh winter and monsoon months. May to June and September to October are considered the best months to visit Kedarnath. The path leading to the temple gets highly dangerous during peak monsoons as landslides and floods are very common during this time of the year.
What is the age limit for Kedarnath?
Pilgrims should avoid meeting elder persons (above 65 years) and minors (below 10 years) during their visit to Shrine. Pregnant ladies, Infants & pilgrims less than 10 years & above 65 years are advised to avoid the char dham yatra.
Read More:
Chardham yatra travel tips 2023
chardham yatra places route map
Chardham yatra from Surat 2023
Chardham yatra by bus 2023 price
Chardham yatra registration 2023
Chardham yatra 2023 opening date
Chardham yatra from Mumbai 2023
Chardham yatra by Helicopter 2023
When Chardham Yatra start in 2023
Chardham yatra from Dehradun 2023
Chardham Yatra from Bangalore 2023
Chardham yatra from Hyderabad 2023
Current status of Chardham yatra 2023
Things to carry for chardham yatra 2023
Haridwar to Chardham yatra by bus 2023
Best travel agency for Chardham yatra 2023
irctc Chardham yatra from Hyderabad 2023
Chardham yatra from Haridwar by car 2023
Chardham Yatra Package from Chennai 2023
Chardham yatra package from Bangalore 2023
Chardham yatra by helicopter from Delhi 2023
Chardham yatra route map from Haridwar 2023
How to Plan Char dham Yatra from Mumbai 2023
Char Dham yatra package for senior citizens 2023
What is the cost of Char Dham yatra package 2023
Chardham Yatra Package from Delhi by Train 2023
Chardham yatra tour package from Haridwar 2023
Chardham Yatra Package from Delhi by Helicopter 2023