Chardham yatra travel tips 2023
Chardham yatra travel tips 2023: Chardham is a pilgrimage circuit that consists of four holy shrines, i.e., Yamunotri, Gangotri, Kedarnath, and Badrinath located in the Himalayan region of Uttarakhand. It is considered one of the most revered pilgrimages in Hinduism, attracting devotees from all across India and abroad. 
The journey to these sites is believed to cleanse one's sins and offers spiritual redemption. The starting point for the pilgrimage is usually Haridwar or Rishikesh where devotees take a dip in the holy River Ganges before embarking on their journey. 
The route to each site involves scenic views of majestic mountains, stunning waterfalls, and valleys that add to the experience. The Chardham Yatra requires devotion, endurance, and patience as some routes are treacherous and only accessible via trekking paths, but it's certainly worth undertaking for those seeking inner peace through spirituality.
If you're planning to embark on the Chardham Yatra, there are certain travel tips you must keep in mind. 
Firstly, make sure to carry adequate warm clothing as the Yatra takes place in regions with low temperatures. 

Secondly, carry a sufficient supply of essential medicines and first aid kits as medical facilities are limited along the journey. 

Thirdly, it is advisable to hire experienced and licensed drivers to navigate treacherous mountain roads. 

Fourthly, avoid overpacking and opt for easy-to-carry luggage such as a backpack or duffel bag. 

It is better to hire a trustworthy and experienced operator than a self-managed tour. It will help you access the best services from your arrival to your departure.

Never attempt a

Yatra

during monsoons, since the route is notorious for landslides, falling trees, and other natural hazards.

A large number of charity organizations offer free (and hygienic) meals on the route.

Carry chocolate bars and bottled energy beverages to help retain energy levels during intense physical activity.

It is best to avoid carrying leather goods during a

yatra

such as belts, wallets, purses, and watches with straps made of material obtained from animal hides.

It is good to carry along some emergency equipment, including a good flashlight and Swiss Army multitool.

Lastly, respect the local customs and traditions and follow instructions from your guides at all times. 
For the Chardham Yatra, there are a few small yet significant tips that you must keep in mind.
Know the Best Time to Visit

Consult an Agency and Get Your Registrations Done Easily

Travel by Road or Helicopter

Carry Dry and Packaged Food

Avoid Carrying or Consuming Alcohol on this Sacred Journey

Keep a Local Phone to Make Life Easy

Keep a Small Phone Diary Too

Use Your Camera Cautiously and Carry Extra Batteries

Drink Packaged Water or Boiled Water Only and Drink Lots of Water

Carry Some Indian Cash along with Your Card
By adhering to these travel tips, you'll not only have an enjoyable experience but also ensure your safety during the holy journey.
How to travel char dham yatra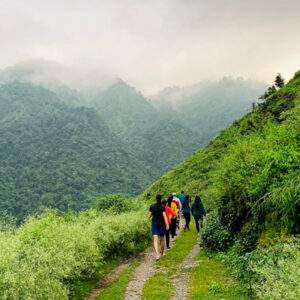 How to travel char dham yatra: Hello there, before you start a Char Dham Yatra, make sure you are physically prepared to face the high altitudes and long trips. Make sure you have all the required permissions to visit these holy sites before beginning your journey from Haridwar or Rishikesh. 
There are two routes to complete the Chardham yatra, either by road or by helicopter. You need a minimum of 10 to 12 days to complete the Chardham yatra by road and if you choose Chardham by helicopter 2023, then it will be finished in about 4 to 5 days.
As the area can become fairly congested during peak seasons, plan your schedule in advance and make sure you reserve lodging in advance. Avoid traveling during monsoons because landslides can ruin even the best-planned trip. 
Try to immerse yourself in the distinctive customs and cultures of each of the four locations while also admiring the natural splendor of each.
Finally, throughout your travels, keep in mind to respect local traditions and customs and to be aware of environmental conservation activities.
During this Chardham yatra travel tips 2023, travelers experience stunning views of snow-capped mountains, beautiful temples, and waterfalls which all add up to create an enduring spiritual experience that remains etched in their memory for years to come.
Shot itinerary of Chardham yatra travel tips 2023
DAY
ROUTE
DRIVE(Approx)
Day

(01)

Haridwar to Barkot

215 Km

Day

(02)

Barkot to Yamunotri to Barkot

90 Km

Day

(03)

Barkot to Uttarkashi

100 Km

Day

(04)

Uttarkashi to Gangotri return to Uttarkashi

200 Km

Day

(05)

Uttarkashi to Guptkashi

230 Km

Day

(06)

Guptkashi to Kedarnath to Guptkashi

30 Km

Day

(07)

Guptkashi to Joshimath

30 Km

Day

(08)

Joshimath to Rudraprayag

200 Km

Day

(09)

Rudraprayag to Badrinath to Rudraprayag

160 Km
Is char dham yatra safe
Is char dham yatra safe: Char Dham Yatra is a pilgrimage undertaken by millions of Hindus every year. However, the safety of the yatra has always been a matter of concern. Although incidents like road accidents and natural calamities have been reported in the past, all four sites – Yamunotri, Gangotri, Kedarnath, and Badrinath have taken measures to ensure the safety of pilgrims. 
The routes to these shrines are well maintained and monitored throughout the year making them safe for tourists. Furthermore, with the advent of technology, weather forecasts and early warning systems are put in place to prevent mishaps due to sudden changes in weather conditions. 
Despite all these precautions, it is always advisable to take necessary preventative measures such as carrying first aid kits or traveling with an experienced tour guide to make your journey safe and stress-free. Overall, Char Dham Yatra can be considered a reasonably safe pilgrimage if undertaken with care and caution.
Char dham yatra dos and don'ts
Char dham yatra dos and don'ts: The Char Dham, which is the name of four excursions that are highly revered by most Hindus, is the destination of today's luxury travel blog.
"The revered Himalayas up in the foggy statures of the pushing Garhwal that boost the brilliant condition of Uttarakhand, anticipating a revitalizing profound trial for the passionate."
A trek to Char Dham in the Garhwal Himalayas is one such campaign that is motivated by blessings to overcome the difficult journeys of life. In addition to drawing travelers from other nations and religions, this holy journey is essential for Hindus. Yamunotri, Gangotri, Kedarnath, and Badrinath are the four holiest pilgrimage destinations that make up a necessary component of the Char Dham Yatra.
Together with providing serenity and a strong sense of self, these voyage priorities also include avoiding potential risk. Here is a list of dos and don'ts, including making sure you arrange accommodations before your excursion.
Do's
Bring enough thick wool clothing, such as sweaters, slacks, body warmers, monkey tops, suppressors, and other frigid-safe equipment. Likewise comprise windcheaters, resting bags, overcoats, waterproof shoes with grasps, coverings, mini waterproof tents, strolling sticks, and a light with enough batteries ought to likewise be delivered. Women should dress in body-conducive attire. Moreover, keep in mind to cover your head with warm clothing when at a high altitude to prevent altitude sickness and dizziness.

Pack dry foods that suit your tastes, such as rolls, sweets, sugar, chocolates, arranged dry organic items, drain powder, lemons, nectar, and tinned foods. Bring plates, glasses, spoons, saucers, and water bottles as well.

If you stay in the valley, you risk being pushed by the horse coming from the opposite direction, which could seriously hurt you. Instead, walk or stay on the slope.

Only authorized horse-wallas, dandy men, or watchmen should be hired because they are available for pre-arranged tasks. Horses used to transport equipment should always be kept close by, and you should make sure to properly fasten the equipment to the horses and maintain contact with them at all times to prevent any loss.

During hiking, go slowly, avoid any type of walking competition, and pay close attention to the instructor.

For your own security and with consideration for local customs, you should abide by the instructions of the Yatra officer.

Although tap water is available everywhere, only use bubbling or faucet water. When hiking, you can grab free bubbling water at a nearby café.

Bring enough cash to cover your own expenses during the trip, and it's always a good idea to pack your own first aid kit, which should include painkiller tablets, Vicks or antiseptic ointment, bandages, and any other medications your doctor may have advised, particularly if you suffer from hypertension or other medical conditions.

While hiking, it's a good idea to consume some sort of glucose with water and keep sweet treats in your mouth.
Don'ts
Throughout the campaign, don't throw rolls, candy, and other food wrappers into the air. If at all possible, use dustbins; if not, put the items in your pocket and throw them away when you see a dustbin.

Avoid exerting yourself on steep inclines, and avoid stopping to rest in areas with posted warnings.

Heavy jewellery should be avoided while on the excursion.

Don't attempt to wash hands or garments in the waterways in transit.

Alcohol is completely forbidden.

Drive a vehicle that is not overloaded, overwhelms any other vehicles, or violates movement controls. Also, whatever you do, avoid competing or racing with other surrounding vehicles or drivers when driving because they undoubtedly have better knowledge of the road than you have.

The greatest months to travel are May through October. You will experience the most significant Char Dham Yatra if you keep in mind these points. There is a strong belief that taking on this voyage can cleanse you of your transgressions and free you from the cycle of birth and death.
Chardham yatra precautions 2023
Chardham yatra precautions 2023: The four holy sites of Yamunotri, Gangotri, Kedarnath, and Badrinath make up the Hindu pilgrimage known as the Chardham Yatra, which takes place in the Indian state of Uttarakhand. Thousands of followers travel on this religious pilgrimage each year to seek blessings and find spiritual fulfillment. They come from all across the nation and the world.
The COVID-19 epidemic, however, had a negative impact on the Chardham Yatra in 2020 and 2021, imposing significant travel and shrine admission restrictions. In order to safeguard the security of the pilgrims and stop the virus from spreading, new Chardham Yatra laws and restrictions are anticipated to be implemented as 2023 draws closer.
As you are already aware, the Chardham Yatra 2023 registration process began on February 20. In this blog post, we will inform you of any modifications to the Chardham Yatra 2023 guidelines. Before you begin your planning, read the guidelines below.
The wonderful news for the devotees who are gearing up for the sacred yatra this year must be shared before we begin the most recent updates for Char Dham Yatra 2023. 
The Chardham Yatra has already been scheduled; on April 21, Baba Kedar's journey will depart from Ukhimath for Kedarnath Dham. After spending the previous night at Guptkashi, the Doli will eventually arrive at the Kedarnath Temple on April 24 in the evening. It will have travelled from Phata on April 22.
The public will be permitted entry to Kedarnath Temple starting on the morning of April 25.
Let's learn more about the updated Chardham Yatra 2023 rules:
This year, an E-Pass is not required for the Chardham Yatra.

There will be no necessity for Uttarakhand residents to register for the Chardham Yatra.

To take this tour, you must first register on the Dehradun Smart City Portal by providing the information from your Aadhar Card.

Devotees can also register for this year at a variety of registration facilities centers in Rishikesh and other locations.

According to the most recent revisions of the Kedarnath and Badrinath Yatra Rules, you can only visit Char Dham or travel elsewhere in the state of Uttarakhand after registering for the trip.

For the Kedarnath Yatra, the most recent COVID guidelines provide that individuals who have received both doses must present their vaccination certificate, and those who have not received the vaccine must present the results of a 72-hour RT PCR test. 

Also, a devotee will be sent back for further study if they test positive for COVID while on the journey. Giving prasad and applying tika in the Kedarnath Temple courtyard are prohibited during this year's Char Dham Yatra 2023. 

Pilgrims are also forbidden from touching any books, bells, or idols.
FAQs related to Chardham yatra travel tips 2023
In which order should I visit Char Dham?
It is believed that one should complete the Char Dham Yatra in a clockwise direction. Hence, the pilgrimage starts from Yamunotri, proceeds towards Gangotri, onto Kedarnath, and finally ends at Badrinath.
What precautions should be taken for Chardham Yatra?
Do not travel in the rainy season as there are a lot of landslides during that time. Book hotel rooms in advance if you are travelling close to the temple opening dates, there is a heavy rush of pilgrims. Check hotels on CharDham Route. Alcohol or non vegetarian food is not permitted during Char Dham Yatra Tour.
Which is the best way for Chardham Yatra?
There are two routes to complete the Chardham yatra, either by road or by helicopter. You need a minimum of 10 to 12 days to complete the Chardham yatra by road and if you choose Chardham by helicopter 2023, then it will be finished in about 4 to 5 days.
How difficult is Chardham Yatra?
A Char Dham yatra isn't easy. Pilgrims really need to earn the benefits bestowed, as only two of the temples (Badrinath and Gangotri) are accessible by vehicle. The remaining two (Yamunotri and Kedarnath) require treks. Kedarnath has the lengthiest trek.
Which Dham is difficult?
Yamunotri is the first of the four dhams and definitely the toughest. Although, its located at a lower elevations than the other dhams, the narrow and crowded pathway make it challenging and tough to reach the temple.
Which month is better for Char Dham yatra?
May and June is the best time to plan for Char Dham Yatra as it becomes comfortable due to pleasant climatic conditions. 
What medicines to carry for Char Dham yatra?
First Aid Kit and Medicines
Please bring a first aid kit with you when you go on your trip, including the Chardham yatra. Some painkillers, glucose tablets, ORS and other medications will help you if you get sick while travelling. Also, keep a few snacks handy.
Do we need oxygen in Kedarnath?
At Kedarnath, the atmospheric presence of oxygen is only 40 percent of the required level. This means that the lungs must breathe faster and the heart must pump more to retain the oxygen level in the body. When the compensatory level of oxygen is not available, the heart suffers fatigue and its muscles cease to work.
What shoes to wear in Kedarnath?
Sports shoes would be the best option of footwear for travelers as you usually have to walk a lot in Kedarnath.
How many days are enough for Char Dham?
You can complete Char Dham Yatra in 6 days and seek blessings at all the four holy sites of Uttarakhand.
Can we walk in night in Kedarnath?
A reminder, start trekking Kedarnath early in the morning as you can trek between 4:00 am to 1:30 pm and not after that. It is because Kedarnath Dham is situated inside the wildlife sanctuary and pilgrims are not allowed to trek outside this time frame.
Can we touch Kedarnath shivling?
Before 3 pm the devotees can touch the shiv lingam and perform Abhishek with ghee. After 5 pm touching the idol is prohibited but the pilgrims can get a glimpse of the presiding deity from a distance where the idol of the presiding deity is dressed in an emperor costume.
How many people died in Char Dham?
From 24.5 lakh visiting the shrines so far, 95 people succumbed to death at the Kedarnath shrine, followed by 51 in Badrinath, 42 in Yamunotri and 13 in Gangotri.
In which month Kedarnath is less crowded?
The best time to visit Kedarnath is during the month of May as soon as temple reopens or during September -October when the crowd is less.
Which is the coldest month in Kedarnath?
November offers a very cold climate and snowfall is common barring the tourists from enjoying. 
Read More:
chardham yatra places route map
Chardham yatra by bus 2023 price
Chardham yatra 2023 opening date
Chardham yatra from Mumbai 2023
Chardham yatra by Helicopter 2023
Chardham Yatra Package from Delhi
Chardham yatra from Dehradun 2023
Chardham Yatra from Bangalore 2023
Current status of Chardham yatra 2023
Things to carry for chardham yatra 2023
Haridwar to Chardham yatra by bus 2023
Chardham Yatra Package from Chennai 2023
Chardham yatra by helicopter from Delhi 2023
Chardham Yatra itinerary from Haridwar 2023
Chardham Yatra Package from Mumbai in 2023
Chardham yatra route map from Haridwar 2023
Chardham Yatra Package from Ahmedabad 2023
Char Dham yatra package for senior citizens 2023
Chardham Yatra Package from Delhi by Train 2023
Chardham Yatra Package from Delhi by Train 2023
Chardham yatra by helicopter from Hyderabad 2023
Chardham Yatra Package from Delhi by Helicopter 2023