Dodham Yatra in 2023
The DoDham Yatra In 2023 can take you to either of the two famous Char Dhams (how to plan char dham yatra from delhi), char dham yatra name is Badrinath, Kedarnath, Gangotri, or Yamunotri. Seek the blessings of the supreme beings by visiting Kedarnath and Badrinath, two dhams that are frequently visited during the  Dodham Yatra in 2023 in Uttarakhand. Kedarnath is one of Lord Shiva's twelve Jyotirlingas, and Badrinath is sacred to Vishnu Bhagwan in his dual form of Nar Narayan.
Those who make this pilgrimage are thought to be on the path to enlightenment. If you want to go on this journey, you can book DoDham Yatra In 2023  packages and visit these holy sites by helicopter, trek, or both. Another reason to embark on the DoDham Yatra In 2023 is the time required to visit four temples. If you don't have much time but still want to pay your respects to your deities, consider a Badrinath and Kedarnath Yatra. This tour, which holds a lot of religious significance for Hindus, can be tailored to your specific needs. It includes comfortable lodging, delicious meals, sacred Darshan, and even some sightseeing. So, why delay? Make your DoDham yatra In 2023 tour reservation today.
Highlights:
Haridwar sightseeing
Visit to Guptkashi
Trekking from Gaurikund to Kedarnath
Visit to Badrinath
Explore the grand snow-clad Himalayas
Visit to Tapt Kund (Hot Spring)
Explore Rudraprayag/ Srinagar
Visit to Ram Jhula, Laxman Jhula and Munu ki Reti in Rishikesh.
Itinerary (Dodham Yatra In 2023 map)–
Day 01: Arrival Haridwar | Haridwar Sightseeing
Arrival at Haridwar Railway Station meet & greet by our expert representative who will assist you to board in your pre-booked car, Straight drive to Haridwar, Upon arrival check in at the hotel later proceed to visit Har-Ki-Pauri and evening ceremony in the front of river Ganges, After that return back to hotel, have dinner hotel & Overnight stay in Haridwar. Breakfast at hotel. "DoDham Yatra In 2023 from Haridwar".
Day 02 :Day 02 : Haridwar- Guptkashi – Sitapur (220 kms approx 8hrs to 9hrs drive)
After breakfast, check out of the hotel and drive to Guptkashi (Guptkashi is located 47 kilometers before Lord Shiva's holy shrine, Kedarnath). It is situated on a ridge on the west side of the Mandakini river valley on the way to Kedarnath, at an elevation of 1319 meters above sea level.
Guptkashi is a religiously significant town in Uttarakhand because it is home to ancient temples such as Vishwanath Temple and Ardhnarishwar Temple.) Have your dinner and spend the night in the hotel/camp. Breakfast at hotel.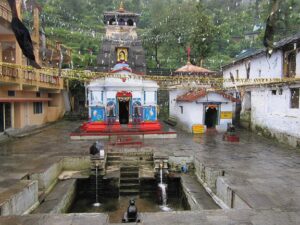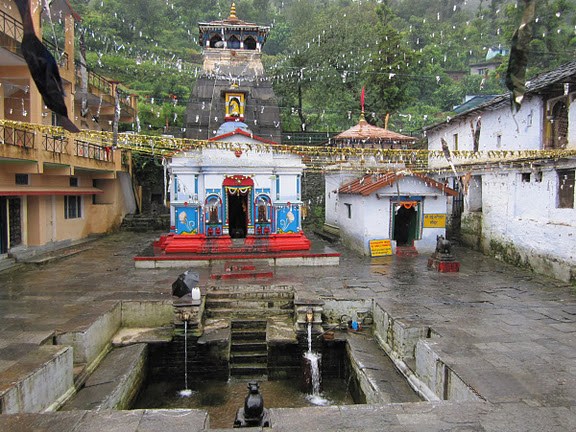 Day 03: Sitapur – Sonprayag – Gaurikund – Kedarnath ( 30kms approx 2hrs drive & 19kms Trekking )
Early morning drive to Sonprayag until Transport Parking. To get to Gaurikund (02kms), you must take a local vehicle/jeep at your own risk. After reaching Gaurikund, you can begin your trek to Kedarnath (19kms one way).
Those who wish to hire a Pony/Palki at their own expense (approximate cost suggested for Pony for return journey- Poni Rs 3000/-, Palki 10000/-), while those who wish to travel by Helicopter(dodham yatra in 2023 by helicopter), which costs approximately Rs 12000/- per person (80kg weight), will be dropped at Guptkashi/Phata/Sirsi Helipad.
Note: Please book your Helicopter/Poni/Palki with the same day returning while starting early morning 4:00 AM those who are going by Trekking/Pony/Palki. Dodham yatra in 2023.
Kedarnath Yatra:  Visit Kedarnath Temple upon arrival, and then resume trekking after performing pooja. To return to Sonprayag on time and coordinate with the driver who will be waiting for you in Sonprayag/Phata/ Sirsi on your designated time. Later, return to the hotel for dinner and an overnight stay in Guptkashi. The Kedarnath Temple: It's The Mandakini River, one of the Ganges' main tributaries, begins at Kedarnath and flows through Gaurikund at an elevation of 3,580 meters. Chants of "Jai Bholenath – Om NamahShivaay" echo in the mountains.After visiting the temple trek down to Gaurikund, reach your pre-booked hotel in Sitapur, have dinner and overnight stay at the hotel.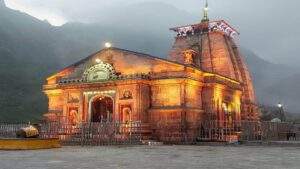 Day 04: Sitapur/Guptkashi/ Phata – Pandukeshwar / Badrinath
Check out of the hotel and drive to Badrinath via Joshimath and Pipalkoti. When you arrive in Pandukeshwar/Badrinath, check into your hotel and, if time allows, visit the Badrinath Temple. Stay for the night.
The Badrinath Temple, also known as the Badrinarayan Temple, is one of the four Char Dham and Chota Char Dham journey yatras. It finds its mention in the 108 DivyaDesams given to Lord Vishnu in India. The sanctuary, located at a height of 10,279 feet, is surrounded by grand snow-clad Himalayas and the Alaknanda River. Check into the hotel upon arrival. After some rest and refreshments, you'll be ready to visit the Badrinath Temple in the evening for darshan. But first, you must visit Tapt Kund (Hot Spring), take a bath, and then proceed to the temple.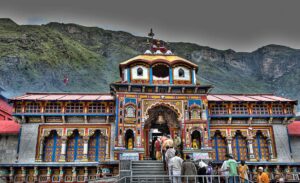 Day 05: Badrinath – Rudraprayag / Srinagar (170 kilometers/07 hours drive)
Those who had not previously visited Badrinath Temple can visit the temple.  Perform the rites and pooja. And then back to the hotel. Check out of the hotel after breakfast and drive to Rudraprayag/Srinagar. In route, you can visit Karanprayag, Rudraprayag, and take pictures from the main road. Check into your hotel upon arrival in Rudraparayag / Srinagar. Have dinner and stay the night. Morning breakfast at hotel.
Day 06: Rudraprayag / Srinagar – Rishikesh – Haridwar (165 kilometres / 05 hours drive)
After breakfast, you drive downhill to Haridwar via Rishikesh, a spiritual city and the world's yoga capital. When you arrive in Rishikesh, go to Ram Jhula and Laxman Jhula, as well as Munu Ki Reti. Later, drive to Haridwar (25 kilometres). Upon arrival, you may proceed to your next destination.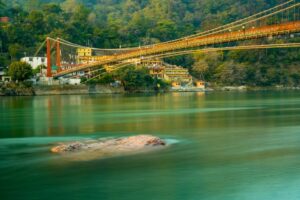 TOUR CONCLUDES WITH SWEET MEMORIES!!!!!!!
Haridwar – Sitapur – Kedarnath -Pipalkoti – Badrinath
6 Nights / 7 Days
| | | | |
| --- | --- | --- | --- |
| Destination | Nights  | Hotels  | category |
| Haridwar | 02 | Hotel urmi or similar | Deluxe |
| Sitapur/ Rampur/Guptkashi | 02 | Rama Palace / Hotel panchwati / New basera or similar | Deluxe |
| Badrinath/Joshimath | 01 | Hotel Yoga/ Uday palace or Similar | Deluxe |
| Rudraprayag | 01 | Hotel Jwalpa Palace/ Hotel samrat / Riverside or similar | Deluxe |
Tour Cost (Dodham Yatra In 2023 package) 
| | |
| --- | --- |
| Details | Validity 01st Sept – 25th Oct 2023 |
| Package cost Based on 07 Paying person | INR 18,500 /- PER PERSON  |
Cost Inclusions for Dodham Yatra in 2023
06 nights' accommodation on 02 double sharing and 01 triple sharing basis at the hotels mentioned above or similar
Daily breakfast & Dinner at the hotels mentioned above or similar
All transfers, excursions and sightseeing tours as per the itinerary shall be provided by air-conditioned vehicle as follows:07 paying persons: Air conditioned Innova .
Road taxes, parking fee, fuel charges, Interstate taxes.
Our representative for assistance during arrival & departure transfers.
Traditionally welcome by our expert representative
All currently applicable taxes
GST- 5% applicable on total billing.
Cost Exclusions For Dodham Yatra In 2023
 Personal expenses such as tips, porters, laundry, telephones, Cameras fees, etc.
Entrance fees and guide charges.
Any increase in fuel cost, government taxes, entrance fees and interstate taxes etc, during dodham yatra in 2023 price will be amended in accordance.
Additional sightseeing or extra usage of a vehicle, other than mentioned in the itinerary.
Any kind of insurance.
Any claim or delay charges due to natural calamities, landslides, road blockage etc. Or any other things which are not mentioned in the cost included column.
Any meals other than specified. (No Meals at Kedarnath Camp)
Anything not mentioned in the inclusions above.
Any charges of the train, helicopter, auto, ropeway, ticket of Mansa/ Chanda devi, Doli& pony etc.
VIP darshan charges not included. In case you opt for a helicopter in the group package the transfers for the helipad are not included. Airport/Railway station Pick Up n Drop (In Fixed group package)_ Dodham Yatra in 2023.
Payment Policy For Dodham Yatra In 2023
To finalize the trip, complete payment should be received before the date of journey. Initial booking amount should be paid in advance according to the following laws. Booking amount is non- refundable, rest will be refundable according to cancellation policies. 50% Advance at the time of booking. Dodham Yatra in 2023.
25% before 10-7 days of Travel 25% at the time of Departure Note – 100% Advance for Kedarnath top (Near Mandir)/ Helicopter Tickets bookings, if any.
Cancellation Policy For Dodham Yatra In 2023
40% of the package cost will be charged as cancellation fee if cancelled before 10 clear days of the departure date. 50% of the package cost will be charged as cancellation fee if cancelled before 7 clear days of the departure date. No Refund will be given if cancelled within 7 clear days of the departure date during Dodham Yatra Package in 2023.
Terms & Conditions For Dodham Yatra In 2023
Full Payment of the trip cost must be made before the trip begins. Pending Payments may eventually lead to the Cancellation of the trip.
The IDs shall all be verified before boarding. No boarding shall be entertained without a valid Govt. ID.
The Transfer of the bookings is not permitted. Only the names mentioned at the time of confirmation shall be allowed to travel.
No refunds shall be made towards(Dodham Yatra in 2023) any inclusion(s) not availed by the Client.
Travelers must take care of their luggage & belongings. The management shall not be accountable for missing items along the tour.
The time of Departure is stated & fixed. All travelers must update their status with the Trip coordinator(s), & report at the pickup point 30 mins prior to the scheduled departure.
The Air Conditioning will be switched off in the hills. Also, during the trip, it shall be the Driver's discretion to turn off the AC as & when required, considering the travelers' safety & ease of travel along uneven & dangerous routes.
Our time of departure is fixed, and we must depart by the stated time & keep their status updated with the trip coordinator(s). Anyone missing the bus shall not be eligible for any refunds. We shall call you twice before the scheduled departure.
Drinking & Smoking are strictly prohibited along the tour due to health & safety concerns. Our tours involve physically demanding activities such as trekking, camping at high altitudes and we recommend for you be in the right shape to make the most of them.
No act of misconduct or indiscipline shall be tolerated on the tours. We are a cordial travel community, and we aspire to bring to you a hassle-free and memorable experience.
Motherland India Holidays Pvt Limited shall not be responsible for any delays or alterations in the program or indirectly incurred expenses in cases such as Natural Hazards, accidents, breakdown of machinery, weather conditions, landslides, political closure, or any untoward incidents.
We do not provide any insurance policy to cover the expenditure on sickness or accidents or losses incurred due to theft or other reasons. Numerous factors such as weather and road conditions, the physical ability of participants etc. may bring alteration in the itinerary.
We reserve the right to make necessary changes in the schedule in the interest of safety, comfort, and general well-being!
No vehicles are not permitted by the government after 8pm, so Motherland India Holidays Pvt Limited will not be liable if there would be any traffic or mechanical malfunctioning after 8pm.
Legal paperwork for vehicles as guided by RTO may take time at the checkpoint, so kindly cooperate.
Chardham is a very busy destination, so waiting can be up to 3-4hrs at any barricades.
Liability and Responsibility of the Company For Dodham Yatra In 2023
The liability of the company is restricted only to the making of a reservation in accordance with the tourist requirements and no further. The company is not liable for any loss of person or property caused or damaged or suffered by the tourist or account of deficiency in services by any independent contractor (during Dodham Yatra in 2023). Any gesture of courtesy extended by the company to the tourist to minimize such loss or damage will not constitute an admission of such liability or a waiver. The company shall in no circumstances whatsoever be liable to the tourist or any other person for any loss or expenses incurred due to:
Theft or any other reason whatsoever during the tour and the entire responsibility of taking care of their valuables shall be that of the tourist,
Train or flight delays, on account of any reason whatsoever rescheduling or cancellation of train/ flights/ interconnection meals not being served etc.
Any overstay expenses on account of any delay or changes in air, bus, ship, train or cancellation of special bogie on account of force majeure including weather conditions, strike, war, government timing, quarantine, or any other reason whatsoever.
Any personal injury, sickness, accident, loss, delay, discomfort, consequential loss and / or damage or any damage to baggage or personal effects however caused.
Death of the tourist while on tour and all applicable rules and procedures of law are to be followed strictly and all procedures pertaining to the death will have to be tackled and handled by the tourist or their relatives themselves at their own cost and consequences.
Any injury, loss, personal harm, death, or damage caused to any person or property by the act or default of the management or employees or agents of any independent contractor.
Any damages, additional expenses for any consequential losses suffered by the tourist due to cancellation, amendment and or alterations of any of the services of the tour mentioned in the itinerary or brochure by the company after the registration or booking by the tourist.
Any sightseeing missed and/ or the program being curtailed after commencement of the tour and / or before the due period on account of force majeure including any unavoidable circumstances and any reason beyond company control including political riots, natural calamity, Floods, Landslides, closure of monument for any reason, monuments under renovation, VIP movement and security, heavy rush at sight-seeing places, road traffic congestion, etc., all the loss or expenses will have to be borne by the passengers.
 FAQ
Which Dham to visit first for Dodham Yatra in 2023?
First visit Badrinath. In the Garhwal hills of the present day North Indian state of Uttarakhand, the town of Badrinath lies on the banks of the Alaknanda River, between the Nar & Narayana mountain ranges. The main deity here is the Lord Vishnu, worshipped in his aspect of Badrinarayan.
How much does a Char Dham Yatra cost?
Does guptkashi have snow?
Yes, in winters all the trekking routes and helicopter rides are also closed because of heavy snowfall.
Does Kedarnath have snow?
Yes, September and October is the best time to visit Kedarnath in winter and after that, the region starts receiving heavy snowfall. In the month of November and last till April. This season is not a good time to go to this place as roads to Kedarnath get blocked due to heavy snowfall.
Read Also:
Chardham Tour Package – 11 Nights/ 12 Days
Chardham Yatra Package from Mumbai Tour Package 2023
Chardham Yatra Package from Mumbai Helicopter Price 2023
Chardham Yatra Package From Mumbai by Flight 2023
IRCTC Chardham Yatra Package 2023 from Mumbai
Chardham Yatra by Helicopter Package Cost 2023
Chardham Yatra Package From Mumbai by Private Tour 2023
Chardham Yatra Package from Pune by Train 2023
Chardham Yatra Package from Pune by Bus 2023
Chardham Yatra Package from Pune by Helicopter 2023
Chardham Yatra Package from Delhi by Train 2023
Chardham Yatra Package from Delhi by Bus 2023
Chardham Yatra Package from Delhi by Helicopter 2023
Chardham Yatra Package from Hyderabad by Helicopter 2023
Chardham Yatra Package from Hyderabad by Train 2023
Chardham Yatra Package from Hyderabad by Bus 2023
Chardham Yatra Package from Ahmedabad by Train 2023
Chardham Yatra Package from Ahmedabad by bus 2023
Chardham Yatra Package from Ahmedabad 2023
Golden Triangle Tour With Mumbai 2023
Chardham Yatra Package from Mumbai by bus 2023
Chardham Yatra Package from Mumbai by Helicopter 2023
Chardham Yatra Package from Hyderabad in 2023
Chardham Yatra package from Mumbai in 2023
Chardham Yatra Package from Delhi