How much 4 dham yatra costs 2023- Motherland India Holidays
How much 4 dham yatra costs 2023- Motherland India Holidays: So, if you're looking for a once-in-a-lifetime opportunity to embark on a spiritual adventure, the Chardham Yatra is it! It is thought that making the pilgrimage to the four temples in Uttarakhand's Himalayan area can purify the spirit and bring about atonement. During this pilgrimage, Yamunotri, Gangotri, Kedarnath, and Badrinath temples are visited. 
Each temple has a special place in Hindu mythology and history. For example, Kedarnath is one of Lord Shiva's twelve Jyotirlingas, whereas Badrinath is devoted to Lord Vishnu. 
Well how much does a char dham yatra cost so, it depends on various factors like the mode of transportation, accommodation, and guide fees. Typically, a budget-friendly trip with decent accommodations and shared transport can cost around INR 30,000-45,000 per person. However, if you prefer more comfortable stays and private transport then you may end up spending anywhere from INR 50,000 to INR 70,000 per person. 
Additionally, it's important to note that prices can fluctuate depending on the season and availability of services. It's always best to do your research beforehand and book in advance to get the best deals possible. 
Ultimately though, no matter what budget you have – a 4 dham yatra experience will undoubtedly be worth every penny.
We understand how important it is for one to embark upon this pilgrimage with ease, hence our cost-effective package ensures safe travel throughout the journey. Whether you are travelling solo or in a group with family (char dham yatra family package) or friends, our personalized packages cater specifically to your needs so that you can have the perfect Himalayan retreat without putting a dent in your pockets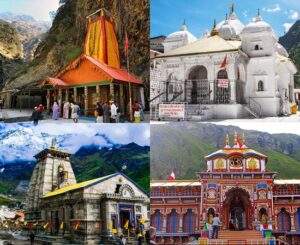 The 4 dham yatra costs itinerary:
You will have the chance to connect with nature as you trek through some of India's most beautiful landscapes. However, be ready because this journey requires at least two weeks to accomplish, making preparation and careful planning essential if you want to have these amazing experiences. So prepare your belongings and depart on a memorable spiritual journey.
Day 01: Arrive at Haridwar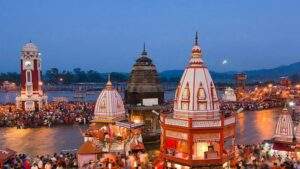 As you arrive in Haridwar on Day 1 of the tour, our representative will welcome you and start the char dham yatra package via train.

As you travel down the char dham yatra towards the first Dham, begin your spiritual journey.

We will acclimatise for the following day's hike to the temple at Barkot, a little village close to Yamunotri, where we will make our first stop.

We'll stop at Mussoorie's renowned Kempty Falls en route.

After you arrive in Barkot, check into your accommodation and relax.

Dinner and a hotel stay are also included.
Day 02: Yamunotri Temple Visit
Go to Jankichatti, the starting point for the walk to Yamunotri Temple, after a leisurely breakfast.

Start the captivating 6-kilometre hike via Phool Chatti and Hanuman Chatti.

In addition to doing the pooja and taking a bath in the Surya Kund, pay respects to the Mother Yamuna at the revered temple.

Return to your hotel in Barkot from Jankichatti.

Dinner and a hotel stay the following day
Day 3: Uttarkashi to Barkot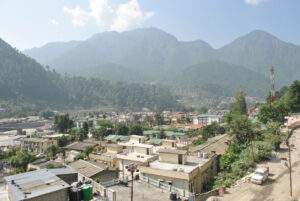 After breakfast, continue on the Char Dham Yatra to Uttarkashi, which is the next stop.

A little town called Uttarkashi is located beside the Bhagirathi River.

While you visit the Vishwanath Temple, make the most of your time. This historic temple honours Lord Shiva and is situated in the centre of the community.

Return to the hotel for the night after exploring the neighbourhood market in Uttarkashi that surrounds the temple.
Day 04: Visit Gangotri Temple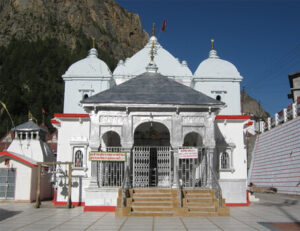 Drive to Gangotri Dham in the morning

You will be drawn in by the fantastical sights of Bhagirathi's blue waters flowing across the Harsil Valley and the deodar trees filling the air with a lovely freshness.

As you get to the temple, take a bath in Ganga's holy waters, which are also known as Bhagirathi at their source, and pray to Mother Ganga.

Stop in Gangnani on the way back to Uttarkashi to have a holy bath in the hot springs.

Moreover, interact with the locals in the secluded region as you tour Dharali and the Harsil Valley.

Dinner and hotel accommodation in Uttarkashi
Day 05: Uttarkashi to Guptkashi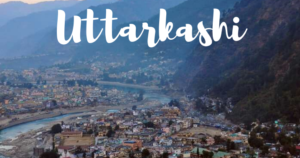 Our stop for the day will be Sitapur, which is at the beginning of the arduous journey to the holy shrine, which is the next stop on the yatra's route.

After breakfast, take a drive through Tilwada to Guptkashi where you can view the Mandakini River, which originates in Kedarnath and runs next to you.

Arrive at Guptkashi and register at the hotel.

To acclimatise, unwind and spend the night here 
Day 06: Kedarnath Trek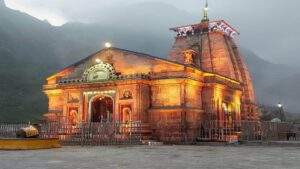 Get up early, have breakfast, and travel to Gaurikund to begin the journey to the dham.

Join the other pilgrims on the 16 Kilometer trek. There are plenty of rest stops and eateries along the way where you may stop for lunch and breaks.

During this difficult walk, you can also hire ponies or palanquins.

To be fascinated by the natural beauty and spirituality that permeate this Jyotirlinga, arrive at the temple by evening.

After a brief check-in, travel to the temple for darshan and aarti.

Return to your accommodation and spend a restful night around the temple.
Day 07: Return to Guptkashi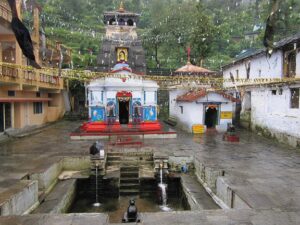 Get up early to see the temple's splendour with the Kedarnath range in the distance lighted by the sun's beams.

Before returning to Gaurikund, the last road head, you can pay final respect to the temple.

Reach Guptkashi from Gaurikund and settle into the hotel.

The day is free time, so you can relax in your accommodations or explore the neighbourhood.

Dinner and a night's stay in a hotel in Guptkashi
Day 08: Guptkashi to Badrinath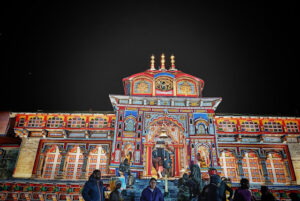 Guptkashi to Badrinath on Day 8

After breakfast, travel by train to Badrinath via Joshimath, the last stop on the char dham yatra.

As your drive to the last pilgrimage of this journey, take in the bizarre views of the Ganga as it flows by.

Arrive in Badrinath, quick check-in, and then tour the scenic surroundings.

Eat dinner and spend the night comfortably at your hotel.
Day 09: Visit Badrinath Temple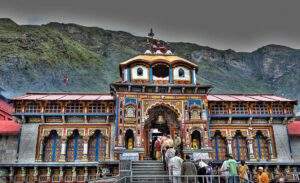 As you prepare to travel to the final stop on this sacred pilgrimage, get up early and eat a delicious breakfast in the stunning Badrinath Valley.

Before you see Badri Vishal and say the aarti at the temple, take a swim in the revered Tapt Kund.

Explore later locations including Bhim Pul, Vyas Gufa, Narad Kund, and the Badrinath Valley markets.

Have a peaceful evening at your hotel while you finish your Char Dham Darshan, and then have dinner.
Day 10: Departure
With breakfast, check out and return to Haridwar.

Enjoy the gorgeous trip as you pass through tall mountains and meandering rivers on the way back.

At the Valley of the Gods, you can see some of the key river confluences where the rivers merge to make the Ganga, which emerges at Devprayag.

Arrive at Haridwar, get dropped off at the train station, and then continue on to your home country while bidding farewell to the Devbhoomi.
What is 4 dham yatra name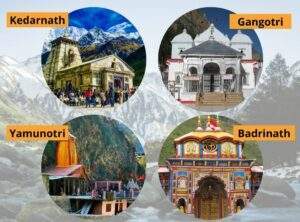 What is 4 dham yatra name: One of the most well-known of the several holy sites and circuits that pilgrims travel across Uttarakhand is the Char Dham Yatra. Yatra, or pilgrimage, is a journey to four sacred locations that are tucked away in the Himalayas: Yamunotri, Gangotri, Kedarnath, and Badrinath.
Historically, the majority of pilgrims who participated in the chardham yatra package walked on foot, either totally by themselves or in small groups of family or friends. 800 km of meandering roads connect the four sites, and depending on how the pilgrim schedules their trip, it can take 10–12 days to travel the entire distance. 
Yamunotri: The beginning of the Char Dham Yatra is Yamunotri. The sacred river Yamuna rises at a height of roughly 3293 metres in Uttarakhand's Uttarkashi district.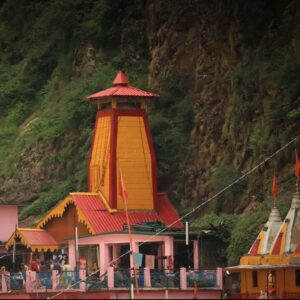 Gangotri: The second Chardham Yatra station, Gangotri, is situated in the hilly state of Uttarakhand at a lofty elevation of 3042 metres.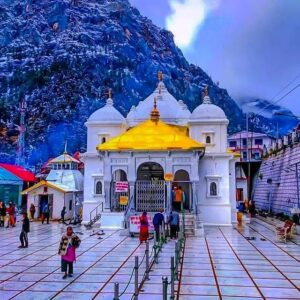 Kedarnath: The next stop on the tour is Kedarnath, which is located in the Uttarakhand state of northern India and is the official residence of Lord Shiva. It is one of the most sacred Hindu shrines in Uttarakhand and is situated at a height of 3586 metres.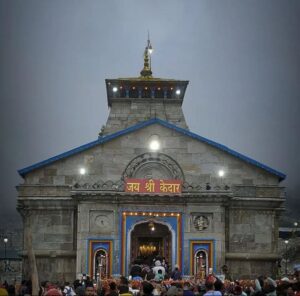 Badrinath: The fourth and final site on the Yatra is Badrinath, sometimes referred to as "Badrinath Dham," which is the home of Lord Vishnu. It is located in the Chamoli district of the Indian state of Uttarakhand, at a tall elevation of 3133 metres.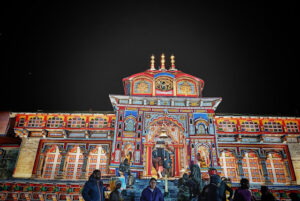 Chardham Yatra family package

Considering taking the entire family on a spiritual journey? The chardham yatra family package is the only option. With this journey, you can see Yamunotri, Gangotri, Kedarnath, and Badrinath—four of India's holiest pilgrimage sites—completely and without fuss. The package covers all lodging, food, and guided tours at each place in addition to all travel arrangements. 
Everyone in your family will find the trip educational because of the area's tranquil surroundings and interesting history. Additionally, this package provides wonderful chances to strengthen relationships with loved ones amidst some of India's most breathtaking views. Make your reservation right away to go on this fantastic journey as a happy family and make lifelong memories.
Our company's char dham yatra family package is the pinnacle of pilgrimage. All four holy shrines—Yamunotri, Gangotri, Kedarnath, and Badrinath—as well as a number of other important temples and sites, are visited throughout this extensive tour. 
Families can concentrate on their spiritual trip without worrying about logistics because char dham yatra package cost comfortable lodging and transportation is offered during the trek. Our experienced tour guides will take guests through the customs and prayers at each venue while sharing information about each one's significance. 
Moreover, we have designed this package, especially for families so that everyone—from children to grandparents—can take part in and delight in this extraordinary journey together. This opportunity is undoubtedly one to remember.
Chardham yatra package cost from Haridwar
So, if you're planning your char dham yatra from Haridwar then you've come to the right place our company offers a chardham yatra package from Haridwar. This comprehensive and affordable package covers all the pilgrimage sites in Uttarakhand.
The char dham yatra package cost includes transportation at every site, also accommodation at each site with meals and snacks, and a professional tour Guide who will assist you throughout your journey to chardham yatra from start to end.
Motherland India Holidays Pvt. Limited offers very reasonable rates for their package keeping in mind the budget of every individual, Join us on this journey of self-discovery and faith as we take you on an epic adventure through India's holiest destinations.
How much it cost for char dham yatra has mentioned below in a table:
| | | |
| --- | --- | --- |
| Packages | No. of Days & Nights | Approx. fare per person |
| Chardham Yatra package from Delhi | 11 Nights & 12 Days | Rs. 34,999 |
| Chardham yatra package from Haridwar | 10 Nights & 11 Days | Rs. 33,999 |
Char Dham Yatra Package for senior citizens
Char Dham yatra package for senior citizens 2023: Uttarakhand, formerly called Uttaranchal and also Devbhoomi, is a north Indian state located in the Himalayas. Famous for its spectacular landscapes, it's home to several of India's most-visited expedition sites and also national parks such as Badrinath Temple and also Valley Of Flowers National Park.
The Char Dham Yatra is a pilgrimage to Yamunotri, Gangotri, and Kedarnath, as well as Badrinath, four of India's holiest places. It is a well-known Hindu pilgrimage as well as has actually played a considerable role in Indian culture for several years. There are one-of-a-kind char dham yatra plans offered for seniors to make the trip simpler and also much more satisfying.
This Char Dham yatra generally consists of accommodations as well as food, along with transportation from the starting location per of the 4 locations. They often additionally include senior-specific activities and also sightseeing excursions. A lot more specialized services, such as clinical support, physical treatment, as well as senior-friendly tasks, are included in some packages.
Char Dham Yatra package for Seniors 2023 or char dham for Seniors can substantially alleviate and improve the distinct and inspiring experience that is the Char Dham Yatra for Seniors as well as with char dham yatra family package your elderly member of the family or the entire family can take a trip safely, comfortably, and meaningfully with the right plan.
FAQs related to How much 4 dham yatra costs?
How much does it cost to see 4 Dham by helicopter?
Chardham yatra by helicopter will cost around INR 1,85,000 per person to complete darshan in all 4 Dhams of Uttarakhand. Including the price meals, local transfers & hotels, Sightseeing tour. Note that prices are subject to change.
How many days are enough for 4 Dham Yatra?
There are two routes to complete the Chardham yatra, either by road or by helicopter. You need a minimum of 10 to 12 days to complete the Chardham yatra by road and if you choose Chardham by helicopter 2023, then it will be finished in about 4 to 5 days.
Is Char Dham Yatra free?
There is no fee involved in the Tourist registration process. Please carry valid personal ID proof during the Chardham and Hemkund Sahib yatra.
What is the benefit of 4 Dham?
It is believed that visiting these sites helps achieve moksha (salvation).
How much helicopter cost from Rishikesh to Badrinath?
As of now the fare for Chardham Yatra by helicopter is INR 1,60,000 per person.
The cost includes: 1 night stay at Dehradun,  01 night stay at Kharsali, 01 night stay at Guptkashi and 01 Night stay at Badrinath at best available accommodation.
Which Dham is difficult?
Yamunotri is the first of the four dhams and definitely the toughest. Although, its located at a lower elevation than the other dhams, the narrow and crowded pathway make it challenging and tough to reach the temple.
Is Char Dham yatra difficult?
A Char Dham yatra isn't easy. Pilgrims really need to earn the benefits bestowed, as only two of the temples (Badrinath and Gangotri) are accessible by vehicle. The remaining two (Yamunotri and Kedarnath) require treks.
What is the age limit for Char Dham Yatra?
Pilgrims should avoid meeting elder persons (above 65 years) and minors (below 10 years) during their visit to Shrine. Pregnant ladies, Infants & pilgrims less than 10 years & above 65 years are advised to avoid the char dham yatra.
Do Dham Yatra cost by helicopter?
Do Dham Yatra 2023 by helicopter costs INR 95,000 Per Person/-.
How to complete 4 Dham?
It is believed that one should complete the Char Dham Yatra in a clockwise direction. Hence, the pilgrimage starts from Yamunotri, proceeds towards Gangotri, onto Kedarnath, and finally ends at Badrinath. The journey can be completed by road or by air (helicopter services are available).
Who founded 4 Dham?
An archetypal All-India pilgrimage circuit, the formation of the original Char Dham is credited to the great 8th century reformer and philosopher Shankaracharya (Adi Sankara).
Is oxygen low in Badrinath?
Badrinath and Kedarnath Dham are located at a height of almost 11,500 feet above sea level, so the oxygen content in the air is very low.
Is there oxygen problem in Kedarnath?
The oxygen depletion is measured in atmospheric pressure or percent in less oxygen. At Kedarnath, the atmospheric presence of oxygen is only 40 percent of the required level. This means that the lungs must breathe faster and the heart must pump more to retain the oxygen level in the body.
Is climbing Kedarnath hard?
The Kedarnath Trek is a moderate to difficult 16-kilometer trek that necessitates a reasonable level of physical fitness. Ideally, you should be starting the trek at around 4:30 a.m. so you can finish it by 2pm.
How much does Char Dham yatra cost per person by train?
It ranges between INR 37,000 to INR 40,000 per person
Read More:
Chardham yatra travel tips 2023
chardham yatra places route map
Chardham yatra from Surat 2023
Chardham yatra by bus 2023 price
Chardham yatra registration 2023
Chardham yatra 2023 opening date
Chardham yatra from Mumbai 2023
Chardham yatra by Helicopter 2023
When Chardham Yatra start in 2023
Chardham yatra from Dehradun 2023
Chardham Yatra from Bangalore 2023
Chardham yatra from Hyderabad 2023
Current status of Chardham yatra 2023
Things to carry for chardham yatra 2023
When Badrinath Dham will close in 2023
Haridwar to Chardham yatra by bus 2023
Best travel agency for Chardham yatra 2023
irctc Chardham yatra from Hyderabad 2023
Chardham yatra from Haridwar by car 2023
Chardham Yatra Package from Chennai 2023
What is the last date of Kedarnath yatra 2023
Chardham yatra package from Bangalore 2023
Chardham yatra by helicopter from Delhi 2023
Chardham yatra route map from Haridwar 2023
How to Plan Char dham Yatra from Mumbai 2023
Char Dham yatra package for senior citizens 2023
What is the cost of Char Dham yatra package 2023
Chardham Yatra Package from Delhi by Train 2023
Chardham yatra tour package from Haridwar 2023