How can I plan for Chardham yatra 2023
A person's spirituality inspires them to set out on a holy quest to find tranquility and peace. One such journey is the holy Chardham Yatra, which takes place in the formidable Garhwal Himalayan range. Exploring the oldest Hindu traditions in the world is made possible by the Char Dham Yatra.
A significant pilgrimage is the Chardham Yatra. It is thought to free you from the cycle of life and reincarnation and erase all the sins you have committed.
The Char Dham Yatra is renowned for its profound spirituality and enchanting beauty, which allows you to spend some quiet time by yourself while taking in the allure of the snow-covered Himalayas. Although the voyage is extremely difficult, the most joyful glimpse of divinity is the reward, making it worthwhile to take the trip once in a lifetime.
We'll show you how to plan char dham yatra in this article, so you can meticulously prepare for this beautiful adventure and enjoy it forever.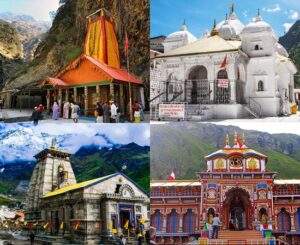 Recommended Tour Packages
Significance of Chardham Yatra
Chardham yatra package from Vijayawada 2023
What type of luggage is allowed for Char dham Yatra by Helicopter
Here is the best itinerary for the chardham yatra
Day 01: Delhi to Haridwar (220kms/5-6hr)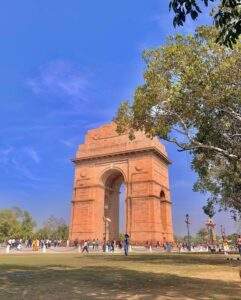 On the first day of the Chardham yatra take a flight or Train from your home town airport or railway station our representative will receive you at Delhi airport or railway station from wherever you reach. You will commence your Chardham yatra by overnight staying at a hotel in Haridwar.
Day 02: Haridwar to Barkot (210kms/7-8hr)
On the second day participate in the Ganga Arti in the morning at "Har Ki Pauri" and visit Mansa Devi Temple. In the morning after breakfast check out of the hotel and drive to Barkot to continue our Chardham Yatra package from Hyderabad by train.
Day 03: Barkot to Yamunotri to Barkot (Drive 45 km)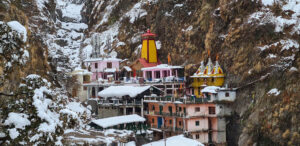 After breakfast, head to Yamunotri for some sightseeing before starting the 6 km hike from Jankichatti to your first Chardham yatra pilgrimage destination. Return to your hotel for dinner after your tour. In-room breakfast and overnight stay.
Day 04: Barkot to Uttarkashi (Drive 100 km)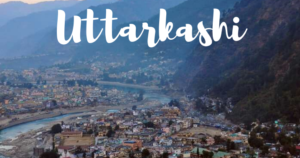 In order to continue the Chardham Yatra and reach the next destination check out of the hotel and drive to Uttarkashi after breakfast.
Uttarkashi is the name of a sacred town in Uttarakhand. Uttarkashi is the name of the city's capital. The district of Uttarkashi is located along the banks of the Bhagirathi River. The sacred and basic obstacles of Uttarkashi, including Gaumukh, Kedartal, Yamunotri, Divya Shila, and Surya Kund, are located all around Gangotri. There are several well-known tourist destinations for explorers close to Yamunotri, including Saptarishi Kund, Hanumanchatti, Govind Wildlife Sanctuary, and Har ki Doon Valley.
Day 05: Uttarkashi to Gangotri to Uttarkashi (Drive approx. 100 km)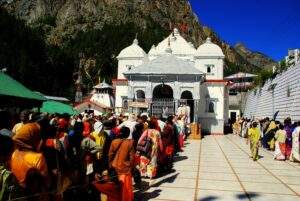 To go ahead with the Chardham Yatra and drive to Gangotri in the early morning.
When you visit Gangotri (a town in the Uttarkashi district in the Indian province of Uttarakhand), take a religious bath in the holy Ganges. On the banks of the Bhagirathi River, close to the Ganges River's mouth, is a Hindu pilgrimage town. Because it is thought that Lord Shiva snared the great floods of the Ganges in his tangled locks there, the Gangotri Temple is immensely significant to everyone.
Day 6: Uttarkashi to Guptkashi (Drive 223 km)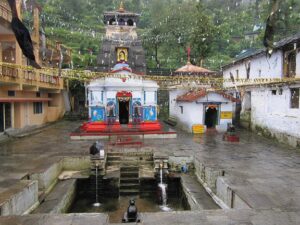 While en route to Guptkashi during Chardham Yatra, our driver will stop at the extremely well-known Tehri Dam. A person can check into the hotel upon arrival in Guptkashi. However, it is advisable to visit the well-known temples in the area in the evening, such as Ard Nareshwar Temple and Kashi Vishwanath Temple.
Day 7: Guptkashi to Kedarnath (Drive 30 km)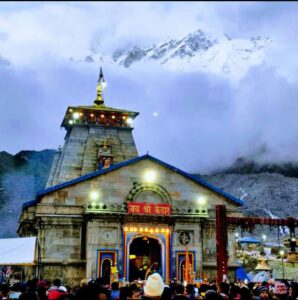 Arrive at the transport parking at Sonprayag early in the morning. Take a local vehicle/jeep at your own risk to go the 02 kilometres to Gaurikund. Your hike to Kedarnath can begin once you arrive in Gaurikund (16 km one way).
Those who wish to travel by helicopter, which costs approximately Rs 12000 per person (80kg weight), will be dropped at the Guptkashi/Phata/Sirsi Helipad. Those who wish to hire a pony or palki at their own expense (approximate cost suggested for a pony for the return journey: Poni Rs 3000/-, Palki 10000/-).
Day 8: Guptkashi to Joshimath (Drive 160 km)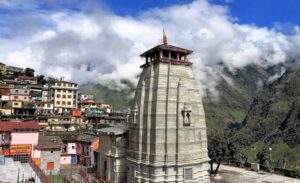 To continue the Chardham Yatra we will drive towards Joshimath through Chopta and Ukhimath in the morning after breakfast. Once in Joshimath, check in at the hotel. After visiting the Narsingh Temple in the evening, pilgrims. Stay the night at the Joshimath Hotel.
Day 9: Joshimath to Badrinath (Drive 45 km)
After breakfast, today, depart for Badrinath. Once you arrive, check into your hotel. After lunch, go to the temple for holy darshan or pooja. Pilgrims can see Badrivishal there after taking a bath in the Tapt Kund. Staying the night at the Badrinath Hotel for dinner.
Day 10: Badrinath to Rudraprayag (154 Km / 5 hours)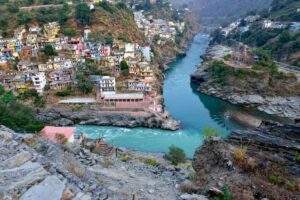 Visit Vyas Cave, Ganesh Cave, Bhim Pool, the source of the Saraswati River, and Mana Village this morning after breakfast (Mana Village: The First Village of India) then take a car to Rudraprayag. When you arrive at Rudraprayag, check into your hotel. Stay the night in Rudraprayag.
Day 11: Rudraprayag to Rishikesh (Drive 138 km / 4 to 4.5 hours)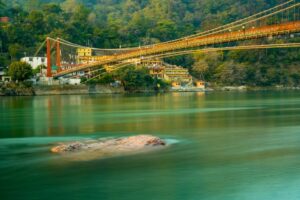 After breakfast, travel via Rishikesh to Dehradun. The Shivalik range of the Himalayas encircles the spiritual town of Rishikesh, often known as the "place of sages," on three sides. It is located on the Ganges River. It is stated that after Raibhya Rishi performed difficult penances, God appeared as "Hrishikesh," and as a result, this region first became known as Rishikesh. Later, go sightseeing at Laxman Jhula and Ram Jhula in Rishikesh. depart from Haridwar.
Day 12: Rishikesh to Haridwar to Delhi (Drive 237 km/4 hours)
On the last day of the Chardham Yatra check out of the hotel and make your way to the airport or railway station in Delhi for your flight to Hyderabad in the morning after breakfast.
Chardham Yatra Opening and closing dates 2023
Yamunotri, Gangotri, Kedarnath, and Badrinath are all visited in a clockwise direction as part of the Char Dham circuit. It is one of the most anticipated yatras each year and begins in April or May and concludes in November, just in time for winter when heavy snowfall closes the routes to the temples.
The Chardham 2023 dates are disclosed prior to Akshaya Tritiya or Akha Teej in accordance with the revered Hindu calendar known as the "Panchang." It is stated that buying gold on this day will ensure that its value will never decrease.
Here are the opening and closing dates of the chardham yatra:-
| | | |
| --- | --- | --- |
| Chardham Temples | Opening Dates | Closing Dates |
| Yamunotri Temple | 22nd April 2023 | 14 Nov 2023 (Tentative) |
| Gangotri Temple | 22nd April 2023 | 13 Nov 2023 (Tentative) |
| Kedarnath Temple | 25th April 2023 | 14 Nov 2023 (Tentative) |
| Badrinath Temple | 27th April 2023 | 15 Nov 2023 (Tentative) |
How to plan Cardham yatra by Haridwar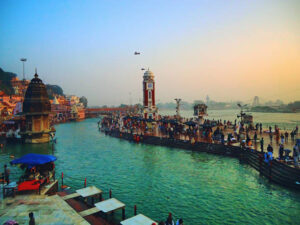 Planning a Chardham Yatra from Haridwar can be an exciting and fulfilling experience, but it requires careful planning. To start, determine which mode of transportation you prefer. If convenience is key, consider hiring a car or helicopter for the journey; however, if you are looking to save money and have an authentic experience, buses or trains are your best bet. Make sure to book your transportation in advance to secure seats.
Additionally, research the weather and carry appropriate attire for mountainous terrain. When visiting temples, be respectful of local customs and rituals.
Plan your trip during the off-season to avoid crowds and maximize your experience with nature's serenity, uninterrupted by mankind's cacophony. Lastly, carry essential documents like ID cards and permits to navigate through hilly terrain seamlessly and without any unexpected surprises along the way.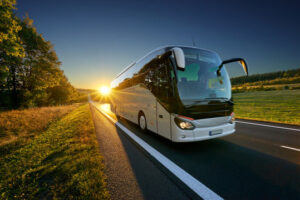 The route to the holy places must be taken in a clockwise direction. Yamunotri is the first destination, followed by Gangotri, Kedarnath, and Badrinath.
The distance to Yamunotri from Dehradun is 171 kilometers. The next shrine, Gangotri, is roughly 222 miles away, whereas Kedarnath is 33 km away and Badrinath is 46 km away.
Hanuman Chatti is where the road trip to Yamunotri comes to a conclusion. From there, a 13-kilometer walk leads to the sacred temple. You can either hire ponies, horses, or palanquins to cover the journey or walk across the stunning and difficult terrain. The highways that link the major towns in Uttarakhand are well-connected to the next stop, Gangotri.
At Gaurikund, the route to Kedarnath comes to a stop. Visitors must walk 16 kilometers through the highlands to reach the Lord Shiva shrine.
Along with private transportation from Haridwar, Rishikesh, and Dehradun, there are taxis and buses available on the road routes of the Chardham Yatra. One of the best ways to take part in the Char Dham Yatra is through this.
Although getting there by train is challenging because of its mountainous position. The best alternatives for getting to the Char Dham circuit by train are Haridwar and Dehradun. The closest railway stations to Yamunotri are Dehradun Railway Station (172 km) and Rishikesh (around 200 miles). Similar to how Dehradun Railway Station is conveniently located 114 miles from Gangotri. Haridwar Railway Station is the nearest, at a distance of 231 kilometers, to Kedarnath. Ramnagar, which is 154 km away, or Kotdwar, which is 146 km away, are the two closest cities to the famed Dham of Badrinath.
Chardham Yatra by Helicopter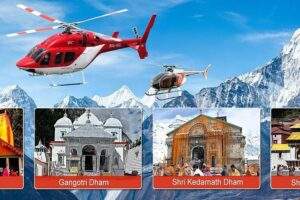 Flying is the quickest and most practical way to travel to the Char Dham in Uttarakhand. For the pilgrims' convenience, Chardham Yatra helicopter packages organize a tour. While there are helicopter choices for the entire Yatra, there are also helicopter flights available for the individual dhams.
As the airport with the best nationwide connectivity and the nearest to all four Dhams is Jolly Grant Airport in Dehradun, take a flight there. Delhi is also not that far away and is home to the closest international airport.
You can now select the form of transportation that best suits your needs and your convenience.
Char dham yatra in 6 Days
You should take a look at this 6 days char dham itinerary if you intend to travel for the Char Dham yatra in 2023.
With this flexible Chardham Yatra package, it is possible to accomplish the Char Dham pilgrimage in 6 days and receive blessings at all four holy shrines.
Here, we have compiled important information about the journey to help you plan the Char Dham yatra in 6 days and to keep you updated with the significant details.
6 days chardham yatra itinerary
The four pilgrimage locations known as the Char Dham in Uttarakhand are the abodes of several gods.
These are some of the holiest locations for pilgrimages in Hinduism.
You will have the chance to attend Aarti and Pooja at temples and other revered locations along your tour.
Day 1: Arrival in Dehradun
When you arrive in Dehradun, your Char Dham Yatra officially begins. You will be picked up by our tour representative and transported to the hotel from the Dehradun airport or train station.
Complete the hotel check-in procedures, then unwind.
The duffel luggage will be given to you so you may carry the necessary goods with you since the rest of your gear won't be transported by helicopter.
The remaining time is free for you to enjoy.
You can unwind in your hotel or visit the resort's adjacent locations. In Dehradun, spend the night in a hotel.
Day 2: Dehradun to Kharsali to Yamunotri to Kharsali
At 6:00 in the morning, finish the check-out procedures and head to Sahastradhara Helipad to catch the chopper to Kharsali.
At seven in the morning, the helicopter will leave Sahastradhara. You will arrive at the Kharsali helipad at 7:30 a.m. To refresh, proceed to the hotel.
Register at the hotel and relax. Enjoy a great breakfast at the hotel before beginning your tour of Yamunotri at 9 a.m.
The temple, which is 6 kilometers from the base, is reachable by hiking. Travel is also possible by pony or palki.
When you arrive at the Yamunotri Temple, ask the goddess Yamuna for her blessings. Visit the thermal springs, Yamuna Mata Temple, and Shani Temple after Darshan.
Later, eat dinner at the hotel in Kharsali before retiring for the night.
Day 3: Kharsali to Harsil to Gangotri to Harsil
Early morning check-out from the hotel at 6:30 a.m. requires you to get up early. To get on the helicopter, proceed to the Kharsali helicopter base.
At 7:30 in the morning, take a flight to Harsil, which is a stunning valley at the foot of Gangotri Dham in Uttarakhand, and you'll arrive there by 8 in the morning.
You will be assisted in your transfer to the hotel by Harsil. Finish the check-in procedures, then unwind for a while.
At 9 a.m., eat breakfast before leaving for Gangotri Dham.
Visit the Gangotri Temple, then go back to Harsil.
Visit Shiv Temple, Bagodi Village, Mukhwa Village, a lovely nature walk near Jhalla, and other points of interest in Harsil.
You can also take pleasure in a quick walk to Chholmi village. Return to the Harsil hotel following the sightseeing trip.
Day 4: Harsil to Sersi to Kedarnath Dham to Sersi
Get up early on the fourth day of the tour, and check out of the hotel at 7 a.m. To take a helicopter to Sersi, get to the Harsil helipad.
At 8 a.m., take off from Harsil and arrive at Sersi base in 30 minutes. You will receive assistance in getting from the airport to your accommodation in Sersi. Finish the check-in procedures and get dressed.
Around 10 a.m., after breakfast, proceed to Sersi's helipad to get a helicopter to Kedarnath Temple.
Ask Lord Shiva's blessings at Kedarnath Temple. Spend some time in the peaceful surroundings before making your way to the helipad to catch your flight back.
Later, visit more tourist destinations, including Kashi Vishwanath Temple, Kalimath Mandir, Triyugi Narayan Temple, and Gaurikund in Guptkashi.
Spend the night in Sersi.
Day 5: Sersi to Badrinath
At 8 a.m., enjoy a delicious breakfast before completing the hotel check-out procedures.
To board the aircraft to Badrinath, get to the Sersi helipad by 9 a.m. From Sersi, board the helicopter around 9:30 a.m.; you'll reach Badrinath at 10 a.m.
You will be assisted in getting from the airport to the accommodation. Complete the hotel check-in procedures, then get ready.
You will go to the Badrinath Temple in the afternoon for darshan.
After seeing Badrinath Dham, you can go to other tourist attractions like Mana Village, the neighborhood market, or the hot spring near Badrinath Temple.
Visit the Badrinath Temple once more in the evening to take part in the Swaran Aarti and Chandi Aarti. Staying the night at the hotel in Badrinath.
Day 6: The Chardham Yatra is over
Enjoy a great breakfast as you awaken to a lovely day. At 9 a.m., finish the check-out procedures. At 10 a.m., proceed to the helipad to catch the flight.
At 11 a.m., you will arrive at the Sahastradhara helipad. Your bags will be picked up from the cloakrooms at the hotel in Dehradun when you are escorted there.
You will then receive assistance with your transfer to the airport or train station for your next destination.
Remark: A night's stay in Dehradun on day 6 can be booked for an additional fee. The travel agency must be notified of this itinerary modification or addition when the reservation is made.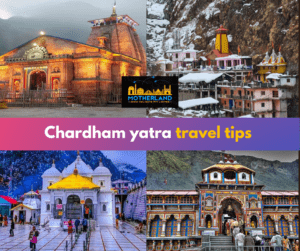 Because the Chardham Yatra is a well-known pilgrimage, be sure to reserve your lodging and transportation well in advance. Obtaining your permission and making any essential preparations for porter services or pony rentals are also crucial.
It's crucial to be in top physical condition prior to starting the Chardham Yatra because it entails a lot of walking and climbing. Starting a regular workout routine many months prior to your vacation is advised to get your body ready.
Pack warm clothing and rain gear because the Himalayan weather can be erratic. Bring a nice backpack and a pair of strong shoes as well. A solid first aid kit, a torch, and a water bottle are also suggested.
Due to the high altitude of the Chardham Yatra, it's critical to be mindful of the signs of altitude sickness, which include headaches, nausea, and shortness of breath. It's a good idea to acclimate before starting the trek.
Given that the Chardham Yatra is a holy pilgrimage, it's crucial to respect regional culture and traditions. This includes not littering, removing your shoes before entering temples, and dressing modestly.
You can get vital information about the area's culture and history while getting assistance navigating the frequently challenging terrain from a local guide. They can assist with any linguistic difficulties as well.
Things might not always go as planned because the Chardham Yatra is a protracted and difficult journey. When things don't go as planned, it's crucial to be adaptable and go with the flow rather than getting angry or irritated.
It is crucial to drink plenty of water while traveling. It is best to stay away from alcohol and drink water frequently.
While traveling, it's crucial to look after oneself. This includes getting enough sleep, eating healthfully, and abstaining from dangerous behaviour.
When visiting any remote location, travel insurance is crucial. You'll benefit from it in an emergency.
The Chardham Yatra's busiest months are May, June, September, and October. The roads and temples are busier and more expensive during certain months, and it could be challenging to obtain permissions. Planning your trip for the shoulder season is advised.
Do not forget to carry your ID
Always keep a current ID with you. While visiting the temples, you are required to have identification on you at all times.
Be aware of your surroundings
Always be aware of your surroundings and take the appropriate steps to protect yourself.
You can get the most out of your Chardham tour and enjoy a secure and fruitful spiritual experience by paying attention to these suggestions.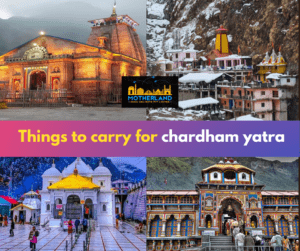 When you're planning to embark on the revered Chardham Yatra, it's essential to pack smartly and bring along only the essentials. Firstly, make sure you have comfortable clothes that are suitable for trekking in the mountains.
Also, keep warm clothing like jackets and shawls on hand, as temperatures can drop drastically. It's vital to carry important documents like identity proof, medical insurance cards and permits for travel.
Don't forget to pack a basic first-aid kit with band-aids, antiseptic ointments, and medicine for altitude sickness if necessary.
Keep your electronic devices fully charged, as there might not be many charging options en route. Carrying a valid camera is also ideal for capturing the beautiful locales of this scenic yatra.
Lastly, pack some light snacks like energy bars and water bottles since food options may be limited during the journey. 
List of Essential Items Should be carried before Going to Chardham Yatra
These are the following things to carry while traveling to Chardham.
Photo Identity Proof

Camera

Clothes

Snacks and Dry Fruits

First Aid Kit and Some medicines

Mobile Charger and Power Bank

Water Bottle

Trekking Shoes

Towel and Toiletry Kit

Comb and hairbrush

RainCoat or Umbrella

Headphones

BackPack
FAQs related to How can I plan for chardham yatra 2023
How many days are required for the Chardham Yatra in Haridwar?
9 to 10 days of Chardham Yatra from Haridwar will cost you around INR 31,000 to 40,000. Meals, airport transfers, accommodation, and sightseeing tours are all included in the packages for a hassle-free journey.
Which route is best for the Chardham Yatra from Haridwar?
The best route for the Chardham yatra from Haridwar is as follows. Haridwar → Barkot → Yamunotri → Uttarkashi – Gangotri – Guptakashi – Kedarnath – Joshimath – Badrinath.
How risky is the Chardham Yatra?
Conducting the yatra at full capacity is a risky venture, especially in the case of Badrinath Dham, where the highway is the only route to reach the shrine.
Which dham is difficult?
Yamunotri is the first of the four dhams and definitely the toughest. Although, it is located at a lower elevation than the other dhams, the narrow and crowded pathway makes it challenging to reach the temple.
Which Char Dham should I visit first?
It is believed that one should complete the Char Dham Yatra in a clockwise direction. Hence, the pilgrimage starts from Yamunotri, proceeds towards Gangotri, onto Kedarnath, and finally ends at Badrinath.
How far is 4 Dham from Haridwar?
These four pilgrimage sites cover a total of approx. 1,607 km, starting from Haridwar and ending at Rishikesh.
Is there an oxygen problem in Kedarnath?
The oxygen depletion is measured in atmospheric pressure or per cent of less oxygen. At Kedarnath, the atmospheric presence of oxygen is only 40 per cent of the required level.
What is the benefit of 4 Dham?
It is believed that visiting these sites helps achieve moksha (salvation). The four dhams are Badrinath, Kedarnath, Yamunotri, and Gangotri. It is believed that every Hindu should visit the Char Dhams during their lifetime. The Char Dham, as defined by Adi Shankara, consists of four Hindu pilgrimage sites.
What is required for the Char Dham Yatra?
Pilgrims/Tourists should register online for the Char Dham Yatra and Hemkund Sahib. Check out the details of the Char Dham Registration Guide. Registration of all devotees on the state government's portal before their arrival has been made mandatory.
Is Badrinath difficult, or Kedarnath?
If you are also planning to go on the Char Dham Yatra, keep some important things in mind. The yatra includes Gangotri, Yamunotri, Kedarnath, and Badrinath. The Kedarnath Yatra is considered to be the most difficult.
Where do you start the Char Dham Yatra?
The Chardham Yatra Places is a spiritual journey made by Hindus to four sacred sites located in the Garhwal Himalayas. The four places are Yamunotri, Gangotri, Kedarnath, and Badrinath. This pilgrimage starts in the holy town of Haridwar.
When there is no crowd in Kedarnath?
The months of September and October are less crowded at Kedarnath Dham.
Is registration required for the Char Dham Yatra?
For this year's Char Dham Yatra in Uttarakhand, the registration process has been made mandatory for all tourists. This move comes after the 2014 Kedarnath flood, which prompted the government to implement the registration process for devotees visiting the state.
Read More
Chardham yatra travel tips 2023
Chardham Yatra in Uttarakhand 2023
Chardham Yatra Package by Train 2023
When Badrinath Dham will close in 2023
Haridwar to Chardham yatra by bus 2023
Chardham yatra from Haridwar by car 2023
Chardham Yatra Package from Chennai 2023
What is the last date of Kedarnath yatra 2023
Ultimate Guide to Chardham Yatra by Helicopter
Chardham Yatra by Helicopter Package Cost 2023
Char Dham yatra package for senior citizens 2023
Chardham Yatra Package from Pune by Train 2023
IRCTC Chardham Yatra Package 2023 from Mumbai
What is the minimum time for Char dham Yatra 2023
Chardham Yatra Package From Mumbai by Flight 2023
Significance of Chardham Yatra – Motherland India Holidays