Ultimate Guide to Chardham Yatra by Helicopter 2023
The "Ultimate Guide to Chardham Yatra by Helicopter" states that the Char Dham, which includes four pilgrimage sites in Uttarakhand (Yamunotri, Gangotri, Kedarnath, and Badrinath), attracts millions of devotees from all over India each year. These devotees believe that the journey opens the gates of heaven by washing away all their sins, and this Uttarakhand Chardham Yatra is also known as the Chota Chardham Yatra. Many people say that everyone should visit the Char Dham at least once in their lives. The Char Dham Yatra by helicopter is the quickest and most enjoyable way to accomplish your trek because it saves you time and energy.
So, if you are looking for this spiritual vacation, purchase a package of Chardham yatra by helicopter from Motherland India Holidays Pvt. Ltd., which will provide you with an unforgettable experience.
Whether you are planning a Chardham yatra, organizing your schedule, or in the middle of your journey, this guide can help you make your travel safe and enjoyable.
The best time to visit Chardham Yatra by helicopter
Traveling to Chardham is a difficult task. The difficult roads and rocky terrain may require you to trek for an extended period of time to test your strength. Because the climate of the Himalayas is also uncertain, examine the climate of the area before doing anything.
Summer is the ideal time to travel to Chardham, especially between May and June. Summer temperatures hover around 13 degrees, and light woolens are appropriate in this climate. You can also go in October before the winter season begins.
Winters are typically 5 degrees, making travel difficult from November through January. I would not recommend visiting during the winter because the weather is incredibly cold, turning these locations into snow-covered dessert.
Recommended Tour Packages
Chardham yatra registration 2023
Chardham Yatra Package By Train
Chardham Yatra Packages – Book Now
The significance of the Yatra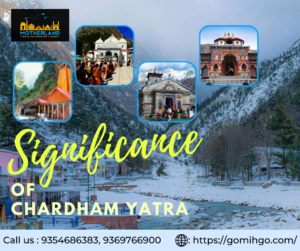 The "significance of the Yatra" is that it is a Hindu religious pilgrimage that covers Uttarakhand's holy circuit or four sacred shrines in India—Yamunotri, Gangotri, Kedarnath, and Badrinath—which Hindus regard as immensely important. The Chardham pilgrimage yatra represents a spiritual journey in India for millions of people who go on it each year in order to wash away their sins and achieve salvation. According to Hindu mythology, these four shrines reflect various parts of nature and are thought to have been created by ancient saints. It is claimed that visiting all four shrines in Uttarakhand at the same time cleanses the soul and brings one closer to spiritual enlightenment and divine experience.
Every year, thousands of devotees from all over the world flock to the yatra, which has established itself as a major cultural and religious event in India's history. Furthermore, it is believed that the Hindu philosopher Shri Adi Shankaracharya coined the term "chardham" and its sacred significance.
What will you experience with this Chardham Yatra by helicopter tour?
Going on the Chardham Yatra by helicopter is a uniquely exhilarating and spiritual experience. 

Certainly! "Chardham Yatra by Helicopter"

is a perfect option for those who lack the physical stamina to visit all four temples of the pilgrimage

. Flying through the circuit is a convenient and comfortable way to complete the spiritual journey, which many pilgrims opt for.

You'll glide above stunning mountains, glaciers, and rivers on your way to visit the four sacred shrines of Yamunotri, Gangotri, Kedarnath, and Badrinath in one trip. 

The up-close views of the Himalayas will really take your breath away! Not only will you have access to some of the best scenery in India, but you'll also enjoy seamless transportation without any roadblocks or delays as there would be on a traditional yatra. 

This approach offers an added layer of comfort and convenience, especially if you're pressed for time. You'll land comfortably at each site and explore holy sites with ease while benefiting from the experienced guidance of local guides who are knowledgeable about all aspects of Hinduism's history and traditions.
Going on the Chardham Yatra by helicopter is indeed an unforgettable experience that will leave you feeling both rejuvenated and spiritually fulfilled.   
Duration of Chardham Yatra
The duration of the Chardham Yatra by road and helicopter depends on various factors. If you are traveling by road, it generally takes around 10-12 days to complete the yatra, considering all four dhams Yamunotri, Gangotri, Kedarnath, and Badrinath. However, if you are short on time or have constraints related to physical fitness or other reasons, you can opt for a helicopter ride that completes the journey in 5-6 days. 
The helicopter ride is becoming popular these days as it saves considerable time and effort while ensuring a comfortable journey. However, it's crucial to note that taking a helicopter ride can be more expensive than traveling by road. 
So it all comes down to your preferences and budget when planning your Chardham Yatra trip. 
The Chardham Yatra by Helicopter Tour Package from Dehradun. Visit the holy Yamunotri, Gangotri, Kedarnath, and Badrinath temples by helicopter in 2023 with VIP Darshan "Guaranteed" for Rs. 1,85,000 per person.
Itinerary: Dehradun arrival – Yamunotri Dham – Gangotri Dham – Kedarnath Dham – Badrinath Dham – Dehradun return.
The importance of the Chardham Yatra by Heli Tour Services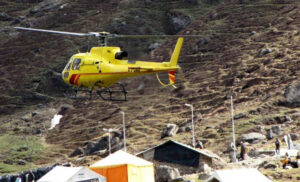 Note: We come up with the Chardham Yatra by helicopter tours 2023 from Dehradun, as you're required to reach Dehradun by means of your very own arrangements to avail of the offerings of the Chardham Yatra by helicopter tours supplied by way of us (Motherland India Holidays Pvt. Ltd.).
Day 01: Dehradun Arrival
Our consultant will meet you in Dehradun and extend a warm welcome. He or she will be able to accompany you on the journey of the Chardham Yatra by helicopter 2023. After finishing the check-in process, unwind in a cushy hotel room.
Day 02: Dehradun – Yamunotri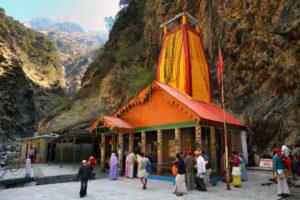 On the second day of the Chardham Yatra by helicopter tours 2023, we will commence our beautiful adventure by means of helicopter from Shastradhara Helipad at 7:00 a.m. to attain Kharshali Helipad at 7:45 a.m. After finishing the pooja and rituals in Yamunotri Dham, we can get you back to the hotel. Spend the rest of some time coming across the locations built by the Pilgrims and close by.
Day 03: Yamunotri – Gangotri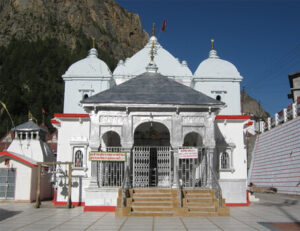 On the third day of the Chardham Yatra by helicopter tours 2023, as soon as breakfast is completed, get equipped to power to the helipad, from which you may fly to the Gangotri Temple. Do the Goddess Ganga worship while you arrive at your destination, after which you return to your hotel to unwind after the puja approaches are completed.
Day 04: Gangotri – Kedarnath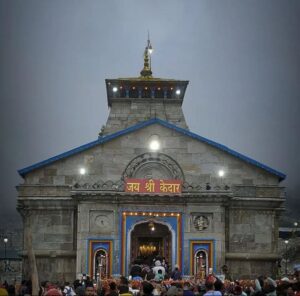 It might be an interesting fourth day of your Chardham Yatra by helicopter tours 2023 as you go to Kedarnath Temple. After completing the energizing breakfast, you may be pushed to the helipad at precisely 9:00 a.m. to take a helicopter flight to the Kedarnath Temple. You can spend the rest of your day doing a nature walk.
Day 05: Kedarnath – Badrinath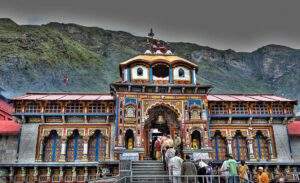 The final halt, the Badrinath Temple, is what we can see nowadays, on the 5th day of our chardham Yatra by helicopter tour 2023. After completing the puja tactics and requesting Lord Vishnu's blessings, return to the resort for a bit of rest and a single-day stay in a pleasing and comfortable hotel room.
Day 06: Badrinath – Dehradun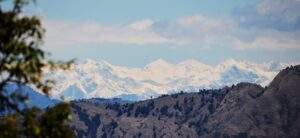 Wake up early on the very last day of the Chardham Yatra by helicopter tours in 2023 to prepare for the precise Abhishek puja rite to be held at the Badrinath temple. We are able to drive you back to the lodge, take a look at the resort, and then drop you off at the airport or railway station.
With our chardham Yatra by helicopter tours 2023, your non-secular journey comes to a close here with us (Motherland India Holidays Pvt. Ltd.).
Choosing the right helicopter operators
When it comes to choosing the right helicopter operators, the process can be overwhelming and intimidating. However, it's important to do your research beforehand to ensure a safe and enjoyable flight experience. 
Look for operators with certification, good safety records, and experienced pilots. Also, consider the type of helicopter they operate and whether it suits your needs or preferences. 

Don't hesitate to ask questions about their maintenance processes and emergency procedures, as well as any additional services they may offer, such as aerial tours or transportation. 

It's also important to check customer reviews and ratings before booking with an operator. 

Taking these steps can give you peace of mind, knowing that you have chosen a reputable operator for your helicopter adventure.  
To make this easier for you, Motherland India Holidays Pvt. Ltd. takes pleasure in partnering with only the best operators in the industry, those who have proven a dedication to tight safety measures and maintaining high-quality aircraft. 
Each operator we deal with is rigorously vetted by our staff, taking into account variables such as their degree of expertise, accreditation from the industry, and their overall reputation within the aviation community. 
Whether you're looking for private charter flights or customized sightseeing excursions, you can count on us to link you with a company that will provide you with supreme comfort, convenience, and peace of mind throughout your journey.
What you need to know before going on the Chardham Yatra
Plan Ahead: Make all essential reservations for hotel, transportation, and Char Dham helicopter services well in advance of your Char Dham Yatra.
Pack wisely: Bring proper clothing, footwear, and necessary supplies like medications, a torch, a power bank, and snacks.
Check the Weather: Because the weather in the Char Dham region can be unpredictable, it is critical to check the weather prediction before embarking on your travels.
Respect local customs and traditions: The Char Dham region has a rich cultural past, therefore, it's crucial to dress modestly and avoid taking photographs where it's not permitted.
Follow All Safety Guidelines: While on the yatra, adhere to all safety guidelines and instructions issued by the authorities. Avoid dangerous activities and avoid going alone or in groups.
Stay Hydrated: Stay hydrated throughout the yatra by consuming enough water and fluids, as the high altitude and dry weather can cause dehydration.
Take breaks: Take regular rests throughout the trek to avoid tiredness and to acclimate to the high altitude.
Carry Cash: Bring extra cash with you because ATMs are few in the area and credit or debit cards are not always accepted.
Be Environmentally Conscious: Because the Char Dham region is a fragile ecological zone, it is critical to avoid littering, using plastic, and damaging the environment in any manner.
Seek Medical Attention If Necessary: If you encounter any discomfort or health problems during the yatra, seek medical attention right away.
Remember to have fun on your spiritual journey, stay optimistic, and respect the local culture and traditions.
Cost of the Chardham Yatra by helicopter package
The Chardham Yatra helicopter package is definitely worth considering. While it may be more expensive than some of the other options available, this package offers a level of convenience and luxury that is hard to match. 
The cost of the package can vary depending on factors like the time of year and the specific itinerary but typically ranges from around 1,50,000 to 1,85,000 per person. However, this price includes transportation via helicopter between each of the four sacred sites, as well as accommodation and meals at luxurious resorts along the way. Plus, with expert guides and plenty of opportunities for spiritual exploration and relaxation, many visitors find that the cost is well worth it in terms of both their own personal growth and their overall enjoyment of the trip.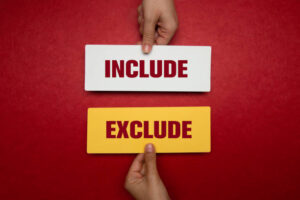 Package Inclusions
Flying helicopter from Dehradun to the Chardham shrines and return.

Aerial view of Hemkund Sahib and Tigri Dam.

Complimentary stay in Dehradun on your arrival date, including dinner. Our Heli-tour becomes a 5N/6D tour due to the complimentary night's accommodation.

Accommodation for four nights, one night at each Dham, including all meals. Jain vegetarian food is also available.

Local Sightseeing at all four locations.

Darshans for VIPs.

Dehradun airport and hotel transfers.

On-demand, Palki or Pony at Yamunotri Maha Abhishek at Badrinath ji.

On-demand, Swarn Aarti at Badrinath and Rudra Abhishek at Kedarnath ji.

Sersi – Kedar – Sersi helicopter shuttle services are provided by Shri Kedarnath ji.

Fees for helicopter handling.
Package Exclusions
Any personal costs

Inclusions not specifically noted
Terms and Conditions of Chardham Yatra by helicopter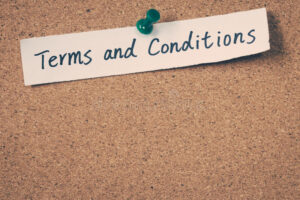 The following are some of the terms and conditions for passengers considering a Chardham yatra helicopter tour:
The helicopter tour is weather dependent and may be delayed or cancelled due to poor visibility or adverse conditions.

The helicopter tour is subject to availability, and passengers should confirm flight schedules and availability with the airline or operator.

The helicopter tour pricing is subject to change without notice, and guests should contact the airline or operator for the most up-to-date fare information.

Passengers should be informed that the helicopter trip may not include all of the Chardham Yatra destinations, and they should confirm precise specifics with the airline or operator.

Passengers must have a valid government-issued ID, such as a passport or voter ID card, with them when they check-in.

Passengers should be at the helipad at least 30 minutes before their scheduled flight time to complete security and check-in procedures.

Passengers are urged to bring only essential goods and to avoid carrying large bags.

Sharp or dangerous objects, such as knives or scissors, are not permitted on the helicopter.

If passengers have any medical issues that may impair their ability to fly, they should notify the airline.

Before embarking on their journey, passengers should be aware of the Indian government's instructions and restrictions surrounding the COVID-19 pandemic.

Cancellation and refund policies will be determined by the operator.
Preparing for the Journey
Preparing for the Chardham journey requires a few of the essentials listed above to be kept in mind. Overall, one should strive to pack smartly while ensuring all mandatory items are included on the checklist. And it is also essential that you psychologically and physically prepare yourself before beginning your Char Dham Yatra by helicopter. Make sure you have a medical check-up to confirm you're fit for the journey. You must also be mentally prepared. Do not be concerned about the helicopter ride. It will be an unforgettable experience. You can be certain that you will treasure every second of the yatra.
FAQs related to Ultimate Guide to Chardham Yatra by Helicopter 2023
When is the ideal time to travel by helicopter to Char Dham?
The best months to perform the Char Dham Yatra by helicopter are between May and June or September and November.
How long does the helicopter Char Dham Yatra take?
The Char Dham Yatra by helicopter takes four days on average.
Is it required to reserve helicopter tickets ahead of time?
Yes, it is strongly advised to purchase helicopter tickets in advance, as flights fill up quickly during peak season.
What is the luggage weight limit on the helicopter?
Typically, the weight limit for luggage on the helicopter is 5 kg per person.
Does the Char Dham Yatra by helicopter include meals?
It depends on the package you have selected. Meals may or may not be included in some packages. Check with the tour operator first.
Are there any age or health requirements for the helicopter Char Dham Yatra?
Children under the age of two are not permitted on the helicopter, and pregnant women and those with serious medical issues may be denied flight. Check with the tour operator first.
Can I customize the Char Dham Yatra by helicopter?
Some tour operators may provide customized packages; nonetheless, it is advisable to confirm with the tour operator.
What is the total cost of the Char Dham Yatra by helicopter?
A Chardham yatra by helicopter will cost around INR 1,85,000 per person to complete darshan in all four dhams of Uttarakhand. Including the price of meals, local transfers & hotels, and a sightseeing tour. Note that prices are subject to change.
Which helipad is best for Kedarnath?
The Phata Helipad is located beyond Guptkashi and is also linked by a good motorable road on the way to Kedarnath. Pawan Hans has made it convenient for pilgrims to visit the Kedarnath Ji shrine at a reasonable ticket cost. Devotees would get one hour and thirty minutes at Kedarnath for darshan.
How many people sit in helicopters at Kedarnath?
The fare of the five-seater helicopter is INR 7,347 per person, approximately for a round trip. Pilgrims can also book one-way tickets. It will cost INR 3,200 per person, approximately.
Which is difficult of Char Dham yatra?
Yamunotri is the first of the four dhams and definitely the toughest. Although it is located at a lower elevation than the other dhams, the narrow and crowded pathway makes it challenging to reach the temple.
Is the Kedarnath helicopter safe?
And unlike planes, helicopters fly at low altitudes, so crashes are likely to happen because of flocks of birds too. Talking about helicopter crashes in Kedarnath, the weather is mostly chilly and foggy.
Can we complete the Kedarnath trek in one day?
If you get the round trip ticket for the same day, then they usually allot 2 hours to visit the temple and come back to the helipad.
Which is the best route for the Char Dham Yatra?
The best route for the Chardham yatra from Haridwar is as follows. Haridwar → Barkot → Yamunotri → Uttarkashi → Gangotri → Guptakashi → Kedarnath → Joshimath, → Badrinath.
Can a beginner do the Kedarnath trek?
A little adventure is good for the soul, and Kedarkantha is a beautiful winter trek that you can do as a beginner.
Read More
Chardham yatra travel tips 2023
Chardham Yatra in Uttarakhand 2023
When Badrinath Dham will close in 2023
Haridwar to Chardham yatra by bus 2023
Chardham yatra from Haridwar by car 2023
Chardham Yatra Package from Chennai 2023
What is the last date of Kedarnath yatra 2023
Chardham Yatra by Helicopter Package Cost 2023
Char Dham yatra package for senior citizens 2023
Chardham Yatra Package from Pune by Train 2023
IRCTC Chardham Yatra Package 2023 from Mumbai
What is the minimum time for Char dham Yatra 2023
Chardham Yatra Package From Mumbai by Flight 2023
Significance of Chardham Yatra – Motherland India Holidays