Chardham Yatra itinerary from Haridwar 2023
Chardham Yatra itinerary from Haridwar 2023:The Chardham Yatra is an ancient pilgrimage route located in the state of Uttarakhand, India. The pilgrimage includes sites such as Yamunotri, Gangotri, Kedarnath, and Badrinath – all four revered Hindu shrines located in the majestic Indian Himalayas. The Chardham Yatra is an important spiritual journey for many Hindus, and it is believed to bring one closer to enlightenment and spiritual liberation. Pilgrims visit ancient temples, marvel at stunning mountain views, and trek through gorgeous forests.
The journey usually starts from Haridwar and ends in Badrinath, with travellers stopping at the four sites.  The route is also stunning, with majestic mountains, lush forests, and crystal-clear rivers. Those venturing into Chardham have the chance to bathe in healing holy waters at Gaumukh Glacier – the source of River Ganga. Don't miss out on the chance to take a dip in the hot springs at the temple complexes for optimum relaxation and rejuvenation! It is an unforgettable experience for anyone who has the privilege of embarking on this journey.
Our company has crafted a 10-day, 9-night best chardham package from Haridwar, allowing you to explore the four sacred sites of Uttarakhand. This journey begins in Haridwar, where you will embark on a spiritual and cultural pilgrimage to the four holy abodes. Along the way, you will be able to take in the breathtaking views of the Himalayas, visit ancient temples, and experience the region's unique culture.
You will want to take advantage of all of the legendary attractions included in a Chardham Yatra Package.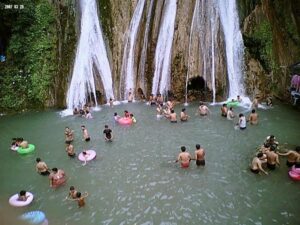 Visit the Kempty Falls

Explore Uttarkashi

Visit to Dayara Bugyal, Dodi Tal, Gangnani, Sat Tal, Maneri, Nachiketa Tal and Gangotri

Visit Kashi Vishwanath Temple

Holy dip in the sacred river Ganges

Worship Lord Shiva at Gangotri temple

Visit to Guptkashi

Trekking from Gaurikund to Kedarnath

Visit to Badrinath

Explore the grand snow-clad Himalayas

Visit Tapt Kund (Hot Spring)

Explore Rudraprayag/ Srinagar

Visit Ram Jhula, Laxman Jhula, and Muni ki Reti in Rishikesh
Note: If you want to see everything, you must strictly adhere to the timetable scheduling as sightseeing depends on the weather, and your arrival and departure times during Chardham Yatra Package from Delhi.
Chardhma Yatra itinerary from Haridwar 2023
Day 01: Haridwar – Barkot (Drive approx. 175 km)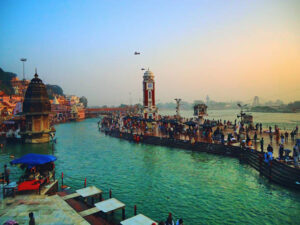 When you arrive at the Dehradun or Haridwar airport or railway station, our knowledgeable representative will meet you there and help you board your pre-arranged vehicle for the short drive to Barkot with the best chardham yatra package. If time allows, you can stop at the "Kempty Falls" on the way. After reaching Barkot, check into the hotel. The hotel has arranged for dinner. Stay the night at Barkot. and hotel breakfast.
Day 02: Barkot – Yamunotri – Barkot (Drive 45 km)
After breakfast, head to Yamunotri for some sightseeing before starting the 6 km hike from Janki Chatti to your first Chardham yatra pilgrimage destination. Return to your hotel for dinner after your tour. In-room breakfast and overnight stay.
Day 03: Barkot – Uttarkashi (100 km)
After breakfast, check out of the hotel and drive to Uttarkashi to continue our best chardham yatra packages from Haridwar.
Uttarkashi: A holy town in Uttarakhand is called Uttarkashi. The capital of the city is called Uttarkashi. On the banks of the Bhagirathi River sits the district of Uttarkashi. In addition to the safe havens, the city is home to several exciting places for tourists to explore, including Dayara Bugyal, Dodi Tal, Gangnani, Sat Tal, Maneri, Nachiketa Tal, and Gangotri.
Gangotri: Around Gangotri are the sacred and fundamental obstacles of Uttarkashi, which also include Gaumukh, Kedartal, Yamunotri, Divya Shila, and Surya Kund. Near Yamunotri are a number of popular tourist spots for adventurers, such as Saptarishi Kund, Hanumanchatti, Govind Wildlife Sanctuary, and Har ki Doon Valley.
Visit the Kashi Vishwanath Temple en route. Check into the hotel in Uttarkashi upon arrival. Dinner and the next day's stay.
Day 04: Uttarkashi – Gangotri – Uttarkashi (Drive 220 km of two way)
 In order to get the best chardham yatra package from Haridwar early in the morning, drive to Gangotri.
When you get to Gangotri (a town in the Uttarkashi district in the Indian province of Uttarakhand), take a holy bath in the holy Ganges. A Hindu pilgrimage town is on the banks of the Bhagirathi River, close to the Ganges River's mouth. Because it is thought that Lord Shiva snared the great floods of the Ganges in his tangled locks there, the Gangotri Temple is immensely significant to everyone.)
Day 05: Uttarkashi – Guptkashi (Drive 223 km)
While en route to Guptkashi during the best chardham yatra package from Mumbai, our driver will stop at the highly well-known Tehri Dam. A person can check into the hotel upon arrival in Guptkashi. However, it is advisable to visit the well-known temples in the area in the evening, such as Ard Nareshwar Temple and Kashi Vishwanath Temple.
Day 06: Guptkashi – Kedarnath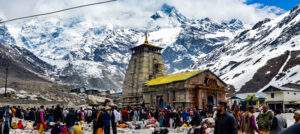 Early departure today for Kedarnath Darshan in our Chardham yatra package from Haridwar
By Helicopter:

Drive up to the helipad as instructed by the reporting time, complete the boarding procedures, and wait here for your time slot. After arriving in Kedarnath, perform the early pooja and visit the temple before returning to the helipad to catch the return flight to Guptkashi for dinner and an overnight stay.

By Trek:

Upon arrival in Sonprayag in the morning, take a local vehicle to Gaurikund before beginning your trek (on foot or by horse) to Kedarnath ji. You return to Guptkashi using the same route after Darshan. Accommodation is not included in the package if someone wishes to remain in Kedarnath. Every visitor to Kedarnath is responsible for arranging their own lodging and food.
Day 7: Guptkashi – Pipalkoti (136 Km)
Today, leave for Pipalkoti after breakfast. A little, beautiful town called Pipalkoti is located 1,260 MT above sea level. Check in at the hotel and have a relaxing stay.
Day 8: Pipalkoti – Badrinath (77 Km)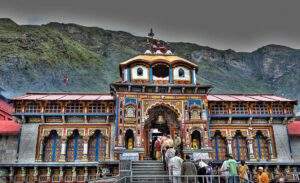 After breakfast, today, depart for Badrinath. Once you arrive, check into your hotel. After lunch, go to the temple for holy darshan or pooja during the Chardham yatra package. Pilgrims can see Badrivishal there after taking a bath in the Taptkund. Staying the night at the Badrinath Hotel for dinner.
Day 9: Badrinath – Rudraprayag (157 Km)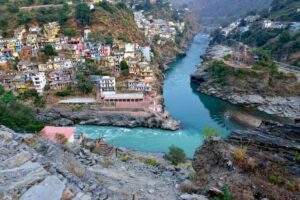 Visit Vyas Cave, Ganesh Cave, Bhim Pool, the source of the Saraswati River, and Mana Village this morning after breakfast (Mana Village: The Last Village Before The Tibetan Border) then take a car to Rudraprayag. When you arrive at Rudraprayag, check into your hotel. Stay the night in Rudraprayag.
Day 10: Rudraprayag – Haridwar (166 Km)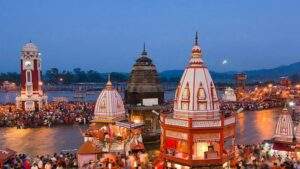 Driving to Rishikesh today after breakfast. Lakshman Jhula and Ganga Ghat at Rishikesh (By Auto on Direct Payment). After that, travel to Haridwar and spend the night there.
Best Char Dham Yatra package from Haridwar
Best Char Dham Yatra package from Haridwar: A prominent pilgrimage to India's four holy sites Yamunotri, Gangotri, Kedarnath, and Badrinath is the Chardham yatra tour. Achieving this once-in-a-lifetime event is something that many individuals desire. When looking for the best chardham yatra packages, there are a few factors to consider.
Verify that the best chardham yatra packages include all required papers and services, such as transport, hotel, food, and guides.

It's a good idea to search for the best chardham yatra packages that include the wonderful sightseeing experiences that the Chardham Yatra has to offer.

Before buying the package, make sure the travel company is reputable and has experience running the best chardham yatra packages excursions. If you pick the right package, your Chardham Yatra experience will be one you won't soon forget.
Motherland India Holidays Pvt Limited offers some of the best chardham yatra packages in the country. When people travel to the four holy sites in Uttarakhand as part of a spiritual trip, these packages are designed to provide them with an unforgettable experience.
The company offers a variety of Best chardham yatra packages that may be altered to satisfy the needs of different tourists. Prices range greatly, from budget-friendly packages to lavish options with helicopter rides and premium accommodations. All programs include round-trip transportation from Delhi, cozy accommodations along the way, meals, and picturesque excursions. Tourists also have the option of taking part in extracurricular activities including, hiking, and camping.
The best chardham yatra packages are available from Motherland India Holidays Pvt Limited in a range of price points, from low-cost selections to luxurious extravagances. As a result of their knowledgeable staff and comprehensive packages, your Chardham Yatra journey will be a great experience.
Cheapest Chardham yatra package from Haridwar
Cheapest For individuals who want to visit the four most significant Hindu pilgrimage sites in India, the cheapest Chardham yatra package from Haridwar is a fantastic choice. This itinerary normally starts in Delhi and lasts for around 11 days, taking in Haridwar, Rishikesh, Yamunotri, Gangotri, Kedarnath, and Badrinath. Along with food, transportation services, and some sightseeing, the package offers simple but respectable lodging. During your visit to Haridwar to chardham yatra package price at these holy locations, you may learn about Uttarakhand's culture and customs while covering all the essentials as part of our affordable package.
The Char Dham Yatra Package 2023 is an excellent option for travellers who want to experience the spiritual and cultural richness of India's sacred Himalayan region. This package includes a 12-day pilgrimage to the four Hindu holy sites of Yamunotri, Gangotri, Kedarnath, and Badrinath. All accommodation, meals, transportation, and guides are included in the package. The char dham best package also includes special activities such as a visit to Haridwar, Rishikesh, and the Valley of Flowers. The char dham yatra package cost from Haridwar for the package is very reasonable, making it an ideal choice for budget-conscious travellers. The package also provides travellers with the opportunity to take part in religious ceremonies, explore ancient temples and monasteries, and enjoy breathtaking views of the majestic Himalayas.
Haridwar to Chardham Yatra package price by Bus
The Haridwar to Chardham Yatra package by bus is an incredible experience. The scenic views of the Himalayas and ancient temples make this journey extra special. Other highlights include passes through stunning alpine meadows, overnight stays in some of the most beautiful villages India has to offer and visiting lesser-known attractions for a truly unique experience. Plus, at an affordable price point, it's a great way to explore all four pilgrimages without breaking the bank. Whether you're looking for low-budget travel or simply a spiritual journey that brings you closer to nature, the best char dham yatra package from Haridwar will be sure to exceed your expectations!
Here is the brief Itinerary for the chardham yatra package by bus
| | |
| --- | --- |
| Day 1: | Haridwar – Barkot |
| Day 2: | Barkot – Yamunotri – Barkot |
| Day 3: | Barkot – Uttarkashi |
| Day 4: | Uttarkashi – Gangotri – Uttarkashi |
| Day 5: | Uttarkashi – Guptkashi |
| Day 6: | Guptkashi – Kedarnath – Guptkashi |
| Day 7: | Guptkashi –  Pipalkoti |
| Day 8: | Pipalkoti –  Badrinath  |
| Day 9: | Badrinath –  Rudraprayag |
| Day 10: | Rudraprayag – Haridwar |
Char Dham Yatra from Haridwar by car
The Char Dham Yatra from Haridwar by car offers a chance to make your own adventure in the heart of India. The route takes you through some of the most spiritually-revered destinations in Hinduism: Yamunotri, Gangotri, Kedarnath, and Badrinath. You can enjoy panoramic views of snow-capped mountains along the way, as well as visit ancient temples and ashrams during the char dham yatra by own car. 
char dham yatra package cost by car depending on how many days you have to spare, you could visit all four sites or focus on one or two. Be sure to check out all the attractions in between too! Additionally, driving instead of taking public transport is great for those who like to go at their own pace and take time out here and there to explore whatever catches their eye also Haridwar to chardham yatra by car price is affordable.
Undertaking a Char Dham Yatra by car is an enjoyable experience, but it's important to take all possible safety measures into consideration. 
Those travelling should book reliable, air-conditioned vehicles from a recognized travel agency, and carry their complete documentation such as IDs and medical certificates in case needed. 

It's advised to keep a first aid kit handy for any health emergencies en route. Drivers should not speed or travel recklessly as the terrain can be unpredictable and dangerous; if possible, take breaks during long journeys and stay aware of road conditions at all times. 

Carry plenty of drinking water with you, refrain from piling heavy luggage on top of the vehicle roof since it causes unnecessary strain on the car engine, and always check tire pressure before starting the journey. 

Lastly, travellers should practice caution while climbing around temples to avoid any falls or accidents.
Highlights of Haridwar to Chardham Yatra by car price
Attend Ganga Aarti on the banks of the Ganges at Har- Ki- Pauri

Admire the beauty of the famous Kempty Falls 

Take a holy dip in the Yamuna River and perform rituals.

Enjoy Darshan at Yamunotri Gangotri temple

Attend the mesmerizing aarti at Badrinath temple

Enjoy bathing at Tapt Kund (Hot Spring)

Visit Laxman Jhula in Rishikesh

Visit Adi Shankaracharya Samadhi in Kedarnath

Attend the grand evening Aarti in Rishikesh

Visit the last village of India, Mana village
Char Dham Yatra family package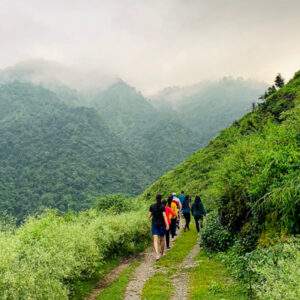 The Chardham Yatra Family Package is an all-inclusive package that offers a thrilling and electrifying adventure for the whole family. It takes you on a pilgrimage to four dazzling ancient Hindu temples in India's sacred Uttarakhand region. The package includes accommodations, food, travel, sightseeing, night camping, adventurous activities, and several other planned experiences that are sure to create lasting memories for everyone in the family. With excellent services from seasoned professionals and various cultural events and activities to take part in along the way, this package provides the perfect mix of fun, excitement, and spirituality for your entire family.
If you and your family are looking for an unforgettable experience, then our Chardham Yatra Family Package is perfect for you! Offering all-inclusive experiences of the culture, sights, and activities that India's Holy Char Dham can offer, this package is designed to give your family the most magical holiday ever. 
Everything from daily guided tours of temples, mountains, and secluded areas, to camping in the Himalayas and a luxurious transfer, are made available at reasonable prices to ensure a truly incredible experience for both young and old. So don't wait any longer; let our (Motherland India Holidays Pvt Limited) Chardham Yatra Family Package take you on a journey of memories that will last a lifetime.
FAQs related to Chardham Yatra itinerary from Haridwar 2023
Which month is better for Char Dham Yatra?
May and June is the best time to plan for Char Dham Yatra as it becomes comfortable due to pleasant climatic conditions.
How to plan Char Dham Yatra in 6 days?
Day 1: Arrival in Dehradun.
Day 2 Dehradun – Kharsali – Yamunotri – Kharsali.
Day 3: Kharsali – Harsil – Gangotri – Harsil.
Day 4: Harsil – Sersi – Kedarnath Dham – Sersi.
Day 5: Sersi – Badrinath.
Day 6: Chardham Yatra Concludes.
Which places are included in the Char Dham Yatra package?
This Yatra or pilgrimage is a tour of four holy sites – Yamunotri, Gangotri, Kedarnath and Badrinath – nestled high up in the Himalayas. In Hindi, 'char' means four and 'Dham' refers to religious destinations.
Is Chardham Yatra difficult?
A Char Dham yatra isn't easy. Pilgrims really need to earn the benefits bestowed, as only two of the temples (Badrinath and Gangotri) are accessible by vehicle. The remaining two (Yamunotri and Kedarnath) require treks. Kedarnath has the lengthiest trek.
Is there a subsidy for Chardham Yatra?
Every year 1000 to 1,500 people avail subsidy for Char Dham Yatra. Thus to avoid any malpractices and misuse of money, the government has made Aadhaar compulsory. This subsidy was introduced by the Siddaramaiah government in 2014.
In which month Kedarnath is less crowded?
The best time to visit Kedarnath is during the month of May as soon as the temple reopens or during September -October when the crowd is less.
Which is not included in Char Dham?
Mansarovar.
Which is better Badrinath or Kedarnath?
Kedarnath, known as the land of Lord Shiva, has the highest location jyotirlinga. Situated on the banks of the Mandakini River, the view of this temple against its snowy backdrop is resplendent. Badrinath, named after Lord Badri(Vishnu), is located along the banks of the Alaknanda River.
Which Dham is difficult?
Yamunotri is the first of the four dhams and definitely the toughest. Although is located at a lower elevation than the other dhams, the narrow and crowded pathway makes it challenging and tough to reach the temple.
How many days are required for 4 Dham Yatra?
You need a minimum of 10 to 12 days to complete the Chardham yatra by road and if you choose Chardham by helicopter 2023, then it will be finished in about 4 to 5 days. Tourism of India offers affordable Chardham yatra packages from Delhi, Mumbai, Bangalore, and other cities that you can check out here.
Which route is best for the 4 Dham Yatra?
The best route for the Chardham yatra from Haridwar is as follows. Haridwar → Barkot → Yamunotri → Uttarkashi → Gangotri → Guptakashi → Kedarnath → Joshimath → Badrinath.
Is there VIP darshan in Kedarnath?
No VIP Darshan in Baba Kedarnath Dham.
Which month is best for Kedarnath temple?
Summer Season (April-June)
The best season to visit Kedarnath is summer when the temperature is moderate and stays between 15-30 degrees Celsius.
Can we do Char Dham yatra by car?
Yes, you can take your own car in Char Dham Yatra. However, it is not recommended to do so. Many narrow roads connect the Char Dhams. Therefore, it is safer to hire one experienced travel company.
Is there an oxygen problem in Kedarnath?
After an altitude of 8,000 feet, however, the demand for oxygen increases. To breathe, Kedarnath requires 87 per cent oxygen. However, here there is just 57 per cent oxygen.
Read More:
Chardham yatra 2023 opening date
Chardham yatra from Ahmedabad by helicopter price 2023
Chardham Yatra helicopter booking Price 2023
Chardham yatra by helicopter from Rishikesh 2023
Chardham Yatra by helicopter from Bangalore 2023
Chardham yatra by helicopter from Pune 2023
Chardham yatra by helicopter tours 2023
Chardham yatra by helicopter cost 2023
best chardham yatra packages 2023
Chardham yatra by Helicopter 2023
chardham yatra by helicopter price 2023
Chardham yatra by helicopter from Delhi 2023
Chardham yatra package by helicopter 2023
4 dham yatra package from Mumbai 2023
Char Dham yatra package for senior citizens 2023
Best chardham yatra package from Mumbai 2023
Chardham yatra by helicopter from Hyderabad 2023
Chardham Yatra by helicopter 2023 price
Chardham Yatra Package from Dahod 2023
Chardham yatra package from Halol 2023
Chardham Yatra Package from Dakor 2023
Chardham Tour Package – 11 Nights/ 12 Days
Chardham Yatra Package from Vadodara 2023
Chardham Yatra Package from Mumbai Tour Package 2023
Chardham Yatra Package from Mumbai Helicopter Price 2023
Chardham Yatra Package From Mumbai by Flight 2023
IRCTC Chardham Yatra Package 2023 from Mumbai
Chardham Yatra by Helicopter Package Cost 2023
Chardham Yatra Package From Mumbai by Private Tour 2023
Chardham Yatra Package from Pune by Train 2023
Chardham Yatra Package from Pune by Bus 2023
Chardham Yatra Package from Pune by Helicopter 2023
Chardham Yatra Package from Delhi by Train 2023
Chardham Yatra Package from Delhi by Bus 2023
Chardham Yatra Package from Delhi by Helicopter 2023
Chardham Yatra Package from Hyderabad by Helicopter 2023
Chardham Yatra Package from Hyderabad by Train 2023
Chardham Yatra Package from Hyderabad by Bus 2023
Chardham Yatra Package from Ahmedabad by Train 2023
Chardham Yatra Package from Ahmedabad by bus 2023
Chardham Yatra Package from Ahmedabad 2023
Golden Triangle Tour With Mumbai 2023
Chardham Yatra Package from Mumbai by bus 2023
Chardham Yatra Package from Mumbai by Helicopter 2023
Chardham Yatra Package from Hyderabad in 2023
Mumbai to Chardham yatra packages 2023
Chardham Yatra Package from Mumbai in 2023
IRCTC char dham yatra package 2023
Chardham Yatra Package from Delhi
Chardham yatra tour package from Ahmedabad 2023
Chardham Yatra Package 2023 from Mumbai
Chardham Yatra Package from Godhra 2023
chardham yatra places route map