Chardham Yatra for 2023- Motherland India Holidays
Chardham Yatra for 2023: If you're looking for a pilgrimage that promises both spiritual awakening and natural beauty, the Chardham Yatra is a must-visit destination. The Chardham circuit comprises of four important temples- Yamunotri, Gangotri, Kedarnath, and Badrinath. Every year lakhs of devotees from all over the world visit these shrines to seek blessings and purify their souls. 
The yatra season generally starts in April-May and lasts till November every year. You can explore the stunning mountain vistas with snow-capped peaks or take a dip in the holy waters of river Ganga and Yamuna while observing rites & rituals at each temple. Start planning early so as to avoid last-minute hassles on this once-in-a-lifetime spiritual excursion.
Just wanted to let you know that the Chardham Yatra gates are now open! Chardham yatra is a pilgrimage trip to four holy shrines in the Himalayas: Yamunotri, Gangotri, Kedarnath, and Badrinath. Pilgrims from all across India and the world come here to seek blessings and purify their spirits. Due to the epidemic, the Yatra was closed from 2020 to 2022. 
However, with strict Covid guidelines and limited capacity, the gates have finally opened for devotees this year. The scenic mountain ranges, old temples with exquisite construction, and tranquil settings make it a must-see destination for spiritual searchers. So pack your bags and embark on this soul-stirring journey that will undoubtedly fascinate you.
Best time for chardham yatra 2023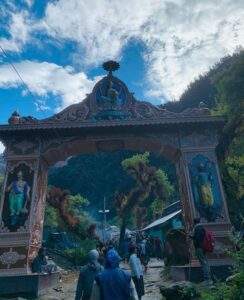 The best time to undertake the Chardham Yatra in 2023 would be during the months of May to June or September to November. These months are considered ideal as they offer pleasant weather conditions with moderate temperatures and clear skies, making it an ideal time for sightseeing and trekking. 
The pilgrimage season officially starts in April/May but the rains can disrupt travel plans during this period. September to November is also a wonderful time as the festival of Diwali falls during this time and you can combine your yatra with some festive celebrations. 
It is recommended to avoid traveling during monsoons as roads may be blocked due to landslides and flash floods, which can make your journey difficult and unsafe. 
Needless to say, choosing the right season for your Chardham Yatra will enhance your overall travel experience manifold.
Chardham Yatra 2023 registration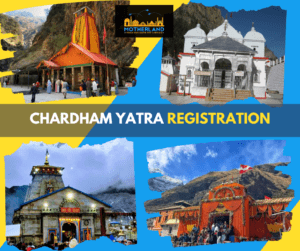 In order to participate in the Chardham Yatra in India, you must register in advance. By registering, you can make sure that your information is on file and that you can use services along the way, such as lodging and transportation. 
The registration process for chardham yatra begins online, where you must enter the necessary information about yourself and any accompanying members. A confirmation email with further information will be sent to you after you submit your application. 
It's crucial to remember that the chardham yatra registration process has a deadline beyond which no more applications will be considered. So be sure to register far in advance and plan beforehand.
To take part in the ritual, pilgrims must sign up for the Chardham Yatra 2023. In only four easy actions, tourists can sign up:
1) Complete the Chardham Yatra 2023 registration form.
2) Submit it along with the required documentation.
3) You can pay a processing fee online using a payment channel or offline at banks and post offices.
4) Digitally save the registration certificate.
Kind Attention:
The char dham yatra registration process is free of charge.

During the Chardham yatra, all you need to have with you for registration is a valid personal ID documentary proof.
Registration Method:
Online Registration via Web Portal
The method of registering on the website for Chardham Yatra registration online 2023 is quite simple. To do so, go to Registration and Tourist Care. To register yourself, go to Register/Login and enter more information such as your name, address, phone number, and so on. 
It is unknown how many passengers will be identified using a single mobile number for Uttarakhand Chardham Yatra registration 2023.
Tourist Care Uttarakhand Mobile Application (Download Android App & iOS)  
You can also use the touristcareuttarkhand app to register for the Chardham Yatra even after you've learned about it.
Through WhatsApp – Mobile Number: 8394833833
Furthermore, the messaging medium WhatsApp provides a Chardham Yatra registration procedure. For additional information, please contact 8394833833 via WhatsApp. To register, send the word "yatra" to this WhatsApp number. 
Following that, you can swiftly register for the Chardham Yatra by replying to a few questions that will only be posed through the SMS. 
Toll-Free Chardham Yatra Number
In addition to an internet website and WhatsApp, the Chardham Yatra now has a toll-free number, 01351364. You can also contact us here.
Verification Mode:
Only when scanning the "QR Code" in the mobile app or downloading the "Yatra Registration Letter" at the temple being visited.
Chardham Yatra 2023 package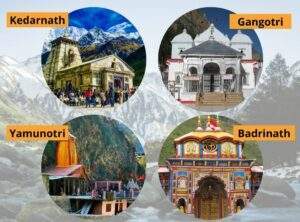 If you're eager to embark on a spiritual journey in 2023, the Chardham Yatra package is a great option. This pilgrimage will take you through some of the most sacred sites in India: Yamunotri, Gangotri, Kedarnath, and Badrinath. 
In addition to feeling rejuvenated by the natural beauty of this region, you'll have the opportunity to visit awe-inspiring temples and shrines that have been revered for centuries. This package includes transportation from Delhi or Haridwar to each site as well as accommodations and meals throughout your journey. 
Keep in mind that while the trip can be physically demanding at times due to high altitudes and challenging terrain, it is a wonderful opportunity for personal growth and reflection. 
The Chardham Yatra 2023 package offered by us (Motherland India Holidays Pvt. Ltd) is perfect for you. This all-inclusive package takes you on a spiritual journey through four holy Hindu shrines situated in the Himalayas – Yamunotri, Gangotri, Kedarnath and Badrinath. You'll be able to witness the breathtaking beauty of these locations while immersing yourself in the divine surroundings. 
Our package includes transportation, accommodation, meals, and guided tours at each shrine ensuring that your trip is hassle-free and enjoyable. Our expert team is dedicated to ensuring your safety and comfort throughout the yatra. 
So why wait? Book your Chardham Yatra 2023 trip with us now and embark on an unforgettable journey of self-discovery.
Our Char Dham Yatra package itinerary 
Day 01: Delhi – Haridwar (220kms/5-6hr).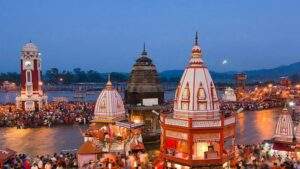 On the first day of the Chardham Yatra 2023, our representative will receive you at Delhi airport or railway station from wherever you reach. You will commence your Chardham yatra by overnight staying at a hotel in Haridwar.
Day 02: Haridwar – Barkot (210kms/7-8hr)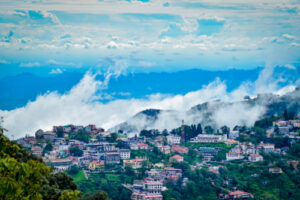 On the second day participate in the Ganga Arti in the morning at "Har Ki Pauri" and visit Mansa Devi Temple. In the morning after breakfast check out of the hotel and drive to Barkot to continue our Chardham Yatra 2023.
Day 03: Syanachatti / Barkot – Yamunotri – Barkot (Drive 45 km)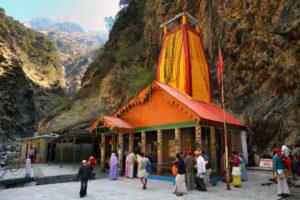 After breakfast, head to Yamunotri for some sightseeing before starting the 6 km hike from Jankichatti to your first Chardham yatra pilgrimage destination. Return to your hotel for dinner after your tour. In-room breakfast and overnight stay.
Day 04: Barkot – Uttarkashi (Drive 100 km)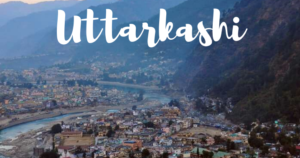 Fourth Day of the Chardham Yatra 2023 tour, in the morning after breakfast, transfer to Uttarkashi. On arrival at Uttarkashi Check into the hotel.
Uttarkashi is the name of a sacred town in Uttarakhand. Uttarkashi is the name of the city's capital. The district of Uttarkashi is located along the banks of the Bhagirathi River. The sacred and basic obstacles of Uttarkashi, including Gaumukh, Kedartal, Yamunotri, Divya Shila, and Surya Kund, are located all around Gangotri.
There are several well-known tourist destinations for explorers close to Yamunotri, including Saptarishi Kund, Hanumanchatti, Govind Wildlife Sanctuary, and Har ki Doon Valley. Dinner & Overnight stay at Uttarkashi.
Day 05: Uttarkashi – Gangotri – Uttarkashi (Drive approx. 100 km)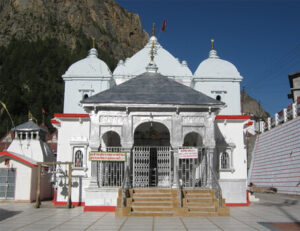 To ahead with the Chardham Yatra drive to Gangotri in the early morning.
When you visit Gangotri (a town in the Uttarkashi district in the Indian province of Uttarakhand), take a religious bath in the holy Ganges. On the banks of the Bhagirathi River, close to the Ganges River's mouth, is a Hindu pilgrimage town. "Because it is thought that Lord Shiva snared the great floods of the Ganges in his tangled locks there", the Gangotri Temple is immensely significant to everyone.
Day 6: Uttarkashi – Guptkashi (Drive 223 km)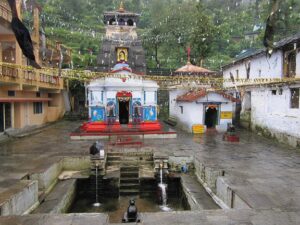 While en route to Guptkashi during Chardham Yatra in 2023, our driver will stop at the extremely well-known Tehri Dam. A person can check into the hotel upon arrival in Guptkashi. However, it is advisable to visit the well-known temples in the area in the evening, such as Ard Nareshwar Temple and Kashi Vishwanath Temple.
Day 7: Guptkashi – Kedarnath (Drive 30 km)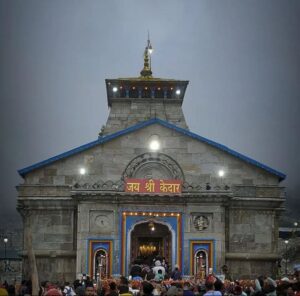 Arrive at the transport parking at Sonprayag early in the morning. Take a local vehicle/jeep on your own(The cost of these is not included in the package) to go the 02 kilometres to Gaurikund. Your hike to Kedarnath can begin once you arrive in Gaurikund (16 km one way).
Those who wish to travel by helicopter, which costs approximately Rs 12000 per person (80kg weight), will be dropped at the Guptkashi/Phata/Sirsi Helipad. Those who wish to hire a pony or palki at their own expense (approximate cost suggested for a pony for the return journey: Poni Rs 3000/-, Palki 10000/-).
Day 8: Guptkashi – Joshimath (Drive 160 km)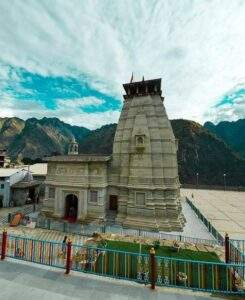 To continue the Chardham Yatra we will drive towards Joshimath through Chopta and Ukhimath in the morning after breakfast. Once in Joshimath, check in at the hotel. After visiting the Narsingh Temple in the evening, pilgrims. Stay the night at the Joshimath Hotel.
Day 9: Joshimath – Badrinath (Drive 45 km /1.5 hours).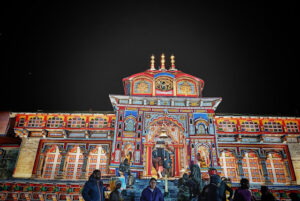 After breakfast, today, depart for Badrinath. Once you arrive, check into your hotel. After lunch, go to the temple for holy darshan or pooja. Pilgrims can see Badrivishal there after taking a bath in the Tapt Kund. Staying the night at the Badrinath Hotel for dinner.
Day 10: Badrinath – Rudraprayag (154 Km / 5 hours)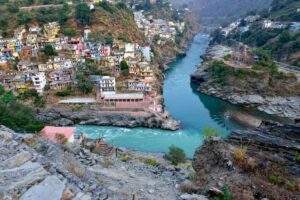 Visit Vyas Cave, Ganesh Cave, Bhim Pool, the source of the Saraswati River, and Mana Village this morning after breakfast (Mana Village: The Last Village Before The Tibetan Border and now renamed by the government Mana Village: The First Village of the Country) then take a car to Rudraprayag. When you arrive at Rudraprayag, check into your hotel. Stay the night in Rudraprayag.
Day 11: Rudraprayag – Rishikesh (Drive 138 km / 4 to 4.5 hours).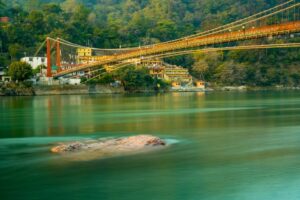 After breakfast, travel via Rishikesh to Dehradun. The Shivalik range of the Himalayas encircles the spiritual town of Rishikesh, often known as the "place of sages," on three sides. It is located on the Ganges River. It is stated that after Raibhya Rishi performed difficult penances, God appeared as "Hrishikesh," and as a result, this region first became known as Rishikesh. Later, go sightseeing at Laxman Jhulla and Ram Jhulla in Rishikesh. depart from Haridwar.
Day 12: Rishikesh – Haridwar – Delhi (Drive 237 km/4 hours).
On the last day of the Chardham Yatra Package 2023 check out of the hotel and make your way to the airport or railway station in Delhi.
So pack your bags, open your heart, and get ready for an unforgettable adventure into India's spiritual heartland with Motherland India Holidays by booking a customized package.
Char Dham Yatra Opening dates 2023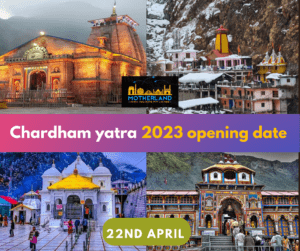 The Chardham Yatra has started. Pilgrims travel from all around India and the world to seek blessings and cleanse their minds and bodies. The Yatra was closed from 2020 to 2022 because of the pandemic. 
However, due to strict Covid guidelines and limited capacity, the doors to devotees have finally opened this year. It is a must-see location for spiritual seekers because of the gorgeous mountain ranges, old temples with superb works of art, and peaceful settings.  
The opening dates of the portals of chardham shrines
| | |
| --- | --- |
| Shrines | Opening dates of Shrines |
| Yamunotri Temple | 22nd April 2023 |
| Gangotri Temple | 22nd April 2023 |
| Kedarnath Temple | 25th April 2023 |
| Badrinath Temple | 27th April 2023 |
Chardham Yatra 2023 closing date
The closing date for the Chardham Yatra 2023 has been announced. This pilgrimage is a once-in-a-lifetime opportunity to visit four sacred shrines in the Himalayan region of India – Yamunotri, Gangotri, Kedarnath, and Badrinath. 
The journey covers breathtaking mountains and beautiful rivers while one seeks blessings from these temples. So if you're planning to embark on this spiritual journey, make sure to mark your calendars before the deadline. 
With this announcement out in public, it's time for tourists and pilgrims from across India and across the globe to finalize their travel plans without rushing into things last minute.
The closing dates of portals of chardham shrines
| | |
| --- | --- |
| Shrines | Closing dates of Shrines |
| Yamunotri Temple | 14th November 2023 (Tentative) |
| Gangotri Temple | 13th November 2023 (Tentative) |
| Kedarnath Temple | 14th November 2023 (Tentative) |
| Badrinath Temple | 15th November 2023 (Tentative) |
Before the gates close, put on your shoes and embark on a journey of a lifetime with Motherland India Holidays by reserving a chardham yatra package.
FAQs related to Chardham Yatra for 2023- Motherland India Holidays
What is the Char Dham yatra package by train 2023?
IRCTC's Char Dham Yatra 2023 tour package will cover Yamunotri, Gangotri, Badrinath, Haridwar, Kedarnath, and Rishikesh. The tour package is for 12 days and 11 nights and is very cost-effective. 
Single occupancy costs ₹91400 per person, 

Double occupancy costs ₹69900 per person, and 

Triple occupancy costs ₹67000 per person.
What is the price of Char Dham yatra 2023?
However, the prices of the tour package differ – for single occupancy, the package would cost ₹91,400/ while for double occupancy it costs around ₹69,900.
How to register for Char Dham Yatra 2023?
Steps for registering yourself for chardham yatra in 2023
Visit the website registrationandtouristcare.uk.gov.in and click on the Register/Login button to access the Chardham Yatra 2023 Online Registration/Login form.

Fill in your personal details correctly and complete the registration process. 

Your registration will then be verified through an OTP sent via mobile and email.
Which month is better for Char Dham yatra?
Being located at high peaks, the temples of Char Dham witness heavy snowfall during the winter season which forces the committee to close the shrines during the winter season, making the months from April/May to October/November the only best time to visit Char Dham.
What is the minimum time required for Char Dham yatra?
The complete yatra will take you 11 to 12 days.
What is the last date of Kedarnath Yatra 2023?
Kedarnath Temple Closing Date 2023: 14th November 2023. 
When Badrinath Temple will open in 2023?
The Kapat of Shri Badrinath Temple was open for devotees today, April 27th, 2023, at 7:10 AM.
Which is the first place of the 4 Dham yatra?
It is believed that one should complete the Char Dham Yatra in a clockwise direction. Hence, the pilgrimage starts from Yamunotri, proceeds towards Gangotri, onto Kedarnath, and finally ends at Badrinath.
Can I go without registration for Kedarnath?
No, the registration process has been made mandatory for all tourists.
Is Char Dham registration mandatory?
Yes, biometric registration is compulsory to embark on the Yatra and ePass registration is valid for temple darshan only.
Which is the best route for Char Dham yatra?
The best route for the Chardham yatra from Haridwar is as follows. Haridwar → Barkot → Yamunotri → Uttarkashi → Gangotri → Guptakashi → Kedarnath → Joshimath → Badrinath.
Is Char Dham yatra easy?
A Char Dham yatra isn't easy. Pilgrims really need to earn the benefits bestowed, as only two of the temples (Badrinath and Gangotri) are accessible by vehicle. The remaining two (Yamunotri and Kedarnath) require treks.
How many distances are in Char Dham yatra?
These four pilgrimage sites cover a total of approx. 1,607 km starting from Haridwar and ending at Rishikesh.
Is a medical certificate required for Kedarnath?
Officials said while bringing a health certificate is mandatory, 'responsible behaviour' regarding their health is expected from pilgrims.
What is the benefit of Char Dham yatra?
In India, the Hindus believe that the Char Dham tour opens the gates of salvation by washing away all their sins. It is also believed that this journey must be undertaken at least once in a lifetime. These four shrines have great significance and place in Hindu mythology.
Read More:
Chardham yatra travel tips 2023
chardham yatra places route map
Chardham yatra from Surat 2023
Chardham yatra registration 2023
Chardham yatra 2023 opening date
How much 4 dham yatra costs 2023
Chardham yatra from Mumbai 2023
Chardham yatra by Helicopter 2023
When Chardham Yatra start in 2023
Chardham Yatra from Bangalore 2023
Chardham yatra from Hyderabad 2023
Current status of Chardham yatra 2023
Things to carry for chardham yatra 2023
When Badrinath Dham will close in 2023
Haridwar to Chardham yatra by bus 2023
Chardham yatra from Haridwar by car 2023
Chardham Yatra Package from Chennai 2023
What is the last date of Kedarnath yatra 2023
When Kedarnath will open for tourist in 2023
Chardham yatra package from Bangalore 2023
Chardham yatra by helicopter from Delhi 2023
Which month is better for char dham yatra 2023
Chardham yatra route map from Haridwar 2023
How to Plan Char dham Yatra from Mumbai 2023
Char Dham yatra package for senior citizens 2023
Chardham Yatra Package from Delhi by Train 2023
Chardham yatra tour package from Haridwar 2023
Chardham Yatra Package from Delhi by Helicopter 2023
Chardham Yatra in 7 days 2023- Motherland India Holidays
When Badrinath dham will open in 2023- Motherland India Holidays