Chardham Yatra Package by Train 2023 – Motherland India Holidays
Chardham Yatra Package Train 2023: The Chardham Yatra Package by Train 2023 is an exciting opportunity for those who wish to embark on a spiritual journey through the four sacred shrines of Yamunotri, Gangotri, Kedarnath, and Badrinath. This package ensures comfortable travel by train along with accommodation at each destination, allowing pilgrims to focus solely on their religious pursuits. The picturesque views of the Himalayan range from the train further add to the experience. 
The Chardham Yatra holds a special place in Hindu mythology and is known to provide solace and inner peace. With this package, travelers can embark on a truly enriching journey while also enjoying all the comfort and luxury that modern amenities have to offer. Whether you're a devotee or just looking for some quiet time amidst nature, the Chardham Yatra by Train 2023 is definitely worth checking out. 
Recommended Tour Packages
Significance of Chardham Yatra
Chardham yatra from Haridwar by car 
Chardham Yatra Packages – Book Now
The Chardham Yatra Package by Train is an exceptional opportunity for travelers to embark on a spiritual journey through the four holy shrines in Uttarakhand. The inclusion of this package is all-encompassing, covering accommodation facilities, meal plans, transportation services such as train and road transport from Haridwar or Dehradun station to all four Dhams, and even sightseeing tours at places like Rishikesh, Kempty Falls, and Mussoorie. 
However, several exclusions need clarification before you book your travel itinerary. Travelers should bear in mind that the package does not include helicopter rides to the temples for those who want swift access to the temples. 
Additionally, expenses incurred due to unforeseen events like landslides are your responsibility as they fall outside of the operator's control. Overall, the Chardham Yatra Package is a perfect option for people seeking more comfortable travel arrangements and seamless pilgrimage planning while exploring India's breathtaking natural terrain.  
Trip Location:

Uttarakhand

Destination Covered:

Haridwar, Barkot, Uttarkashi, Sitapur, Kedarnath, Badrinath

Start Point:

Haridwar

End Point:

Haridwar

Accommodation: 

Hotel and Resort

Things to do:

Sightseeing, Temple Visits, Religious Gateways, Scenic Road Drives,

National Parks, Flower Valleys, and many more
Note: Train fare is not included in the package.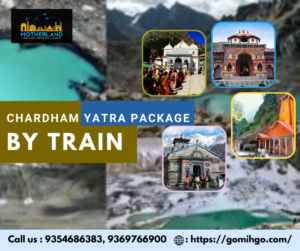 IRCTC Chardham Budget Tour

 
The IRCTC Chardham Budget Tour is an excellent way to visit the four sacred pilgrimage sites of Yamunotri, Gangotri, Kedarnath, and Badrinath in a cost-effective and convenient manner. The tour package offers several benefits, such as comfortable accommodation, transportation, meals, and a knowledgeable tour guide who takes you through the holy shrines. 
With this package, travelers can experience the divinity of these religious sites at an affordable price without compromising on quality or safety. The tour also provides ample opportunities for scenic walks and captures breathtaking views of the Himalayan ranges. 
Overall, the IRCTC Chardham Budget Tour provides not only spiritual fulfillment but also a chance to immerse oneself in nature's beauty while making lifelong memories with fellow travelers. 
Chardham Yatra Package Itinerary
Day 1: Delhi to Haridwar (200 km/6-7 hours).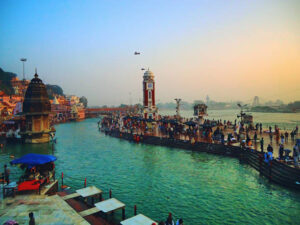 Our representative will greet you at the Delhi airport or railway station—the road journey to Haridwar. In the evening, check into your hotel in Haridwar. Dinner and overnight at Haridwar
Day 2: Haridwar to Barkot (200 km/8-9 hours)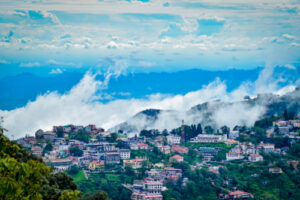 Proceed to Barkot after breakfast. In the evening, check into the hotel in Barkot. Dinner and an overnight stay in Barkot.
Day 3: Yamunotri Dham Visit (32 km driving + 6 km walk)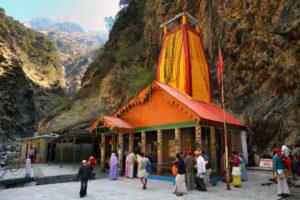 Early morning drive to Jankichatti (32 km). Trek 6 km from Jankichatti to Yamunotri. Puja/ Archana at Yamunotri temple.
Pony and palki services for Yamunotri are available at an additional cost. 
Back to Janki Chatti after darshan at Yamunotri Dham and drive back to Barkot. Stay in Barkot for the night.
Day 4: Barkot to Uttarkashi (100 km/5-6 hours)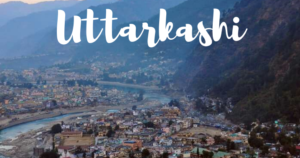 After breakfast, check out of the hotel and drive to Uttarkashi.
Uttarkashi: A holy town in Uttarakhand is called Uttarkashi. The capital of the city is called Uttarkashi. On the banks of the Bhagirathi River sits the district of Uttarkashi. In addition to the safe havens, the city is home to several interesting places for tourists to explore, including Dayara Bugyal, Dodi Tal, Gangnani, Sat Tal, Maneri, Nachiketa Tal, and Gangotri.
Day 5: Visit Gangotri (100 km/5 hours)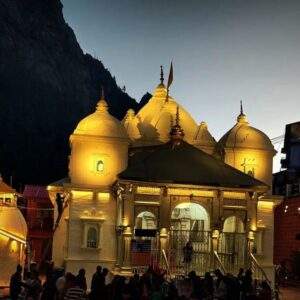 Drive to Gangotri Dham early in the morning with a packed breakfast. Archana/Puja at Gangotri temple back to Uttarkashi for the night.
Day 6: Uttarkashi – Guptkashi/Sitapur (250-290 km/10 hours)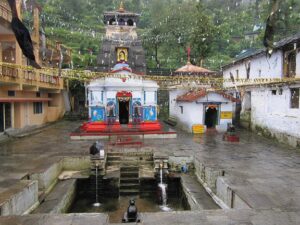 After breakfast, we'll get ready to travel to Guptkashi through the Tehri Dam. In Guptkashi is the well-known Shree Vishwanath Temple. We leave the temple and head back to our hotel, where we spend the night.
Day 7: Kedarnath Visit (35 km drive, 16 km walk/5 hours)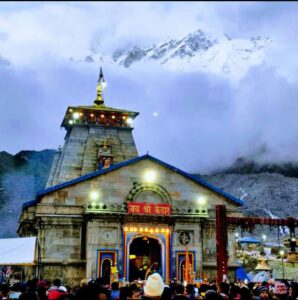 Drive to Sonprayag early in the morning. From Sonprayag, take a local shuttle taxi to Gaurikund. Begin your journey from Gaurikund to Kedarnath Dham. One can hire Pony and Palki for Kedarnath at their own expense. Kedarnath Dham is a pilgrimage site. Check into the Kedarnath Hotel. Aarti at Kedarnath Temple in the evening and stay at Kedarnath for the night.
Day 8: Kedarnath to Guptkashi/ Sitapur (25 km/1 hours)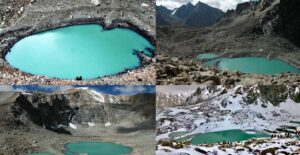 After performing Pooja Darshan Abhishek at Kedarnath Temple in the morning, travel down to Gaurikund and return to Guptkashi. Stay in Guptkashi for the night.
Day 9: Guptkashi to Badrinath (200 km/7 hours)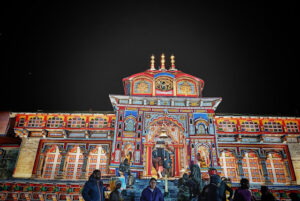 Drive to Badrinath Dham after breakfast. Visit the Narsingh Temple in Joshimath on the route. Check-in at the Badrinath Hotel. Visit the Badrinath Temple in the evening for Aarti/Darshan. Stay in Badrinath for the night.
Day 10: Badrinath to Rudraprayag (155 km, 6 hours)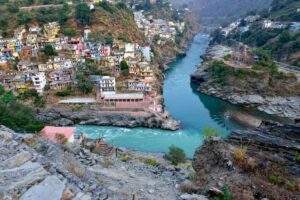 After morning Pooja Darshan Abhishek at Badrinath Temple and breakfast, drive to Mana hamlet on the Indo-Tibet border, Ganesh Gufa, Beas Gufa, Bhim Pul, and Saraswati River. After that, drive to Rudraprayag for the night.
Day 11: Rudraprayag to Haridwar (155 km/7 hours)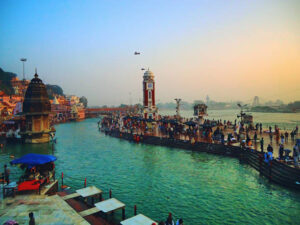 After breakfast, depart for Haridwar. When you get to Haridwar, go sightseeing at Mansa Devi and Chandi Devi. Participate in the evening Ganga aarti at the Haridwar ghats. Stay in Haridwar for the night.
Day 12: Haridwar to Delhi (200 kilometres/6-7 hours)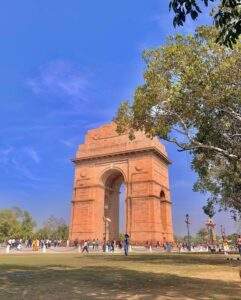 After breakfast, depart for Delhi. Drop off at the airport or railway station. The tour is over.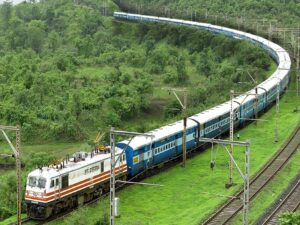 Char dham yatra train booking refers to the process of reserving seats or accommodation for a journey on India's railway system to reach the four revered temples in the Indian state of Uttarakhand – Yamunotri, Gangotri, Kedarnath, and Badrinath. This pilgrimage is a significant religious excursion for Hindus, and many devotees have traveled by rail for many years. In recent years, online platforms have made it simple to book rail tickets and plan your route to your liking. There are various advantages to booking a Char Dham Yatra train, including affordability, comfort, safety, and time savings.
However, during peak season, seat availability can be limited, therefore, bookings should be made well in advance to avoid any inconvenience later on.
Booking your train tickets is an essential initial action before embarking on the Char Dham Yatra. 
To begin, go to the IRCTC website and register for an account if you don't already have one. 

Select your itinerary and check for train availability on your desired dates. 

There are several classes to choose from, including sleeper, AC 3-tier, AC 2-tier, and First Class AC. 

Once you've decided, make sure you have all relevant documentation, such as ID verification, on hand before finalizing payment for your reservation. 

It's critical to plan far in advance because this is a popular pilgrimage route and trains fill up rapidly during peak season. 
Booking your Char Dham Yatra train tickets should be a breeze with careful planning and attention to detail.
Char Dham Yatra Package Cost by Train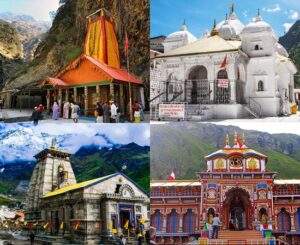 The Char Dham Yatra is a spiritual journey that takes travelers through some of the most important Hindu pilgrimage sites in India. While there are many ways to travel to these sites, taking the train is one of the most popular options due to its affordability and convenience. 
The cost of a char dham yatra package by train varies depending on a number of factors, including the length of the journey, the type of accommodation chosen, and any additional services or amenities included. However, on average, travelers can expect to pay anywhere from Rs. 10,000 to Rs. 25,000 for a comprehensive package that includes transportation, accommodation, and meals. 
Overall, taking the train is an excellent option for those looking to embark on an unforgettable spiritual journey at an affordable price.
Depending on the package you select, train fares may be included in your overall cost. Other inclusions may vary but could encompass accommodations, meals, transportation within cities, temple visits with puja arrangements, and tour guides. 
Be sure to check what is covered under different packages before making your decision. 
Exclusions might include personal expenses such as shopping or additional sightseeing tours outside the provided itinerary. You may also want to consider purchasing travel insurance as a precautionary measure against unexpected disruptions during your journey.
Chardham Yatra Package 2023 from Mumbai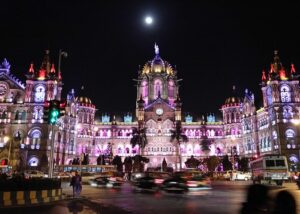 from Mumbai? Your hunt for the best Chardham Yatra packages 2023 has come to a conclusion. We can never go wrong in delivering you the best Chardham Darshan packages as a specialist travel operator with years of experience in organizing spiritual vacations. Book your spiritual journey to Lord Vishnu's seat, Badrinath, Lord Shiva's mountain house, Kedarnath, the revered Gangotri Dham, and Yamunotri Dham with us, and be ready for an unforgettable experience.
In the middle of the usually bustling city of Mumbai, devotion and spirituality add to the city's vibrancy. Hindu worshippers in the city can have a deep connection to any sacred site and are always eager to make a pilgrimage, even if it means trekking thousands of kilometers in the Garhwal Himalayas. 
Mumbai also has excellent air connectivity with Uttarakhand, making it quite easy to plan a vacation to Chardham in a short period of time! If you want to seek the blessings of Lord Badri, who sits in the Chaturbhuj dhyan mudra in Badrinath, or Baba Kedarnath Ji, who sits in his majestic temple in Kedarnath, we, as the most dedicated 4 Yatra travel providers, will be happy to help.
Choose from a variety of Chardham Yatra packages 2023 from Mumbai developed by our professional staff with your budget and needs in mind.
We guarantee complete customer satisfaction and promise to make your Chardham Darshan tour from Mumbai as easy as possible. Quality services, well-organized travel itineraries, round-the-clock assistance, Chardham helicopter excursions, sightseeing tours, and the ability to customize your 4 Dham yatra packages are all available from us.
Trains from Mumbai to Dehradun
| | | | | |
| --- | --- | --- | --- | --- |
| Train No. | Train Name | From | Departure | Arrival |
| 22659 | Dehradun Express | Panvel | 11:00 | 18:05 |
Trains from Mumbai to Haridwar
| | | | | |
| --- | --- | --- | --- | --- |
| Train No. | Train name | From | Departure | Arrival |
| 22659 | Dehradun Express | Panvel | 11:00 | 15:50 |
| 12171 | LTT Haridwar AC SUP | Lokmanya Tilak T | 07:55 | 12:55 |
| 22917 | Haridwar Express | Bandra Terminus | 13:05 | 15:50 |
IRCTC Char Dham Yatra Review (Conclusion)
Overall, the IRCTC Char Dham Yatra proved to be a comfortable and convenient journey for pilgrims interested in exploring India's four spiritual centres. The provided lodgings were clean and roomy, and the itinerary was well-planned and handled flawlessly. There was enough to see and do on this yatra, from touring ancient monuments to witnessing breathtaking natural beauty. Furthermore, the kind and knowledgeable guides were a great help in immersing oneself in the local culture and traditions. The IRCTC Char Dham Yatra is well worth considering for anyone looking for a hassle-free pilgrimage with plenty of opportunities for spiritual enlightenment.
FAQs related to the Chardham Yatra Package by Train 2023 – Motherland India Holidays
What is the Char Dham Yatra package by train 2023?
Experience the holy pilgrimage of Char Dham Yatra 2023 with IRCTC's 12-day package covering Yamunotri, Gangotri, Kedarnath, Badrinath, Haridwar, and Rishikesh. The package is cost-effective, with single occupancy at ₹91400, double occupancy at ₹69900, and triple occupancy at ₹67000 per person.
What is the price of the IRCTC Char Dham Yatra Package 2023 India?
The cost of the tour package varies depending on the type of occupancy. For single occupancy, the package is priced at ₹91,400, whereas for double occupancy, the cost is around ₹69,900.
How much does the Char Dham Yatra cost by train?
If you are planning a Char Dham Yatra from Delhi by train, the cost per person would typically range from INR 37,000 to INR 40,000. The journey will take you to several beautiful destinations, including Haridwar, Barkot, Uttarkashi, Sitapur, Kedarnath, and Badrinath.
How much is the Char Dham Yatra by helicopter 2023?
A Chardham yatra by helicopter will cost around INR 1,85,000 per person to complete darshan in all Four Dhams of Uttarakhand. including the price of meals, local transfers and hotels, and a sightseeing tour. Note that prices are subject to change.
Which month is better for the Char Dham Yatra?
The Char Dham temples are situated at high altitudes, experiencing heavy snowfall during winter. As a result, the shrines remain closed during this season, making the period from April/May to October/November the best time to visit.
How many days are enough for 4 Dham Yatra?
To complete the Chardham yatra, you can choose between two options: road or helicopter. The road journey takes around 10 to 12 days, while the helicopter journey can be completed in just 4 to 5 days.
Which route is best for the Char Dham Yatra?
The best route for the Chardham yatra from Haridwar is as follows. Haridwar → Barkot → Yamunotri → Uttarkashi → Gangotri → Guptakashi → Kedarnath → Joshimath → Badrinath
Which Char Dham should I visit first?
Haridwar marks the beginning of the Char Dham Yatra, with Yamunotri being the first stop, followed by Gangotri, Kedarnath, and Badrinath. It is believed that following this sequence is crucial for a successful pilgrimage
Is the Char Dham Yatra difficult?
Undertaking the Chardham Yatra is no easy feat, and it is essential to take necessary precautions to prevent any mishaps. Adequate preparation is crucial to ensure a safe and hassle-free journey to the holy shrines.
What is the benefit of 4 Dham?
The Char Dham Yatra, consisting of Badrinath, Dwarka, Puri, and Rameswaram, is believed to help achieve moksha (salvation). It is considered a sacred pilgrimage for Hindus, with Adi Shankaracharya defining these four sites as the Char Dham that every Hindu should visit at least once in their lifetime.
At which time is Kedarnath less crowded?
To make the most of your visit to Kedarnath, plan your trip either in May, when the temple reopens after winter, or in September-October when the crowd is relatively smaller.
Which month is not good to visit Kedarnath?
The ideal time to plan your Kedarnath Yatra is during the summer months from April to June, and also during the pre-winter months of September-October. Due to extreme cold and heavy snowfall, Kedarnath Dham remains closed from November-March (winter). Plan your visit accordingly to experience the spiritual essence of this sacred temple.
How do I get to Char Dham by train?
Haridwar and Dehradun are the most convenient railway stations to reach the Char Dham circuit. To reach Yamunotri, the Dehradun Railway Station located at a distance of 172 km and Rishikesh, approximately 200 km away, are the best options. Similarly, the Dehradun Railway Station situated 114 km away is the ideal way to reach Gangotri.
Is it safe to trek to Kedarnath at night?
To ensure the safety of pilgrims, it's mandatory to start the trek from Gaurikund to Kedarnath before 1:30 p.m. No pilgrims are allowed to trek after the last minute. Similarly, pilgrims coming down from Kedarnath need to leave before 05:00 p.m. The decision was taken for the safety of pilgrims.
When will the Chardham Yatra start in 2023?
The Char Dham Yatra, a pilgrimage tour of four holy shrines in Uttarakhand, is open for pilgrims for a limited period of six months. This year, the Yatra will commence on April 22, 2023, and the temples will remain accessible until November, as per the annual schedule.
How much is the helicopter booking in Yamunotri in 2023?
Read More
Chardham yatra travel tips 2023
Chardham yatra registration 2023
Chardham Yatra in Uttarakhand 2023
When Badrinath Dham will close in 2023
Haridwar to Chardham yatra by bus 2023
Chardham yatra from Haridwar by car 2023
Chardham Yatra Package from Chennai 2023
What is the last date of Kedarnath yatra 2023
Chardham Yatra by Helicopter Package Cost 2023
Char Dham yatra package for senior citizens 2023
Chardham Yatra Package from Pune by Train 2023
IRCTC Chardham Yatra Package 2023 from Mumbai
Chardham Yatra Package From Mumbai by Flight 2023