Rajasthan Tour With Mandawa 2023
14 NIGHTS / 15 DAYS
Mandawa is a town in Rajasthan's Jhunjhunu district. It is located in the Shekhawati region. Mandawa is known as the "Open Art Gallery" in its entirety. Mandawa was an important stop for wealthy merchants travelling the Silk Road in the 18th century. The vast majority of them chose to build their homes in Mandawa, resulting in the creation of a plethora of exquisitely crafted large Havelis that are popular tourist attractions.
Rajasthan, a land rich in colour, culture, and camels, is one of India's most popular tourist destinations for both domestic and international visitors. Rajasthan draws visitors because of its historical forts, palaces, art, and culture. Rajasthan is visited by one out of every three foreign tourists who visit India because it is part of the Golden Triangle. Many tourists, both Indian and foreign, prefer to visit the palaces of Jaipur, the lakes of Udaipur, and the desert forts of Jodhpur, Bikaner, and Jaisalmer. It is a mystical desert that has witnessed many battles, heard many secrets, and told many stories.
Highlights-
Explore Delhi
Visit to Red Fort, Qutub Minar, Lotus Temple, Jama Masjid, Humayun's Tomb, Chandni Chowk, India Gate
Enjoy Delhi Street food
Explore Mandawa, its beautiful paintings, famous Havelis and the Shekhawati culture
Visit the unusual Junagarh Fort
Visit the National Research Centre on Camel, Raj Ratan Bihari Temple, Rasik Shiromani Temple and the Karni Mata Temple
Experience camel ride and sunset at sand dunes
Visit the Jaisalmer Fort and Havelis spread throughout Jaisalmer
Visit Jodhpur and its majestic places- Mehrangarh Fort, Jaswant Thada, Ummaid Bhawan Palace Museum, Clock Tower
Visit Jagdish Temple and Saheliyon ki Bari gardens in Udaipur
Visit to Brahma Temple in Pushkar
Enjoy authentic Rajasthani food in Choki Dhani
Explore Jaipur
Visit to Amer Fort, Jantar Mantar, Hawa Mahal, Jal Mahal and City of Palace
Visit to Taj Mahal and Agra Fort
Visit Swaminarayan Temple (Akshardham) in Delhi.
Itinerary –
Day 01:  Arrive at Delhi
Arrive at Delhi airport, and meet and greet our expert representative who will assist you in boarding your pre-booked vehicle and checking into the hotel.
Delhi, India's capital, provides an appropriate blend of the country's superior and social legacies. This is evident in the altered structural wonders and exhibition halls that capture India's wealthy legacy. The India Gate is a well-known attraction because of its excellent design, which provides people with awe. The bustling markets and slow-paced meals will undoubtedly fulfil your dreams, particularly with their cooking and special Indian rarities.
Stay in Delhi for the night. Breakfast at the hotel.
Day 02: Delhi city tour
The morning after breakfast, prepare for a day of sightseeing in Delhi. Delhi is known as the energy seat of India because it is the country's capital, and it has earned this title because it was previously the capital of Mughal and British India. From Humayun's Tomb, Jama Masjid (India's largest mosque), Red Fort (outer view), and Chandni Chowk (all in Old Delhi), Lotus Temple and Qutub Minar Drive lead to India Gate (built by Britishers), Parliament House, and the President's House.
Stay in Delhi for the night.
Day 03: Delhi- Mandawa ( 212 km/ 5 hrs )
Drive to Mandawa after breakfast. Mandawa is a town in the Shekhawati region that is well-known for its Havelies, Painting, and Shekhawati culture. Arrive in Mandawa, check into your hotel, and then explore the Mandawa neighbourhood.
Stay the night in Mandawa.
Day 04: Mandawa – Bikaner ( 192 km/ 3.5 hrs )$
Travel to Bikaner first thing in the morning. Check into the hotel upon arrival. After that, go to the unusual Junagarh Fort. Unlike the majority of Rajasthan's forts, which are built on hilltops, the Junagarh citadel is built on the desolate tract plains themselves. Finally, visit the National Camel Research Center, Raj Ratan Bihari Temple, Rasik Shiromani Temple, and Karni Mata Temple.
Stay in Bikaner for the night.
Day 05: Bikaner-Jaisalmer (332 kilometres/ 7 hours)
After breakfast, drive to Jaisalmer and check into your camp. Afternoon: Camel ride and local cuisine. Take in the Sunset Enjoy your meal at Sand Dunes. Dinner is served at the Camp.
Stay at Desert Camp for the night.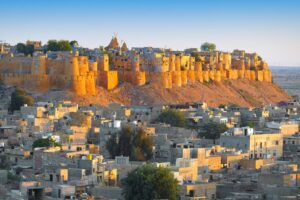 Day 06: Sightseeing in Jaisalmer
In the morning, go to Jaisalmer Fort, India's best fort with a population of thousands of people living within its walls. Later, visit the numerous Havelis that dot Jaisalmer and are regarded as the town's true showpieces. Visit the sand dunes at night to see a spectacular sundown over the dunes. Stay at Desert Camp for the night.
Day 07: Jaisalmer to Jodhpur (285 kilometres/ 5 hours)
Drive to Jodhpur in the morning.
Check into the hotel upon arrival. Later, go to Jaipur, Rajasthan's second-largest city. Majestic Mehrangarh Fort, Jaswant Thada, Ummaid Bhawan Palace Museum, Clock Tower, and Markets are among the attractions.
Overnight stay in Jodhpur.
Day 08: Jodhpur-Udaipur (249 kilometres/ 5 hours)
Proceed to Udaipur in the morning. It was the capital of the Sawai Dynasty. Check into the hotel upon arrival. The evening is free to spend as you, please.
Overnight stay in Udaipur and breakfast at hotel during Rajasthan Tour With Mandawa 2023.
Day 09: Sightseeing in Udaipur
After breakfast, visit the famous Jagdish temple, which houses a black stone image of Lord Vishnu/ Jagannath – Lord of the Universe, as well as the City Palace and the Maidens' Gardens on the banks of Pichori Lake.
Overnight stay in Udaipur during Rajasthan Tour With Mandawa 2023.
Day 10: Udaipur – Pushkar ( 286 km/ 6 hrs )
Proceed to Pushkar after breakfast. Visit India's best Brahma Temple and Pushkar Lake.
Stay in Pushkar for the night during Rajasthan Tour With Mandawa 2023.
Day 11: Pushkar – Jaipur ( 145 km/ 3 hrs )
After breakfast, depart for Jaipur. Check into your hotel and then go to Choki Dhani in the evening. Chokhi Dhani is a well-known tourist attraction in Jaipur. The inn's goal is to provide visitors with a comprehensive understanding of Rajasthani culture. The entire hotel's theme is stimulated by a village putting green, where many cultural sports are held. Visitors from all over the world come to enjoy the one-of-a-kind experience.
Stay in Jaipur for one night during Rajasthan Tour With Mandawa 2023.
Day 12: Jaipur Sightseeing
Visit Amer Fort, Jantar Mantar, Hawa Mahal, Albert Hall Museum, Jaigarh Fort, Birla Mandir, and power bypass to Glorious Jal Mahal after a hearty breakfast. Next, visit City Palace, which features many tall homes, large courtyards, and well-kept gardens.
Overnight stay in Jaipur during Rajasthan Tour With Mandawa 2023.
Day 13: Jaipur – Agra via Fatehpur Sikri ( 240 km / approx 4.5 hrs )
After breakfast, drive to Agra. Visit Fatehpur Sikri en route. Buland Darwaza (Fatehpur Sikri): The Buland Darwaza is a fifteen-story high gateway that guards Fatehpur Sikri's northeastern entrance. Later, pay a visit to the Taj Mahal. Everything that has been said about it is true. The Taj Mahal, built in the mid-17th century by Mughal Emperor Shah Jahan as an expression of his love for his wife Mumtaz Mahal, is truly one of the world's wonders. The Agra Fort was once the thriving centre of the Mughal Dynasty, and it was home to four successive Emperors.
Overnight stay in Agra during Rajasthan Tour With Mandawa 2023.
Day 14: Agra to Delhi (246 kilometres/ 4 hours)
Drive back to Delhi after breakfast. Check-in at your hotel. In the evening, pay a visit to Swaminarayan Temple, also known as Akshardham. This is a Hindu temple, and a religious-cultural campus in Delhi, India. The temple is close to the Noida border. The complex, Akshardham Delhi, displays millennia of traditional and contemporary Hindu subculture, spirituality, and architecture.
Day 15: Departure from Delhi (Please advise us of your flight schedule)
After breakfast, transfer to the Delhi airport for your next flight.
Rajasthan Tour With Mandawa 2023 TOUR ENDS !!!!!!!
FAQs related to Rajasthan Tour With Mandawa 2023
What is the best time to visit in Rajasthan?
Winters – The winters are marked as being the best season to visit Rajasthan.
Is Jaipur enough for 2 days?
In your two days of trips, you can cover many places to visit in Jaipur in 2 days. Two days are sufficient to visit the main places in Jaipur. Though there is a number of places to choose from. Most of the tourist attractions belong to history like forts, palaces, and temples too.
How many days are enough in Rajasthan?
You can plan a short 2 nights 3 days trip to Rajasthan and cover one of the major tourist cities like Jaipur or Udaipur. But an ideal Rajasthan trip would take 6 nights and 7 days to explore its multi-city tourist attractions.
Do we need RT-PCR test to enter Rajasthan?
hey are neither required to produce RT-PCR negative test report, nor would be quarantined, be it Home or Institutional. All such passengers who have not been administered the 1st dose of COVID Vaccine must produce an RT-PCR negative report of the last 72 hours before entering the State.
Which city of Rajasthan is most beautiful?
Udaipur. Known as the City of Lakes, it's one of India's most romantic destinations. With its well-preserved havelis, palaces, ghats, temples, and the fairytale-like Lake Palace at its heart, it's not difficult to understand why Udaipur is a sought-after destination in Rajasthan.
What is famous of Rajasthan?
Rajasthan is known for its historical hill forts & palaces, it is claimed as the best place for tourism-related to palaces. Umaid Bhawan Palace: It is the largest Royal Palace in Rajasthan. It is also one of the largest private residences in the world.
Is there snowfall in Rajasthan?
The desert state of Rajasthan is experiencing a record dip in mercury this year with the hill station of Mount Abu experiencing snowfall and the city of Churu, the gateway to the Thar, recording zero degree Celsius.
Read Also:
Chardham Tour Package – 11 Nights/ 12 Days
Chardham Yatra Package from Mumbai Tour Package 2023
Chardham Yatra Package from Mumbai Helicopter Price 2023
Chardham Yatra Package From Mumbai by Flight 2023
IRCTC Chardham Yatra Package 2023 from Mumbai
Chardham Yatra by Helicopter Package Cost 2023
Chardham Yatra Package From Mumbai by Private Tour 2023
Chardham Yatra Package from Pune by Train 2023
Chardham Yatra Package from Pune by Bus 2023
Chardham Yatra Package from Pune by Helicopter 2023
Chardham Yatra Package from Delhi by Train 2023
Chardham Yatra Package from Delhi by Bus 2023
Chardham Yatra Package from Delhi by Helicopter 2023
Chardham Yatra Package from Hyderabad by Helicopter 2023
Chardham Yatra Package from Hyderabad by Train 2023
Chardham Yatra Package from Hyderabad by Bus 2023
Chardham Yatra Package from Ahmedabad by Train 2023
Chardham Yatra Package from Ahmedabad by bus 2023
Chardham Yatra Package from Ahmedabad 2023
Golden Triangle Tour With Mumbai 2023
Chardham Yatra Package from Mumbai by bus 2023
Chardham Yatra Package from Mumbai by Helicopter 2023
Chardham Yatra Package from Hyderabad in 2023
Chardham Yatra package from Mumbai in 2023
Chardham Yatra Package from Delhi