13 best chardham yatra places to visit 2023
Chardham Yatras are considered to be one of the holiest pilgrimages for Hindus, as they involve visiting four sacred shrines located in Uttarakhand – Yamunotri, Gangotri, Kedarnath, and Badrinath.
However, it is important to note that these pilgrimage sites are located at high altitudes and require strenuous trekking, which makes it necessary for devotees to take sufficient rest between locations.
Resting not only helps the body cope with the tough terrain but also allows individuals to experience the cultural heritage of each location at their own pace. Additionally, taking time to rest can also minimize altitude sickness symptoms such as shortness of breath or nausea.
So while the chardham yatras may seem like a spiritual marathon, pacing oneself and allowing enough time for rest is crucial to ensuring an enjoyable and safe journey.
Recommended Tour Packages
Chardham Yatra Package from Delhi
Chardham Yatra Packages – Book Now
What type of luggage is allowed for Char dham Yatra by Helicopter
Chardham Yatra 2023 helicopter booking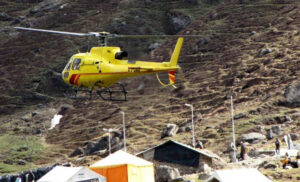 For those with tight schedules who still wish to embark on a spiritual journey, the Chardham Yatra by helicopter is a convenient and time-efficient option. This tour allows you to visit the four revered Hindu shrines of Yamunotri, Gangotri, Kedarnath, and Badrinath in just four days. Helicopter services are available from Dehradun or Delhi, transporting you directly to each shrine without having to face any challenging treks or long drives.
This approach makes the trip an unforgettable experience that offers panoramic aerial views of the Himalayas while simultaneously providing access to sacred sites that might otherwise be unreachable. The helicopter yatra was designed as a means for devotees to experience the divine power of these important pilgrimage destinations in a hassle-free manner, ensuring that even those who cannot dedicate weeks of their schedules can complete this sacred voyage.
Start your Chardham Yatra by helicopter and have an unforgettable time in Uttarakhand. You can get in touch with us to find out the entire price of the Chardham Yatra package.
Note that we tailor our tour packages to your preferences and that this is only a suggested itinerary. For any changes, please get in touch with us. 
Chardham Yatra by Helicopter 6 Days Package itinerary
Day 01: Dehradun Arrival
Day 02: Dehradun – Kharsali (Yamunotri Temple) (8 km/ 30 min + 6 km trek)
Day 03: Kharsali – Harsil (Gangotri Temple) by Helicopter (4 hours)
Day 04: Harsil – Sersi (Kedarnath Temple)
Day 05: Sersi (Kedarnath Temple) – Badrinath (Badrinath Temple)
Day 06: Badrinath – Dehradun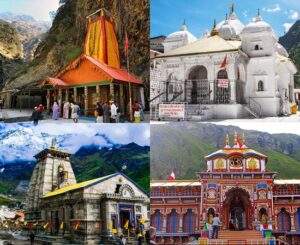 India is home to a multitude of holy sites and pilgrimage destinations, including the renowned 'Bada Chardham Yatra' places name: Badrinath, Dwarka, Puri, and Rameswaram. Each of these sites holds its own significance and allure, and they are considered essential pilgrimages for devout Hindus.
Badrinath in Uttarakhand is associated with Lord Vishnu,
Dwarka in Gujarat is dedicated to Lord Krishna.
Puri in Orissa is famous for the Jagannath Temple and Ratha Yatra festival.
Rameswaram in Tamil Nadu holds great importance as the place where Lord Rama built a bridge to Lanka.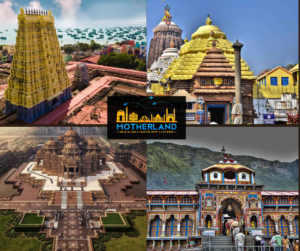 The Chota Dham yatra refers to a pilgrimage journey that takes you through four holy shrines of the Hindu religion. These shrines are Yamunotri, Gangotri, Kedarnath, and Badrinath. Located in the Himalayas, each offers a different experience of divine natural beauty mixed with spirituality.
Yamunotri is where River Yamuna originates.
Gangotri is the source of River Ganga.
Kedarnath features one of the twelve Jyotirlingas.
Badrinath holds immense importance for devotees as it's the abode of Lord Vishnu in his form as Narayan.
Although they may not be as well-known as their bigger counterparts, these shrines hold a special place in Hindu mythology and culture. Both circuits offer breathtaking views of snow-capped mountains and serene valleys making it an ideal getaway for nature lovers too.
Best Chardham yatra places to visit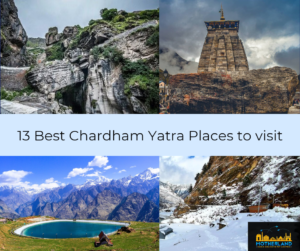 Going on a Chardham Yatra in India is a spiritual and cultural journey unlike any other. Visit the best holy places during this pilgrimage including Yamunotri, Gangotri, Kedarnath, Badrinath, and Haridwar. Apart from these well-known sites, several lesser-known destinations are also worth exploring.
For instance, Joshimath provides stunning views of the Himalayas and is home to the revered Adi Shankaracharya Math. Similarly, Guptkashi boasts of temples dedicated to Lord Shiva and Manikarnika Kund, which are believed to have supernatural powers. Another noteworthy stop during the Chardham Yatra is Rudraprayag – where the Mandakini and Alaknanda rivers converge.
A visit to these thirteen must-see sites in India's northern regions is sure to leave visitors with lifelong memories of spirituality and breathtaking natural beauty. 
1. Surya Kund:
One of the top sights is Surya Kund, which is close to the principal temple. It is a location. Every traveler makes a pit stop here to honor the sun, who is Yamuna's father. Surya Kund is a thermal hot spring with water that is 88 degrees, and after having a bath in it, it may treat skin conditions and joint problems as well as provide relief to travelers after a long day of travel.
2. Saptrishi Kund:
Located 10 miles from the Yamunotri temple, this kund is called Saptrishi Kund. Brahma kamal, an uncommon Himalayan flower, surrounds it. The seven renowned rishis who practiced penance and yoga here are remembered in the name of this Saptrishi kund. Since this lake is located in a distant place, a travel guide was needed to find it. Here, you can enjoy the seductive view. A must-see location for the Chardham Yatra is Saptrishi Kund.
3. Divya Shilla:
This sturdy rock pillar can be seen close to Surya Kund. People will honor this pillar before visiting the Yamunotri shrine. This location is important in mythology.
4. Harsil:
Only 25 minutes on foot separate Harsil, one of the Himalayas' best-preserved treasures, from the Gangotri temple. Surrounded by peaks covered with snow and tall, green, lush trees. After the main gate of Gangotri is shut, the idol of the goddess Ganga is taken to the temple at Harsil, where lodging options are also offered. Chardham Yatra is one of the most well-known tourist destinations.
5. The Jalmagna Shivling:
The Ganga is said to have been held in Lord Shiva's matted hair here before flowing. This Shiva idol, or Shivling, was partially immersed in the crystal-clear water over the summer when the sea level rose excessively. Visit this Jalmagna Shivling if you're looking for a unique experience.
6. Gangotri national park:
In the Uttarkashi district of Uttarakhand, Gangotri National Park is one of India's best-known high-altitude wildlife reserves. It is Uttarakhand's third-largest wildlife refuge. Alpine meadows, glaciers, and coniferous forests make up its habitat. This national park is home to a diverse range of plants and animals. The Gurmukh glaciers, where the river Ganga originates, are one of this national park's main draws. One of the Chardham yatra destinations to see while on your journey is Gangotri National Park.
7. Uttarkashi and Guptkashi:
Guptkashi is located in the Mandakini Himalayan valley, which is part of the Northern Himalayan belt and is famed for housing the Vishwanath temple honoring Lord Shiva.
The national mountaineering institute is located in Uttarkashi, which is also home to many temples and ashrams. It's referred to as the "Kashi of the North." Additionally, this area is home to the well-liked Kashi Vishwanath temple. Spend the day here and explore Uttarkashi's attractions.
The best approach to getting to Gangotri Dham is to travel via Haridwar, Dehradun, or Rishikesh while using the most appropriate means of transportation, such as a car, train, or helicopter. This will allow you to visit the most revered site of Goddess Ganga.
8. Gandhi Sarovar/Chorabari Tal:
Mahatma Gandhi's ashes were buried here, earning Gandhi Sarovar its name located at a height of 3,900 meters above sea level, 4 kilometers from the Kedarnath temple. It is thought that Lord Shiva taught the Saptrishis yoga in this tiny lake, which possesses water.
Gandhi Sarovar can be reached by a lovely and relaxing walk across verdant fields. On the way, you get to see the stunning Madhu Ganga waterfall. You can enjoy this stunning vista of the snow-covered Himalayas. A fantastic Chardham yatra location is Gandhi Sarovar.
9. Vasuki Tal:
This lake is 5 kilometers from Kedarnath and is located at an elevation of 4,328 meters above sea level. One of the best hiking locations for thrill seekers is Vasuki Tal. You will experience the most breathtaking sight as the neighboring mountains' melting snow empties into this lake. Vasuki Tal is so named because of its shape, which is similar to the serpent Vasuki that is wrapped around Lord Shiva's neck. The peaks of Chaukhamba may be seen beautifully from Vasuki Lake.
Additionally, the summer months of May and June and the autumnal months of September and October are the best times to travel to the Kedarnath Yatra.
 10. Bheem Pul:
Located in the first village in India, Mana, it is constructed above the Saraswati River. This pul is named after Bheem, one of the Pandava brothers, who built this bridge for his devoted wife, Draupadi, when she was unable to cross the river. Bheem then decided to close the gap by building this pul from a nearby mountain rock. One of the most popular tourist destinations close to Badrinath is Bheem Pul. One of the unusual Chardham yatra sites to visit is Bheem Pul.
11.  Vasudhara Falls:
This place is a must-visit if you wish to experience Badrinath's true spirituality. It plummets from a dizzying 400 feet in the air. From the second week of May through October and November, this tour is available. A breathtaking walk for those looking for excitement during their spiritual yatra is to Vasudhara Falls. This waterfall, which is 9 km from the temple, provides a breathtaking perspective of the mighty mountains.
12. Valley of Flowers
Valley of Flowers, very close to the Badrinath Temple. When traveling by helicopter to the Chardham Yatra in 2023, this valley of flowers is a must-see place that you should explore if you have any free time. From May to July, tourists travel to the Valley of Flowers, and some also travel there to visit Hemkund Sahib. One of the lovely spots to see on the Chardham Yatra is the Valley of Flowers.
13. Auli:
Auli is one of the lovely hill towns at a height of 2,500 meters, where several winter sports have been practiced. It is close to Joshimath on the path to Badrinath Dham. From here, you may enjoy a stunning vista of Mana Parvat, Kamat, and Nanda Devi. Professional skiers from other countries come here to experience the exhilarating slopes. Auli is a stunning Chardham yatra destination.
Other Top Attractions in Chardham Yatra Places to Visit:-
| | | |
| --- | --- | --- |
| Mana Village | Brahma Kapal | Gaurikund |
| Nilkantha Peak | Badrinath Temple | Kanch Mahal |
| Alkapuri | Sunset Point | Deoria Tal |
| Tapt Kund | Kalimath | Kharchakund |
| Yog Dhyan Badri | Sonprayag | Adi Shankaracharya Samadhi |
| Triyugi Narayan Temple | Kedarnath temple | Chandrapuri |
| Bhairavnath Temple | Kedarnath Peak | Anusuya Devi Temple |
| Madhyamaheshwar Temple | Gangotri Temple | Tapovan |
| Nandanvan | Gangnani | Nelong Valley |
| Yamunotri Temple | Bali Pass Trek | Bali Pass Trek |
|  Barkot | Janki Chatti | Hanuman Chatti |
|  Divya Shila | Rudraprayag | Hemkund Sahib |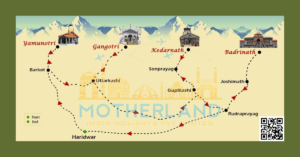 When it comes to embarking on the divine journey of the Chardham Yatra, choosing the best route is imperative to having a seamless and hassle-free experience. The traditional pilgrimage circuit consisting of Gangotri, Yamunotri, Kedarnath, and Badrinath offers multiple routes that travelers can opt for. However, the most convenient and popular one is from Haridwar.
Haridwar→ Barkot→ Yamunotri→ Uttarkashi→ Gangotri→ Guptakashi→  Kedarnath→  Joshimath→  Badrinath.
The well-paved roads, easy accessibility through train or bus services, and availability of basic facilities make this the ideal choice for those looking for a comfortable yet authentic pilgrimage experience in India.
Best tour operator company in your budget
Here If you wish to visit Chardham Yatra for a spiritual experience but are worried about the cost, we can help. Now that you've read or learned about this piece of writing, let's examine the best tour operator for the Chardham Yatra within your budget range.
We take immense pride in calling ourselves the best tour operator company for the Chardham Yatra within your budget.
We (Motherland India Holidays Pvt. Limited) offer a wide range of affordable packages that cater to all your travel needs and desires. Our team comprises experienced professionals who ensure that every aspect of your trip is comfortable and unforgettable.
From transportation to accommodation, sightseeing to meals- we take care of it all.
With us, you can rest assured that you will get the best value for your money without compromising on quality or comfort.
So book with Motherland India Holidays Pvt. Ltd. now and immerse yourself in the serene beauty and spirituality of the holy Chardham Yatra without worrying about breaking the bank.
FAQs related to 13 best chardham yatra places to visit 2023
Is Char Dham yatra open in 2023?
Yes, The Char Dham Yatra in Uttarakhand are now open for pilgrims and it remains open for pilgrims only for a brief period of six months. This year, the opening date of Char Dham Yatra is from April 22, 2023. As reported earlier, the temples open every year from April and remain accessible till November usually.
Which Char Dham to visit first?
It is believed that one should complete the Char Dham Yatra in a clockwise direction. Hence, the pilgrimage starts from Yamunotri, proceeds towards Gangotri, onto Kedarnath, and finally ends at Badrinath.
Which month is better to visit Char Dham yatra?
Being located at high peaks, the temples of Char Dham witness heavy snowfall during the winter season which forces the committee to close the shrines during the winter season, making the months from April/May to October/November the only best time to visit Char Dham.
How many days required for Char Dham yatra?
The complete yatra will take you 11 to 12 days by road and if your have short of time then you can opt for the chardham yatra by helicopter which would take time for 5 to 6 days.
What is the benefit of Char Dham yatra?
In India, the Hindus believe that the Char Dham tour opens the gates of salvation by washing away all their sins. It is also believed that this journey must be undertaken at least once in a lifetime. These four shrines have great significance and place in Hindu mythology.
Which place to visit first in Char Dham yatra?
Haridwar is where the Char Dham Yatra starts. The first place to visit on this pilgrimage is Yamunotri, then comes Gangotri, followed by Kedarnath, and finally the pilgrimage concludes at Badrinath. It is considered important to follow this sequence during the Char Dham Yatra.
Which route is best for Char Dham yatra?
Haridwar→ Barkot→ Yamunotri→ Uttarkashi→ Gangotri→ Guptakashi→  Kedarnath→  Joshimath→  Badrinath.
How many km is Char Dham Yatra?
These four sacred places span a distance of about 1,607 kilometers, beginning in Haridwar and concluding in Rishikesh.
Is Kedarnath tougher than Vaishno Devi?
The journey from Gauri Kund in Rudrapayag to the shrine is more challenging compared to pilgrimage destinations like Vaishno Devi in Jammu and Badrinath, which is close to Kedarnath. In Badrinath, there is a road that can be driven all the way to the shrine, but in Kedarnath, pilgrims have to walk approximately 23 kilometers uphill to reach their destination.
What to do after Char Dham Yatra?
After completing the sacred pilgrimage to the Char Dham sites, devotees are expected to cleanse themselves by taking a purifying bath in the holy rivers. They should also perform religious ceremonies at home and invite their close friends and family to join in these rituals.
Read More
Chardham yatra travel tips 2023
Chardham Yatra in Uttarakhand 2023
Chardham Yatra Package by Train 2023
When Badrinath Dham will close in 2023
Haridwar to Chardham yatra by bus 2023
Chardham yatra from Haridwar by car 2023
Chardham Yatra Package from Chennai 2023
What is the last date of Kedarnath yatra 2023
Ultimate Guide to Chardham Yatra by Helicopter
Chardham Yatra by Helicopter Package Cost 2023
Char Dham yatra package for senior citizens 2023
Chardham Yatra Package from Pune by Train 2023
IRCTC Chardham Yatra Package 2023 from Mumbai
What is the minimum time for Char dham Yatra 2023
Chardham Yatra Package From Mumbai by Flight 2023
Significance of Chardham Yatra – Motherland India Holidays