Do dham yatra by helicopter from Haridwar 2023
The most respected shrines, Badrinath and Kedarnath, are situated in Uttarakhand on a Himalayan hill above sea level and are surrounded by snow-capped mountains. One of the most well-known Hindu pilgrimages, the Do Dham Yatra, includes the two shrines of Kedarnath and Badrinath. Thousands of devotees travel here solely to experience the mysticism of Lord Shiva and Lord Vishnu.
And if you're looking for a quick and luxurious way to complete the Do Dham yatra, consider taking a helicopter tour from Haridwar. This package includes visits to Kedarnath and Badrinath, two of the most important pilgrimage sites in India's Hindu tradition.
Traveling by helicopter not only saves time and energy but also provides stunning aerial views of the majestic Himalayan mountains and valleys. The journey begins in Haridwar, where you'll be picked up and driven to the helipad.
From there, you'll soar over picturesque landscapes before arriving at your destinations. At each stop, experienced guides will take you on a spiritual tour, explaining the significance of each temple and sharing interesting anecdotes about its history and legends.
Whether you're short on time or just want to indulge in some luxury while on your religious pilgrimage, this Do Dham yatra by helicopter is an excellent choice.
By booking a Do Dham Yatra by helicopter with Motherland India Holidays Pvt. Ltd. in 2023, you'll get the chance to participate in prayers and ask for blessings from these two revered sites. You will be given hassle-free transfers in hygienic vehicles, along with delicious lunches the entire way.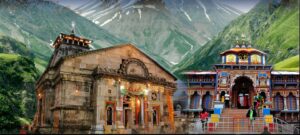 Highlights of the Do Dham yatra by Helicopter 2023 journey
VIP Darshan facility with seclusion

special pooja

Excellent facilities

Delicious food

each location's handler, and

Comfortable lodging
Recommended Tour Packages
Kedarnath Badrinath best time to visit
Chardham yatra package from Vijayawada 2023
What type of luggage is allowed for Char dham Yatra by Helicopter
Do dham by helicopter from Dehradun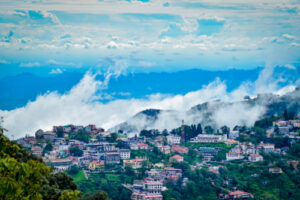 Get the most popular and opulent Do Dham Yatra package by helicopter in 2023. This Do Dham yatra package by helicopter is intended especially for thrill-seekers and spiritual pilgrims from Dehradun. Badrinath and Kedarnath, two significant shrines of the Chardham yatra, are included in the Do-Dham yatra.
This Do Dham helicopter yatra will transport you to the realm of God and provide you with some tranquility amidst the snow-capped Himalayas and beautiful green vegetation. When you book a Do Dham yatra by helicopter through Motherland India Holidays Pvt. Ltd., one of India's top Chardham travel companies, you'll experience amazing and revitalizing experiences that you'll remember forever.
2 dham yatra by helicopter from Dehradun will be covered: Touring from Dehradun to Kedarnath, Badrinath, and Dehradun
Location of departure: Dehradun
Chardham yatra by helicopter from Rishikesh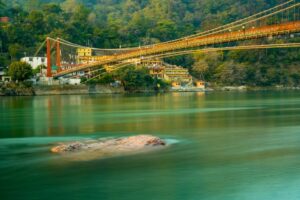 Rishikesh, a city in the Indian state of Uttarakhand in the north, is referred to as the "Land of Gods" because of its deep spiritual heritage and ties to Hindu mythology. Hindus regard Rishikesh, which is situated on the holy Ganges bank, as a sacred city.
Numerous historic temples and ashrams in Rishikesh draw tens of thousands of pilgrims each year. In addition to its spiritual significance, Rishikesh is a well-liked location for action activities like bungee jumping and whitewater rafting. With numerous ashrams and retreats offering classes and workshops in these practices, it is also a hotspot for yoga and meditation.
Overall, Rishikesh is a special place that combines spirituality, adventure, and relaxation, making it the perfect vacation spot for those looking for a soul-stirring and reviving experience. People frequently travel from Rishikesh to Chardham in Uttrakhand, one of the most special pilgrimages for Hindus, to continue their spiritual journey with the Chardham Yatra by helicopter from Rishikesh.
In the Chardham Yatra, which departs from Rishikesh by helicopter, four revered Himalayan temples—Yamunotri, Gangotri, Kedarnath, and Badrinath—are visited.
You will take a helicopter from Rishikesh to Yamunotri, the starting point of the expedition, first.

You will take a flight to Gangotri the following day after completing the darshan.

With overnight stays at each location, this procedure will be repeated for Kedarnath and Badrinath.

Visiting the temples during the Chardham Yatra by helicopter is practical and comfortable.
You are able to stay away from the hardships of a long road trip, high elevations, and bad weather. The scenery of the Himalayas is also breathtaking from the helicopter.
Here is a brief itinerary for Chardham Yatra by Helicopter from Rishikesh:
Day 1: Dehradun to Rishikesh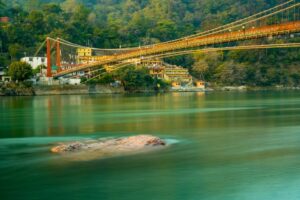 The cab ride from Rishikesh to Dehradun takes an hour to complete. 17 kilometres separate the two. Rishikesh and Dehradun can also be reached by several trains. The fastest train arrives in around 1 hour and 20 minutes. The city of Rishikesh lacks an airport.
Day 2: Set yourself up for a trip to Yamunotri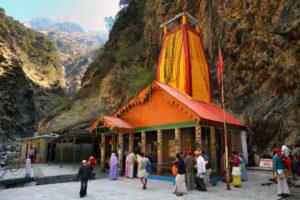 You will pay respect to the Hindu river Yamuna in Yamunotri, the starting point of your Chardham pilgrimage. Check out of your Dehradun hotel the following morning, then proceed to the Shastradhara Helipad. You will then board a helicopter to the Kharsali Helipad in Yamunotri from here.
At the helipad, our representative will meet you and drive you to your hotel in Kharsali so you may check-in. You will visit the lovely Yamunotri Temple for Darshan after resting. After your tour is over, you can spend the evening strolling through the quaint town of Kharsali. Take advantage of a hotel stay the night.
Day 3: Take off to Gangotri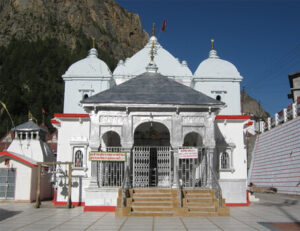 The sacred city of Gangotri, where the Goddess of the Ganges resides, is the next stop on your Chardham pilgrimage. You will fly in a helicopter early in the morning from the Kharsali Helipad to the Harsil Helipad close to Gangotri.
The Gangotri Temple is just a 50-minute drive away. Following your visit to the temple for Darshan and puja, you can spend the evening strolling through the charming town of Harsil before spending the night at the hotel.
Day 4: Visit Kedarnath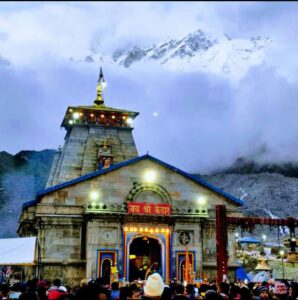 The holy city of Kedarnath is the next stop on your tour. It is thought to be Lord Shiva's residence. The helicopter flight to the Sersi Helipad will start in the morning from the Harsil Helipad.
You will then be taken to the Kedarnath Temple for darshan and pooja from there. It will take roughly two hours to complete the trip. Before spending the night at the hotel, you can spend the evening taking in Sersi's attractions.
Day 5: Visit Badrinath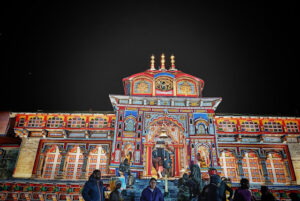 The holy city of Badrinath, which is thought to be Lord Vishnu's home, is where your Chardham tour will end. The helicopter flight to Badrinath will start in the morning from the Sersi Helipad. To perform the puja and darshan at the Badrinath temple, you will have two hours. Visit Badrinath's Mana Village and Hot Springs.
Mana village has a connection to the Mahabharata era. Mana Village is thought to have been the last stop for the Pandavas on their way to paradise. The last and first Indian village on the border between India and Tibet/China is another name for it.
Day 6: Drive return to Dehradun
It's time to head back to Dehradun to wrap up your tour once you've completed your trip to Chardham. You will fly in a helicopter from Badrinath to the Sharastradhara Helipad in Dehradun.
You will be transferred to your Dehradun hotel by a representative from our team so you can pick up your belongings. From here, you have the option of going back to Rishikesh or paying extra to spend the night in Dehradun.
The areas surrounding Yamunotri, Gangotri, Kedarnath, and Badrinath can be covered by customized Chardham Yatra by helicopter packages. Do Dham Yatra by Helicopter Packages from Motherland India Holidays Pvt. Ltd. is an option if time is of the essence. Kedarnath Dham and Badrinath Dham are both covered.
Two other popular attractions to think about visiting are Hemkund Sahib and the Valley of Flowers.
Advice on char dham yatra by helicopter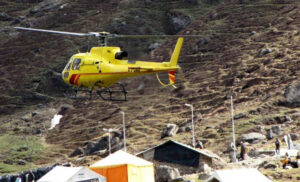 Here is an instructional guide on how to do the Char Dham Yatra by helicopter:
Book your helicopter Ride:
Once you have permission, you can reserve a helicopter flight by contacting a reputable tour operator or travel company. Numerous providers offer packages that include travel, lodging, and other services.
Plan an itinerary:
You can visit the four temples that make up the Char Dham Yatra in any order you like. Remember that May through October is the ideal period to visit the temples.
Pack properly:
At high altitudes, the weather can be rather chilly, so bring thick clothing. Include adequate food and drink for the trip in your luggage, along with any other necessities like a torch and first aid kit.
Be prepared for the altitude:
Being informed of the potential effects of altitude sickness is vital because the Char Dham Yatra will take you to high altitudes. Shortness of breath, nausea, and headaches are among the symptoms. Inform your pilot and get help right away if you encounter any of these symptoms.
Be respectful:
Keep in mind that the Char Dham Yatra is a holy pilgrimage and that it's necessary to respect the traditions and culture of the area. Prior to visiting the temples, dress modestly and take off your shoes.
You can save time and effort on the journey by taking a helicopter ride, which will enable you to fully concentrate on the spiritual component of the Char Dham Yatra. It's crucial to keep in mind that a helicopter ride can be extremely expensive and that you should also be ready for the altitude and the weather.
The Chardham Yatra by helicopter is one of the most sought-after pilgrimage tours in India. The journey takes you through the four holy shrines of Yamunotri, Gangotri, Kedarnath, and Badrinath, located in the Garhwal region of Uttarakhand.
As compared to the traditional yatra, which requires an arduous trek and long road journeys, this helicopter tour ensures a comfortable and hassle-free experience, allowing pilgrims to reach their destinations in a relatively shorter duration.
With breathtaking views of snow-capped mountains, lush valleys, and glistening rivers throughout the ride, it is truly a mesmerizing experience. The chopper services are well maintained by experienced pilots who ensure high safety standards for travelers.
Overall, the Chardham yatra by helicopter is an extraordinary way to embark on a spiritual journey accompanied by natural beauty—a combination that offers serenity and rejuvenation to your soul.
Chardham Yatra 2023 helicopter booking
Only pilgrims are allowed to register for Yamunotri, Gangotri, Kedarnath, and Badrinath. Through the Tourist Care Uttarakhand mobile application (download for iOS and Android), registration can be completed online. The following mobile number can be used to register through WhatsApp: +91 8394833833 (To begin the WhatsApp registration procedure, type "Yatra".)
For travel dates from May 1 to May 7, 2023, the IRCTC's Heli Yatra website has begun accepting reservations for helicopter service to Kedarnath Dham. For a period of five years, IRCTC and UCADA linked a Memorandum of Understanding (MoU) to provide Shri Kedarnath Dham pilgrims with a helicopter ticket-purchasing facility.
The Uttarakhand Tourism Development Board requires all pilgrims to register before they can reserve helicopter services.
Here's how to make a reservation for a helicopter on IRCTC's Heli Yatra.
Registration for the Char Dham Yatra should be completed at registrationandtouristcare.uk.gov.in.

Create a Heliyatra account and use your registration number or group ID to check seat availability.

Select the desired departure time and complete your reservation using your preferred online payment method.

Take the IRCTC heli-yatra ticket with you to the designated Helipad site and begin the revered Kedarnath Yatra.
Frequently Asked Questions(FAQs)
How to reach Badrinath from Haridwar by helicopter?
The Badrinath Yatra by helicopter is a convenient and fast way to reach the holy shrine of Badrinath. The helicopter service is operated by the government of Uttarakhand and takes off from Sahastradhara helipad in Dehradun. The entire journey takes around 4-5 hours, including a 1-hour stopover at the helipad in Phata.
What is the cost of VIP darshan in Kedarnath?
The decision to introduce a VIP fee was taken at a meeting of the Badrinath-Kedarnath Temple Committee on March 27. In the meeting, it was decided that devotees would have to pay Rs 300 per person for a special darshan.
Which helipad is best for Kedarnath?
The Phata Helipad is located beyond Guptkashi and is also linked by a good motorable road on the way to Kedarnath.
Which is more difficult Kedarnath or Badrinath?
The yatra includes Gangotri, Yamunotri, Kedarnath, and Badrinath. The Kedarnath Yatra is considered to be the most difficult.
How many days are enough for the 4 Dham Yatra?
The complete yatra will take you 11 to 12 days.
How difficult is the Char Dham Yatra?
A Char Dham yatra isn't easy. Pilgrims really need to earn the benefits bestowed, as only two of the temples (Badrinath and Gangotri) are accessible by vehicle. The remaining two (Yamunotri and Kedarnath) require treks. Kedarnath has the longest trek.
Which route is best for the Chardham Yatra from Haridwar?
The best route for the Chardham yatra from Haridwar is as follows. Haridwar → Barkot → Yamunotri → Uttarkashi – Gangotri – Guptakashi – Kedarnath – Joshimath – Badrinath.
How much is a taxi from Rishikesh to Badrinath?
Rishikesh to Badrinath taxi fare is approx. ₹6600 for a good sedan car like the Etios, Dzire and is approx. ₹9200 for an SUV car.
Which is the nearest point for helicopters to Kedarnath?
Sirsi is the nearest helipad to Kedarnath, it takes around 11 minutes to reach the shrine. It is situated in a hamlet called Sirsi.
How much distance is there from Kedarnath to Badrinath?
218 kms
Is oxygen low in Badrinath?
Badrinath and Kedarnath Dham are located at a height of almost 11,500 feet above sea level, so the oxygen content in the air is very low.
Is there any helicopter service to Badrinath?
Yes, the helicopter service is operated by the government of Uttarakhand and takes off from Sahastradhara helipad in Dehradun.
Are phones allowed in helicopters?
Because our pilots fly within the visual flight rules (VFR) umbrella, cell phones are allowed, and they do not need to be in aeroplane mode during the flight.
Read More
Chardham yatra travel tips 2023
Chardham Yatra in Uttarakhand 2023
Chardham Yatra Package by Train 2023
When Badrinath Dham will close in 2023
Haridwar to Chardham yatra by bus 2023
Chardham yatra from Haridwar by car 2023
13 best chardham yatra places to visit 2023
Chardham Yatra Package from Chennai 2023
What is the last date of Kedarnath yatra 2023
Ultimate Guide to Chardham Yatra by Helicopter
Chardham Yatra by Helicopter Package Cost 2023
Char Dham yatra package for senior citizens 2023
Chardham Yatra Package from Pune by Train 2023
IRCTC Chardham Yatra Package 2023 from Mumbai
What is the minimum time for Char dham Yatra 2023
Chardham Yatra Package From Mumbai by Flight 2023
Significance of Chardham Yatra – Motherland India Holidays