When Badrinath Dham will close in 2023
When Badrinath Dham will close in 2023: Any Hindu devotee looking for spiritual fulfilment and self-discovery will find a spiritual visit to Chardham to be a blessing. Your perspectives can expand and new glasses will be provided for you to perceive the world during the Chardham Yatra in 2023. Every Hindu aspires to travel to Chardham once in their lifetime, one of the most cherished pilgrimages in all of Hinduism. This holy yatra, which begins in April or May each year, lasts just six months.
Millions of Hindu devotees travel to the sacred locations each year on this holy yatra, also known as the "Teerth Yatra," in search of comfort and calm. Char Dham is the collective name for the four holy shrines. Goddess Yamuna is worshipped at the Yamunotri, Goddess Ganga is worshipped at the Gangotri, Lord Vishnu is worshipped at Badrinath, and Lord Shiva is worshipped at Kedarnath. 
The voyage to Chardham, which is a great confluence of what your mind, body, and spirit need to connect, is more than just a tour.
The Kedar-Badri Mandir Samiti, the committee for the Char Dham temples, often announces the opening and closing dates of these four sacred places. The Chardham Yatra is thought to be performed in a clockwise direction in accordance with Hindu mythology. The yatra thus begins from Yamunotri and proceeds towards Gangotri before continuing on to Kedarnath and ending at Badrinath. 
To learn more information about the times that the four widely regarded shrines are open and closed, scroll down.
The temple usually opens its doors to devotees around the end of April or early May and closes towards the end of October or November every year. 
However, keeping in mind the harsh winters and snowfall in this region, these dates are subject to change depending on weather conditions. It's best to keep an eye out for updates from local authorities closer to your travel date. During peak season (May-June), it can get extremely crowded at Badrinath with long waiting queues for darshan. 
To avoid this rush, visiting during September-October is recommended when crowds thin out but the weather still remains relatively pleasant.
When Badrinath temple will open in 2023: 27th April 2023
When Badrinath temple will close in 2023: 21st November 2023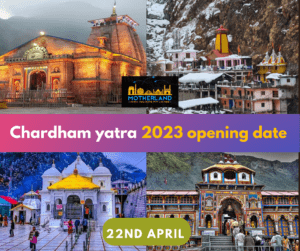 Char Dham opening date 2023
Char Dham opening date 2023: If you're planning to embark on the spiritual journey of the Chardham Yatra, it's important to keep an eye on the opening dates of this sacred pilgrimage. Every year, the Chardham Yatra opens up in April or May after a long winter closure due to heavy snowfall. The exact dates may vary depending on weather conditions and other factors such as ongoing construction work. 
Keeping tabs on the latest announcements from government authorities is crucial for anyone planning their trip ahead of time. It's recommended that pilgrims check in with their travel agents and tour operators regularly for updates regarding road conditions, accommodation options, and itinerary modifications if necessary.
All chardham yatra open and close date
| | | |
| --- | --- | --- |
| Shrines | Chardham Yatra open date | Chardham Yatra close date |
| Yamunotri Temple | 22nd April 2023 | 14th November 2023 |
| Gangotri Temple  | 22nd April 2023 | 13th November 2023 |
| Kedarnath Temple | 25th April 2023 | 14th November 2023 |
| Badrinath Temple | 27th April 2023 | 21st November 2023 |
Gangotri Opening Date 2023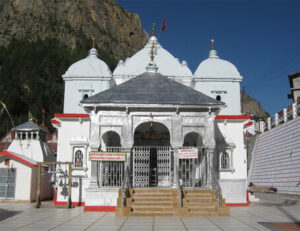 Gangotri Opening Date 2023: Gangotri is an important pilgrimage destination in the Indian state of Uttarakhand. It is the source of the River Ganges, believed to be one of the most sacred rivers in Hindu mythology. For centuries, pilgrims have been coming to Gangotri to pay respects to the river and seek blessings from the Goddess Ganga.
Gangotri has also become a popular tourist destination due to its stunning natural beauty. The river is called Bhagirathi at the source and acquires the name Ganga (the Ganges) from Devprayag onwards where it meets the Alaknanda. The origin of the holy river is at Gaumukh, set in the Gangotri Glacier, and is a 19 km trek from Gangotri. The original Gangotri Temple was built by the Nepalese general Amar Singh Thapa. The temple is closed from Diwali day every year and is reopened on Akshaya Tritiya. During this time, the idol of the goddess is kept at Mukhba village, near Harsil. Ritual duties of the temple are supervised by the Semwal family of pujaris. These pujaris hail from Mukhba village.
The area is home to some of the tallest peaks in the Himalayas, including Mount Shivling and Bhagirathi. The region is also known for its glaciers and waterfalls, making it a paradise for outdoor adventurers. Whether you're looking for spiritual enlightenment or just a chance to explore nature, Gangotri has something to offer everyone.
However, the government of Uttarakhand has recently announced that it is investing in infrastructure improvements and safety measures to ensure that the temple can safely open in 2023. The improvements are expected to be completed by 2022, and the temple will be ready to open its doors once again in 2023. This is a welcome development for devotees who have been anxiously awaiting its reopening.
Opening date of Gangorti Temple: 22nd April 2023 ( On the occasion of Akshay Tritya)
Closing date of Gangotri Temple: 13th November 2023
Kedarnath opening date 2023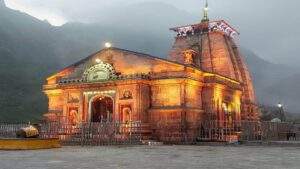 Kedarnath opening date 2023: Kedarnath is a magnificent temple located in the Himalayas, dedicated to Lord Shiva. It is one of the four sacred shrines in Uttarakhand and attracts thousands of devotees every year. The temple is surrounded by stunning mountains that offer breathtaking views, making it a popular destination for trekkers and nature enthusiasts. 
Kedarnath holds immense religious significance as it is believed to be one of the twelve Jyotirlingas of Lord Shiva, and legend has it that this place was where Lord Shiva meditated after the Great War. 
Despite being an ancient Hindu pilgrimage site, visitors from all religions are welcome here with open arms. The journey towards Kedarnath might be challenging due to its remote location and high altitude, but it's worth it for the spiritual tranquillity one gets there.
So the Kedarnath temple usually opens its doors to pilgrims on the auspicious occasion of Akshaya Tritiya each year. However, due to the ongoing Covid-19 pandemic, the opening date has been pushed back indefinitely. The temple committee and local authorities are keeping a close eye on the situation and have stated that they will only open once it is safe for people to visit without risking their health. 
Traditionally, thousands of devotees flock to this holy site in Uttarakhand every year, making it one of the most popular pilgrimage destinations in India. While are also eagerly awaiting to disclose the date of the opening of kapat for Kedarnath temple and this date has been announced by the Uttarakhand government.
Kedarnath Temple opening date: 25th April 2023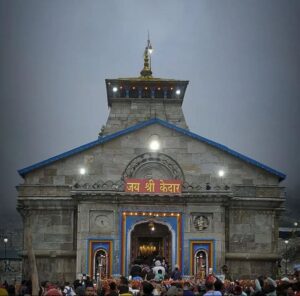 Kedarnath closing date
Kedarnath closing date: So, if you're planning on visiting the holy shrine of Kedarnath this year, you should be aware that it has a closing date. Usually, the temple remains open for devotees from the months of April to November, and after that, it's closed due to heavy snowfall in the region. The exact closing date may vary every year depending on weather conditions and local circumstances. 
However, if you want to avoid disappointment, try to plan your visit earlier in the season as the number of visitors increases towards closing days. Remember though that visiting Kedarnath is no walk in the park; it requires a lot of physical stamina and endurance as well as proper planning for food and accommodation considering its location high up in the mountains.
The date of the opening and closing of kapat for Kedarnath temple and this date has been announced by the Uttarakhand government.
Kedarnath Temple closing date: 14th November 2023 (Tentative)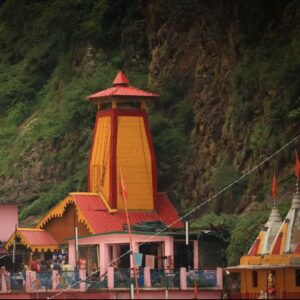 Yamunotri Temple opening and closing date
Yamunotri Temple opening and closing date: Yamunotri, also known as Jamnotri, is a revered Hindu pilgrimage site situated in the Uttarakhand region of northern India. It is the source of the Yamuna River and the residence of the Goddess Yamuna. One of the four places visited during the Chhota Char Dham pilgrimage in India.
It is one of the four locations on the Char Dham pilgrimage circuit and the Yamuna River's source. At a height of 3,293 metres in the Garhwal Himalayas and about 150 kilometres north of Uttarkashi, the Yamunotri temple is devoted to the Hindu goddess Yamuna. 
The westernmost shrine in the Garhwal Mountains is located near Yamunotri, the Yamuna River's source, and is positioned atop Bandar Poonch Parvat.
The two-day journey to Yamunotri is typically made on foot or by horse. Traditionally, pilgrims pray to Yamuna while taking a dip in the hot springs close to the temple. Other temples and shrines in the neighbourhood include Saptarishi Ashram, Divya Shila, Surya Kund, and Ganga Kund. Every year, on the sixth day of the Hindu month of Vaishakh, the temple opens (April–May).
The Yamuna shrine and the holy hot springs of Janki Chatti, located 7 kilometres distant, are Yamunotri's main draws. Yamunotri is well-known for its beauty and spiritual significance and is a popular travel destination for both pilgrims and visitors. Yamunotri is a fantastic location to visit whether you're searching for spiritual refreshment or simply a chance to soak in the beauty.
Opening date of Yamunotri Temple: 22nd April 2023
Closing date of Yamunotri Temple: 14th November 2023
FAQs related to When Badrinath Dham will close in 2023?
Will Badrinath Temple open in 2023?
27 Apr 2023 
The portals of Shri Badrinath Temple will be opened for the pilgrims on 27 Apr 2023 at 7:10 am in the morning.
When Char Dham Yatra starts 2023?
The Char Dham Yatra in Uttarakhand remains open for pilgrims only for a brief period of six months. This year, the opening date of Char Dham Yatra is from April 22, 2023. As reported earlier, the temples open every year from April and remain accessible till November usually.
Will Kedarnath reopen in 2023?
After nearly six months of closure, the portals of Kedarnath are re-opening on April 25, 2023. The gates of the Himalayan temple will open to devotees at 6.20 am.
What is the temperature of Badrinath in May 2023?
In May, the average temperature in Badrinath ranges from 11°C to 22°C.
What is the last date of Badrinath?
Badrinath Yatra opening date is 27th April 2023. The date of closing Badrinath Dham kapat is usually announced on Vijayadashmi which is 21st November 2023. Every year, the Badrinath shrine receives very heavy snowfall. So, it gets closed for almost six months.
How much distance from Kedarnath to Badrinath?
218 kms
Why did Badrinath temple close in 6 months?
Badrinath Temple remains closed for 6 months during the winter season due to heavy snowfall. It only opens at the end of April month or starting of May month and remains open for 6 months.
Which month is best for Badrinath?
Best time to visit Badrinath temple
Peak Season:

May-June/ September-October.

Off Season:

Winter.

Temperature:

Badrinath experiences an average of 29 degrees high to 19 degrees low during summer.

Weather:

The sun peeps out to bless Badrinath weather in summer.

Significance:

This is the season of the famous Char Dham Yatra.
Is Badrinath crowded in May?
The month of October is considered the best time to visit Badrinath. But the peak season is May to June and during this time, the temple gets extremely crowded.
Is it safe to visit Badrinath now?
Yes, it is safe to travel to Badrinath.
Can I go to Badrinath without registration?
No, Registration Is Mandatory For Kedarnath, Badrinath, Yamunotri, Gangotri And Hemkund.
Is there snowfall in Badrinath?
Badrinath during the winter months of November to March is covered by snow. Due to snowfall which leads to most of the roads are blocked for individuals. 
Is Char Dham Yatra difficult?
A Char Dham yatra isn't easy. Pilgrims really need to earn the benefits bestowed, as only two of the temples (Badrinath and Gangotri) are accessible by vehicle. The remaining two (Yamunotri and Kedarnath) require treks. Kedarnath has the lengthiest trek.
Is the Badrinath trek difficult?
Getting there is not a difficult task, the pilgrimage provides the diverse Badrinath Yatra Route Map where you can choose the best route suited. Either take a Route to Badrinath via Rishikesh, Haridwar or Dehradun and reach with ease.
Are phones allowed in Badrinath temple?
No. You are not allowed to carry mobile phones. Lockers are available outside the temple to store those.
Read More:
Chardham yatra travel tips 2023
chardham yatra places route map
Chardham yatra from Surat 2023
Chardham yatra by bus 2023 price
Chardham yatra registration 2023
Chardham yatra 2023 opening date
Chardham yatra from Mumbai 2023
Chardham yatra by Helicopter 2023
When Chardham Yatra start in 2023
Chardham yatra from Dehradun 2023
Chardham Yatra from Bangalore 2023
Chardham yatra from Hyderabad 2023
Current status of Chardham yatra 2023
Things to carry for chardham yatra 2023
Haridwar to Chardham yatra by bus 2023
Best travel agency for Chardham yatra 2023
irctc Chardham yatra from Hyderabad 2023
Chardham yatra from Haridwar by car 2023
Chardham Yatra Package from Chennai 2023
What is the last date of Kedarnath yatra 2023
Chardham yatra package from Bangalore 2023
Chardham yatra by helicopter from Delhi 2023
Chardham yatra route map from Haridwar 2023
How to Plan Char dham Yatra from Mumbai 2023
Char Dham yatra package for senior citizens 2023
What is the cost of Char Dham yatra package 2023
Chardham Yatra Package from Delhi by Train 2023
Chardham yatra tour package from Haridwar 2023